Ulster SFC preliminary-round losers could move to Connacht
Last updated on .From the section Gaelic Games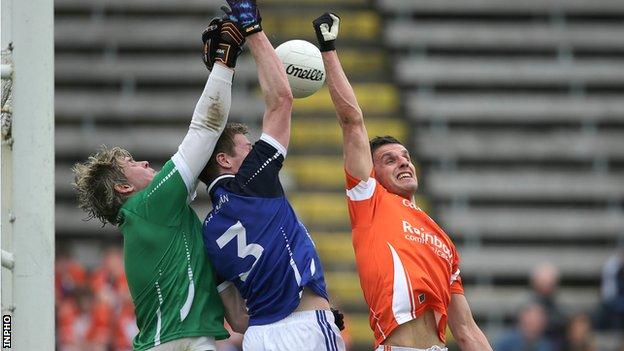 The Ulster Football Championship's preliminary round losers will then move to the Connacht SFC if radical proposals to revamp the football championship are adopted.
The Football Review Committee's plans would also see the three preliminary round losers in Leinster moving to either Connacht or Munster.
This is aimed an ensuring that at least eight teams compete in each province.
The plans would not come before the GAA Congress until 2015 at the earliest.
Instead of the current open draw format in Ulster, the two teams playing in the preliminary round would be the lowest finishers in the previous year's Football League.
In addition, Connacht would have a nine-team championship which would include London and New York.
The FRC's proposals would also see the All-Ireland Club Football Championship being completed in the calendar year with the final taking place in December.
The committee wants to see a significant amount of club championship activity during the summer months, which has been a controversial issue in recent seasons.
For example, Donegal are now proposing not to start their club championship in 2014 until the county exit from the All-Ireland Football Championship.
Under the proposals, the 16 provincial quarter-finals would be played over two successive weekends with the eight semi-finals also played over two weekends.
The intention would be to play the four provincial finals in early to mid-July with the All-Ireland quarter-finals in early August.
The qualifier system would be retained with all 16 provincial first-round losers involved.
Other proposals include scrapping the Football League Division 1 semi-finals, re-launching the Inter-Provincial competition, continuing the International Rules Series and lowering the minor grade age group to under 17.