Antrim GAA hero Anto Finnegan has motor neurone disease
Last updated on .From the section Northern Ireland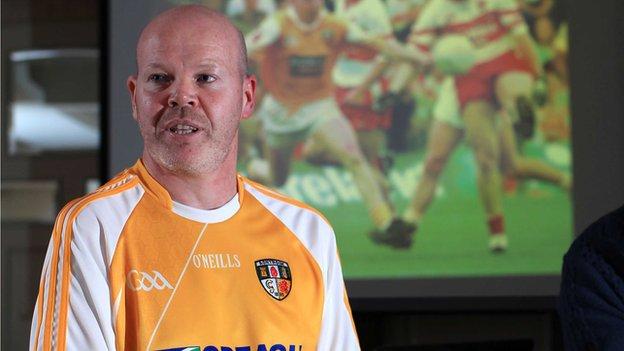 Former Antrim GAA star Anto Finnegan has revealed that he has been diagnosed with the neurological condition motor neurone disease.
The ex-footballer received the diagnosis last year and has now made the decision to go public in the hope of raising awareness of the condition.
"My wife and I and our two children just live each day to the fullest," Finnegan, 40, told BBC Sport.
"I'm not going to lie down and let it take over me."
Typically those who have the condition are given between two and five years to live following diagnosis but the Belfast man says that his approach to life is now on a "day to day basis".
"I don't look too far into the future because I think if I was to do that, I would drive myself crazy.
"I keep things as practical as possible. I'm still working as that's a choice I've made and I have a very supportive employer which is a great help to me.
"My kids have really fallen into a role of helping their dad when required. My wife has taken on things I would normally do at home."
Finnegan is among around 120 people in Northern Ireland who have the condition and he admits that the diagnosis 15 months ago came as a total shock.
Former South African rugby great Joost van der Westhuizen and Rangers footballer Fernando Ricksen are among a number of sports stars who have been diagnosed with the condition in recent years.
RTE sports correspondent Colm Murray was also diagnosed with the disease in March 2010 and died in July of this year.
"You get to the point where you say, I have this condition and I have to make a choice whether I live with it or I let it affect me negatively," added Finnegan.
"The only option is that this news has come to my door, it's the last thing I wanted but what choice do I have? I'm married and I have two young children."
Finnegan, though, acknowledges that the effects of the condition have become increasingly apparent over the past six months.
"It has affected my arms and my shoulders and makes the normal things you would do on a day-to-day basis quite difficult.
"What's actually happening is that you are sending signals to your hands or arms and you want them to do things but they just won't do it."
In an attempt to raise awareness of the condition and increase research funding, the former Antrim football captain has set up a new charity called deterMND and upcoming events include a seven-a-side GAA tournament this Saturday at the St Paul's club in Belfast which will see GAA stars such as Joe Brolly in action.
"After being diagnosed, I was speaking to the consultants and asking: 'Why did this happen? What have I done to my life? What has caused this? What do I need to do for a cure? What medication do I need to take?'
"But there's just nothing. That's the big frustration and I just felt that if I could do anything from my own position to try and highlight or enhance the research or give support to people living with the condition, that's what I would endeavour to do."
As for his day-to-day life, Finnegan says he will continue to live each day "as fully as I can".
"I enjoy the moments. Walking the dog which I do on a regular basis. Pottering around the house, listening to the normal running of the house, the noises of the house, just really taking each day as it comes."