Mulligan rules out Red Hand return despite Harte comments
Last updated on .From the section Northern Ireland
Owen Mulligan has insisted that his Tyrone career is over despite suggestions from Mickey Harte that he could return to the Red Hand squad.
Speaking at the launch of his autobiography, Mulligan, 32, said that "the head is certainly willing but the legs are not".
"I definitely think it's over for me," Mulligan told BBC Sport.
Harte also attended the book launch and responded to Mulligan's comments by saying:"Who said it's all over yet?"
Mulligan has spoken of his unhappiness that Harte did not personally inform him of his omission from this year's Tyrone squad.
The 32-year-old described the manner of his departure from the Red Hand panel as "ruthless" although he insists that he continues to have "huge respect" for Harte.
"I've no problem with Mickey Harte. That's probably why he's one of the best managers. Ruthless.
"I think he was ruthless in this situation. But that's why he is successful."
The Tyrone manager has a somewhat different interpretation of the sequence of events which led to Mulligan's absence from the 2013 squad.
Harte added:"He wasn't available in the early part of the year whenever we were picking our squad.
"He was heavily involved with Cookstown (club) and was carrying an injury and probably wasn't in the best form of his life.
"But nobody ever closed the door on him.
"There wasn't really any call to make a phone call.
"That's where it was at as far as I was concerned. Obviously he was reading things differently.
"Many things happen in life and misinterpretations occur between people.
"There was never any difficult between myself and Owen Mulligan.
"(And) He's still not that old."
However, Mulligan appears convinced that his "great journey" with the Red Hands is now at an end.
"I had 15 great years including the county minors as well," reflected Mulligan at the launch in his native Cookstown.
"I couldn't have asked to play with a better bunch of lads and the manager (Harte) who is probably one of the best managers Tyrone will ever see.
"Myself and Mickey have great respect for each other. There are some decisions in life you have to live with and I had to live with that one."
Mulligan happily signed a copy of his book for the Tyrone boss and other members of the management team Tony Donnelly and Fergal McCann at the launch.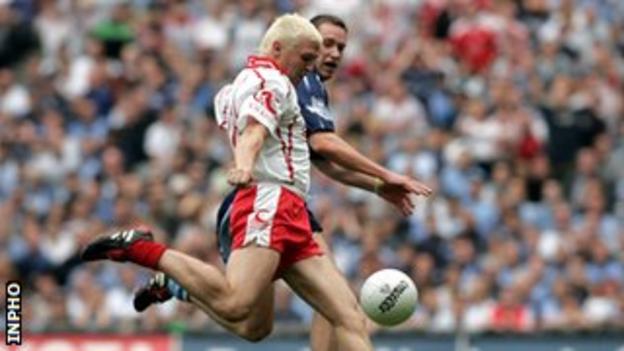 Current and past Tyrone players also attended the Cookstown event in large numbers to emphasise the affection and respect held for Mulligan.
After not being involved this year, Mulligan says that it would take an "exceptional effort" from him to restart an inter-county career.
"It's (even) taking an exceptional effort to play for Cookstown at the minute."
But while his days of pulling on the Red Hand jersey appear over, Mulligan can step away safe in the knowledge that he more than made his mark in the inter-county arena.
He scored one of the great Croke Park goals in the drawn championship clash against Dublin in 2005 after picking the ball up on the 45 metre line and dummying two defenders before lashing an unstoppable shot past Stephen Cluxton.
Mulligan recalls that he felt he was about to be replaced in the game and "needed to do something" to be kept on.
"I saw Peter Canavan and Marty Penrose warming up. If you want to remember me for that goal, I'm happy with that.
"It catapulted me that year to an All-Star."
In addition to his glory days, Mulligan speaks frankly about off-field issues which hindered his career.
"There is stuff about the drinks bans and being out late at night. I loved breaking those rules."
When asked about Mulligan's occasional bouts of indiscipline, a smiling Harte spoke of a "chequered career" and someone who was "different".
"That's the way he was and you had to take him as you found him," added the Tyrone manager.
"He had the ability and the talent and he delivered on the days that mattered."