Monaco Grand Prix: Lewis Hamilton says track is 'bumpiest ever'

By Andrew Benson
Chief F1 writer in Monaco
Last updated on .From the section Formula 1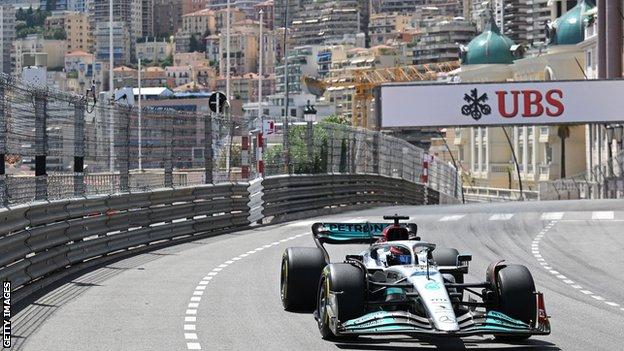 Lewis Hamilton said Monaco this year is the "bumpiest" track he has ever driven because of problems with his Mercedes car in Friday practice.
Hamilton was only 12th fastest after a difficult day, complaining he did not manage to get a lap together. Team-mate George Russell was sixth.
"There are, like, 100 bumps on just one straight," Hamilton said.
"I don't know whether the others are experiencing the same as us. But it's the bumpiest roller-coaster ride."
Ferrari's Charles Leclerc set the pace in both sessions, leading team-mate Carlos Sainz by the end of the day, both drivers more than 0.3 seconds quicker than Sergio Perez and Max Verstappen of title rivals Red Bull.
Russell was 0.7secs off the pace, and Hamilton a further 0.9secs back.
Hamilton complained about "bouncing" - but said it was not the same as the high-frequency aerodynamic problem that had afflicted Mercedes until their upgrade in Spain last weekend.
"It's the bumpiest the track's ever been. It's probably the bumpiest track I've ever driven," the seven-time champion said.
"That makes it difficult but in general our car bounces a lot. It's different bouncing to what we've experienced in the past because it's in the low speed [corners] also, but it's not aero. The bumps are making it worse.
"Putting a lap together is, wow, whole new ground. I don't remember experiencing that before.
"The grip doesn't feel terrible but it's just eyeballs coming out of the sockets. As anticipated, I didn't think we would be as quick as the Ferraris and Red Bulls. Our battle is to try and stay ahead of the McLarens."
Russell added: "The car is constantly smashing against the floor. We have experienced a lot of that this year but this is a very different philosophy and reasoning for the bouncing.
"There are sections where both tyres are off the ground - in Turn Five, the front right in the air, and it's so stiff the front left is popping up as well. You're almost doing a wheelie. We're doing everything we can to make it easier for us.
"It was a relatively good day but we are not where we want to be.
"We want to be best of the rest. That is a fair result this weekend behind Ferrari and Red Bull but we want to make sure we don't have cheeky little Lando popping it in there too."
Leclerc and Ferrari looking good
Ferrari's pace, with both cars at the front, and more than 0.3secs back to the Red Bulls underlines their status as pre-race favourites, on a weekend Leclerc needs to beat Verstappen having seen the Dutchman turn a 46-point deficit into a six-point lead in three races.
The Ferraris were quickest on both short runs and over a series of laps when simulating race performance later in the session.
On these race-simulation runs, Leclerc was on average 0.2secs quicker than Sainz, who was in turn 0.1secs ahead of Verstappen, all running the soft tyre.
Leclerc was also fastest in the first session - by 0.039secs from Perez.
"For now we are competitive, so I'm happy," Leclerc said.
"The car looks strong. Also in the race pace we look good. The initial feeling is good so hopefully we can do the step we want for tomorrow and have a great weekend after that.
"But I really think we need to do another step for tomorrow because everyone has quite a bit of a margin on Friday so it is a bit the unknown."
Verstappen said: "We have been trying a few things around here to see how the car was behaving. I was a little bit happier in P1 than P2.
"Of course if you have a little bit of a better balance you can attack a bit more and then the lap time comes out a bit better.
"But clearly compared to Ferrari we have to find a little bit more and now it is all about trying to fine-tune my balance as well."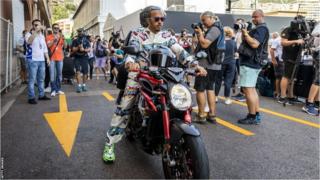 Monaco resident Lewis Hamilton arrived on his usual motorbike
Ricciardo crash heightens pressure
McLaren's Daniel Ricciardo's difficult season continued with a heavy crash at the Swimming Pool, while team-mate Lando Norris was fifth quickest.
Ricciardo lost control through the 150mph left-right at the entry to the Swimming Pool section, clipped the wall with his left rear tyre and smashed into the barrier at the entry to the second part.
Moments before Sebastian Vettel had just escaped having exactly the same accident, but managed to collect his Aston Martin without it hitting the wall.
"There was a mistake in the first place," Vettel said. "I shouldn't be sideways at that point but I guess I was also a bit lucky. It was a good save but definitely my heart rate was going up."
For Ricciardo, it was exactly the blow he did not need as he faces the intense focus always suffered by a driver who is in a high-profile position but being outperformed by his team-mate.
He said: "I think we just pushed a few things with set-up a little too far. Tried my best to save it. We missed all the session but we'll be ready to go tomorrow. Morning was good, we can use that and Lando had a pretty good P2 so we can bounce back."
Alpha Tauri's Pierre Gasly was seventh quickest ahead of Alpine's Fernando Alonso, Vettel and the second Alpha Tauri of Yuki Tsunoda.
Alfa Romeo had a bad day. Valtteri Bottas missed the entire first session with an engine problem and after having a new power-unit fitted for the second ended up 15th fastest.