Formula 1: Wing test delay 'incomprehensible'
Last updated on .From the section Formula 1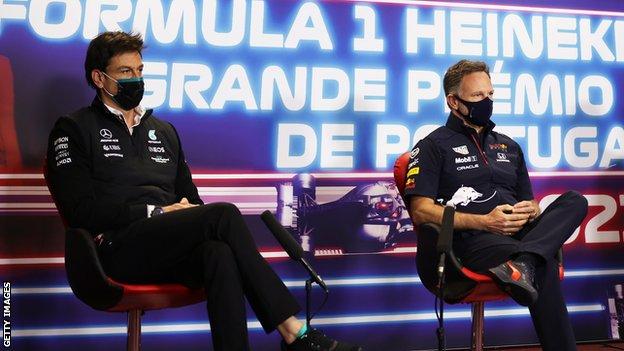 Toto Wolff has described as "incomprehensible" the decision to delay the implementation of tests to deal with illegal flexible wings.
Mercedes' F1 boss said world governing body the FIA's decision not to introduce tougher tests on wings until 15 June "leaves us in no man's land".
Wolff said there could be protests against teams with the wings, adding: "Nobody needs this messy situation."
McLaren team boss Andreas Seidl also said he "strongly disagreed" with it.
The FIA wrote to teams last week, saying it had spotted rear wings on some cars illegally flexing but that it would delay the introduction of new tests until after the races in Monaco this weekend, and in Azerbaijan in two weeks' time, in order to give teams time to react.
Wolff pointed out that the long straight at the Baku track in Azerbaijan was "the most sensitive" to the benefits of the devices.
Which teams are using flexi-wings?
At least four teams are said to be using the designs, which allow rear wings to bend backwards on the straights to reduce drag and increase speed before snapping back into place for maximum downforce on the corners.
Mercedes driver Lewis Hamilton said his title rivals Red Bull had a "bendy" rear wing at the last race in Spain.
Red Bull team principal Christian Horner said on Thursday in Monaco that their car "complies with the [current] tests and the rules" and that the new tests "effectively mean a change in regulations" to which the Red Bull car would have to be adapted.
Ferrari team principal Mattia Binotto and Alpine chief executive officer Laurent Rossi also said their cars would have to be modified to comply with the new rules.
Binotto said: "We are exploiting [the rules], as all the teams are. We will need to slightly adapt but it is not affecting Ferrari much. We will have to make some changes to comply fully with the technical directive. A redesign is required."
Rossi added: "We will adapt and we will see how much it costs us, if anything."
Horner said: "It is not just Ferrari and Red Bull that are affected - Sauber [Alfa Romeo] are quite badly affected as well.
Wolff said: "Our wing is extremely rigid. The new test is a half-baked solution which gives us an opportunity and the whole thing can soften and bend more in the future."
Horner said that there was also evidence that Mercedes' front wing was moving at speed, and that attention would soon be directed at that.
"Just look at some footage from Imola of the front wing of our competitor's car and you will see very clearly flexible aerodynamics," Horner said.
Is this a rule change?
Seidl said McLaren were "not happy" with the decision to delay the introduction of the test until next month's French Grand Prix.
Seidl said videos and pictures from the last race in Spain made it "pretty clear what is happening" and that there was "no reason" for the delay, with which he "strongly disagreed".
Seidl emphasised that the new tests were not new rules, and that flexible wings were illegal even if the FIA did not yet have load tests to deal with this specific issue.
So-called "moveable aerodynamic devices" have been banned in F1 for decades.
Article 3.8 of the F1 technical regulations states that bodywork must be "rigidly secured to the entirely sprung part of the car" and "remain immobile in relation to the sprung part of the car".
Seidl said: "The tests mentioned in the regulations at the moment are in place to let's say additionally support FIA to check in a straightforward way if the cars are complying with the regulations. But it doesn't mean that only these tests are the criteria as to whether the car is legal or not.
"We hope the FIA shows a very strong hand and it is simply not acceptable because it puts the teams who comply with the regulations at a big disadvantage."
Seidl said McLaren would not need to change any aspect of their car design when the new tests were introduced.
Asked if McLaren planned to lodge a protest against any of the cars in question, Seidl said: "In principle, I am not a big fan of protesting other teams and cars.
"All I can say is at the moment we are in dialogue with the FIA to make sure teams that have designed devices or parts that we have seen in Barcelona simply can't use these devices or parts any more."