Romain Grosjean: Haas driver 'saw death coming' in crash

By Andrew Benson
Chief F1 writer
Last updated on .From the section Formula 1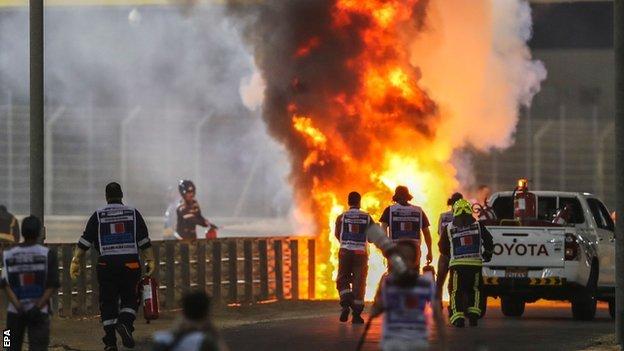 Romain Grosjean says he "saw death coming" in his fiery crash in the Bahrain Grand Prix and fought to get out "for his children".
The French Haas driver suffered burns to the back of his hands after crashing at 137mph and sustaining an impact of 53G on the first lap of Sunday's race.
Grosjean was released from hospital on Wednesday.
"I would say there is a feeling of being happy to be alive, of seeing things differently," he said.
Speaking to France's TF1, he added: "But also there is the need to get back in the car, if possible in Abu Dhabi."
Later on Tuesday he said in a video posted on Twitter: "I'm feeling better, obviously a few parts are a bit painful. After what happened, I guess the pain isn't too bad. I'm happy to be alive and talk to you."
Haas said Grosjean will remain in Bahrain "for the time being" and will continue private treatment on his burns.
He had some dressing removed from his right hand before leaving hospital, saying he "almost cried" when he was told he could now use his finger.
The Abu Dhabi Grand Prix is the final race of the 2020 season, on 13-15 December, after a second race in Bahrain on a different track layout this weekend.
Grosjean said he wanted to race at Yas Marina "to finish my story with Formula 1 in a different way".
He does not have a drive for next season, after Haas decided to change their line-up and recruit two new drivers who come with financial backing for 2021. They announced Russian Nikita Mazepin on Tuesday and confirmed Mick Schumacher, son of seven-time champion Michael, on Wednesday.
Team boss Gunther Steiner said on Tuesday that he had spoken to Grosjean about his intention to return for the final race and there was "plenty of time" before a decision had to be made.
"He really wants to be in Abu Dhabi," Steiner said. "But I said: 'Try to get better, we speak on Sunday or Monday - let's see how you feel, if it is doable.'"
He is being replaced at this weekend's Sakhir Grand Prix by Brazilian novice Pietro Fittipaldi, grandson of two-time F1 champion Emerson Fittipaldi.
Grosjean described his escape from the accident, in which he spent nearly 30 seconds in the inferno, as "almost like a second birth".
He said: "To come out of the flames that day is something that will mark my life forever.
"I have a lot of people who have shown me love and it has touched me a lot, and at times I get a bit teary-eyed."
He described his experiences in the immediate aftermath of the crash, as he was in the cockpit of the burning car, which had broken in two and become lodged in a barrier.
"I don't know if the word miracle exists or if it can be used, but in any case I would say it wasn't my time [to die]," the 34-year-old said.
"It felt much longer than 28 seconds. I see my visor turning all orange, I see the flames on the left side of the car.
"I thought about a lot of things, including Niki Lauda, and I thought that it wasn't possible to end up like that, not now. I couldn't finish my story in Formula 1 like that.
"And then, for my children, I told myself that I had to get out. I put my hands in the fire, so I clearly felt it burning on the chassis.
"I got out, then I felt someone pulling on the suit, so I knew I was out."
Grosjean was helped over the barrier by FIA doctor Ian Roberts, who came to his aid along with medical driver Alan van der Merwe.
Steiner added that he had also spoken to Grosjean about the accident.
"He remembers how he wanted to get out, or how he got out, he explained that very well to me," said Steiner.
"What he asked me was, 'How did I end up there?' I said, 'You ran over (Alpha Tauri driver Daniil) Kvyat's car, basically, you turned right and ran over his front wheel, and that turned you around and put you in the wall.'
"He said, 'I didn't see the car.' I don't want to put words in his mouth and say he doesn't remember it, I think he didn't realise what he did.
"I wouldn't say he lost any memory of it. I think it went so quick that he cannot remember it."