Romain Grosjean: Haas driver suffers burns after huge Bahrain GP crash and fire
Last updated on .From the section Formula 1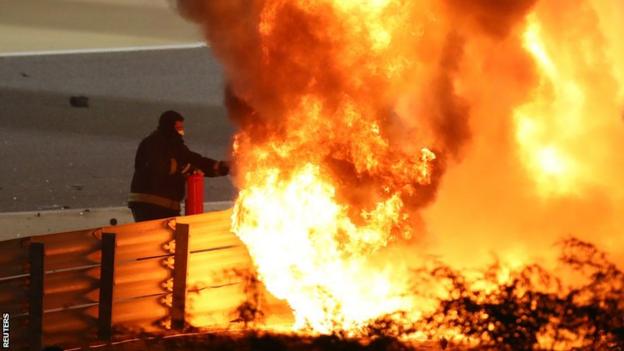 Romain Grosjean is being treated in hospital for burns after a terrifying, fiery accident at the Bahrain Grand Prix.
The Frenchman's Haas pierced the barrier, split in two and burst into flames on the first lap of the race, which was stopped.
Grosjean's car was embedded in the barrier on its side and the driver appears to have been saved by the halo head-protection device.
"Treatment on the burns Grosjean sustained on the back of both his hands is going well," a Haas statement said on Monday. "It is anticipated he will be discharged from the care of the hospital on Tuesday, 1 December."
Haas also confirmed Grosjean would be replaced by reserve driver Pietro Fittipaldi, 24, for his F1 debut at this weekend's Sakhir Grand Prix. The Brazilian is the grandson of two-time world champion Emerson Fittipaldi.
"It's a miracle that he's alive," said 1996 world champion Briton Damon Hill, who was Ayrton Senna's team-mate at the 1994 San Marino Grand Prix when the Brazilian three-time champion was killed.
Medical car driver Alan van der Merwe said: "It was a big surprise for us as well, we've never seen that much fire in 12 years.
"Romain started to get out of the car himself, which was pretty amazing after an accident like that. It was a relief to see he was OK."
Dr Ian Roberts, the FIA's deputy medical delegate told Sky Sports: "There was just a massive flame and as we arrived, it was a very odd scene, we'd got half the car pointing in the wrong direction and then just across the barrier, a mass of heat.
"We needed some way of getting to him, and we had the marshal there with an extinguisher, and the extinguisher was just enough to get the flame away. Romain then got high enough for me to reach over and pull him over the barrier."
"Obviously he was very shaky. His visor was completely opaque and in fact, melted. I had to get his helmet off just to check that everything else was OK."
Ross Brawn, Formula 1's managing director for motorsport, will lead the investigation into the accident. He said the halo, a three-point titanium structure introduced in 2018, had probably saved the Frenchman's life.
"The shock for all of us in Formula 1 was seeing the fire, because we haven't seen that problem for many years. And for there to be a fire is very, very unusual.
"I think the halo prevented upper body and head injury," Brawn told the BBC. "The halo was a controversial introduction at the time. A number of drivers didn't think we should have the halo, because they thought it spoilt the purity of Formula 1. But we're never going to go back again, that's for sure"
"The other disturbing thing about the accident was that it penetrated the crash barrier. That is another aspect we've got to have a look at.
"We learn from every accident. What we can take from this, is that the concept of safety in the car - which is the survival cell, the cocoon that protects the driver - worked. Romain jumped out of his cocoon, and whilst he has some injuries, he was able to survive. What we're not happy about, is that we had a fire. But I don't think we can say there is a design fault. It was a massive accident.
"It was a great relief to see him jump out of the car. When the dust settles, he'll have some contribution to make, with his experience, and how he found it in the situation he was in, and what we can learn from his experience. It was pretty dramatic for him, but massive relief."
Grosjean lost control of his Haas car after clipping the front left wheel of Daniil Kvyat's Alpha Tauri at Turn Three on the opening lap.
His Haas team boss Guenther Steiner will speak with Grosjean on Monday to discuss his possible return and says no decision has been made about who will drive at the Sakhir Grand Prix in Bahrain next weekend.
Steiner added: "When you see something like this the only thing you think is 'I hope we get lucky' - you don't think how it happened or whatever.
"I would like to thank all the marshals. They did a fantastic job to get him away as quick as possible from the fire. It was amazing what they did."
"It was horrible, when I saw the images I was shocked," said fellow French driver Pierre Gasly.
"It was really scary but I had no idea a Formula 1 car could break that way. The halo really proved to be working. I have text him to wish him a good recovery. I think he is fine but a really scary thing."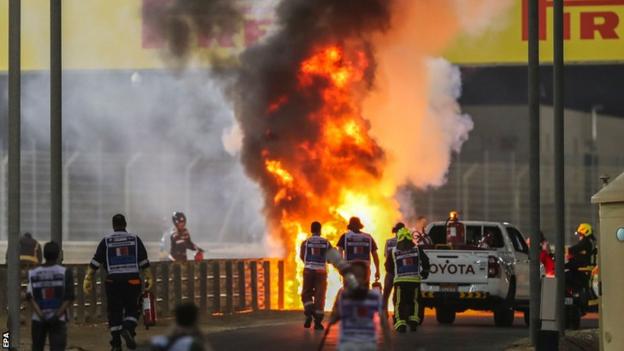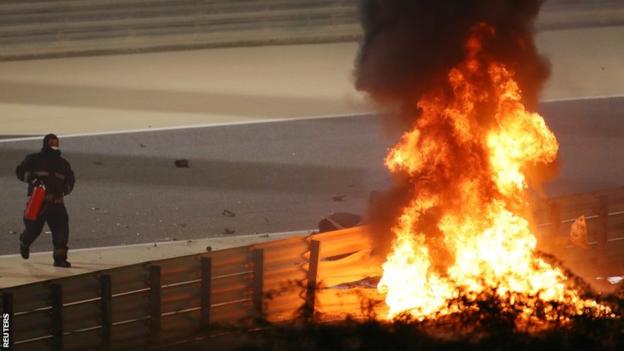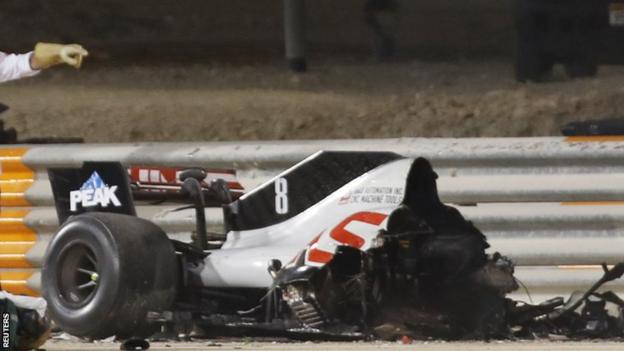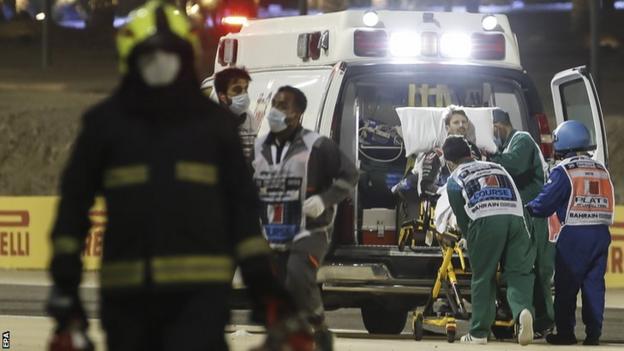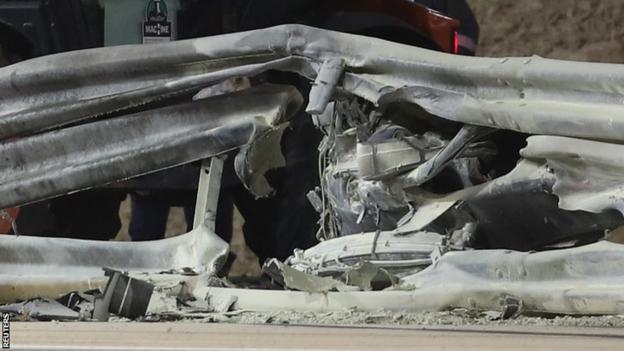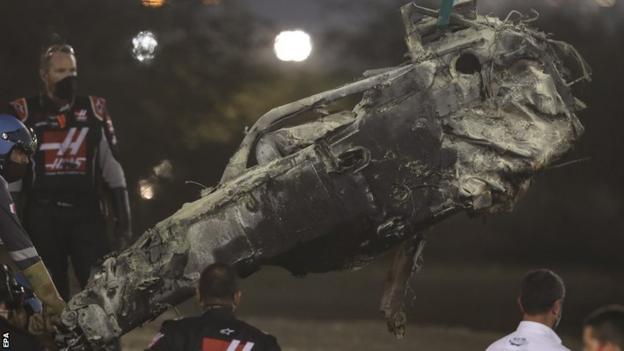 'It shouldn't have failed like that' - what the drivers said
Sebastian Vettel: "I haven't looked at the images a lot, mainly because I didn't want to, but a grand prix car and barrier are not supposed to fail like that. It shouldn't fail and the car shouldn't catch fire in that fashion, so I don't know what happened there."
Daniil Kvyat: "At first I was angry that he had turned across me in the way he did, but that changed as soon as I saw the flames and what happened in my mirrors. I was really worried. It was a scary moment. I was hoping he was OK."
Pierre Gasly: "It was horrible, when I saw the images I was shocked. It was really scary but I had no idea a Formula 1 car could break that way."
Lewis Hamilton: "It was such a shocking image to see. When I get in the car I know I am taking risks. I respect the dangers that are in this sport. I posted about it [on Twitter] during the break because it is horrifying. The car, the cockpit. I don't know what Gs he pulled but I'm just so grateful the halo worked."
Max Verstappen: "It was scary. We saw a red flag, which doesn't mean it's immediately a bad thing. I saw a lot of fire and thought that is not a good thing. Luckily he is OK and hopefully he will recover."