Max Verstappen wins 70th Anniversary Grand Prix

By Andrew Benson
Chief F1 writer at Silverstone
Last updated on .From the section Formula 1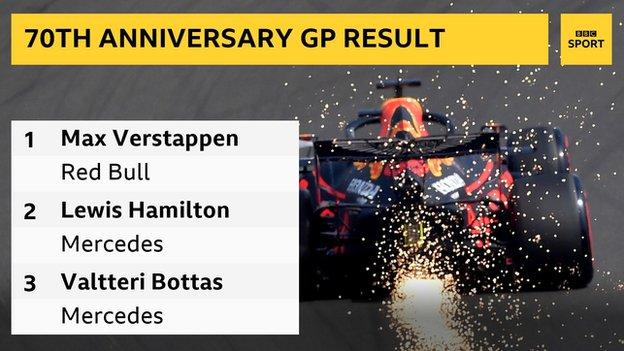 Red Bull's Max Verstappen took a sensational surprise victory in the 70th Anniversary Grand Prix to bring Mercedes' domination to an end.
Verstappen's win was founded on his car being kinder to its tyres than the Mercedes of Lewis Hamilton and Valtteri Bottas and the Dutchman capitalised brilliantly.
Hamilton fought back from early struggles to catch and pass Bottas for second place with two laps to go.
Ferrari's Charles Leclerc was outstanding in taking fourth on a one-stop strategy.
It was an unexpectedly thrilling race, a fitting testament to the occasion as F1 celebrated 70 years since the F1 championship started at Silverstone in 1950.
Verstappen's victory was a major upset and it was helped by a decision to use the hard tyres for the start of the race.
But the fact was that their car was simply faster than the Mercedes for the first time this season in the specific conditions created by the deliberate supply of a soft tyre range on a warm day around one of the most demanding tracks on the calendar.
"I didn't see that coming," Verstappen said afterwards.
How did Verstappen do it?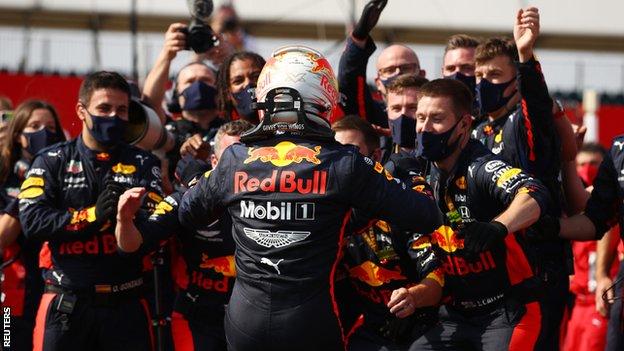 The Mercedes had produced their usual dominant performance in qualifying, a second clear of the field, but Verstappen, choosing the hardest tyre for the start of the race, found he was able to follow them comfortably after he passed Racing Point's Nico Hulkenberg at the start from his fourth place on the grid.
Bottas led Hamilton away from pole and, while Verstappen tracked the Mercedes, the black cars, on the softer 'medium' tyres at the start, began to struggle.
By 10 laps into the race, the Red Bull was on Hamilton's tail and it was clear the Mercedes had a real race on their hands.
Bottas and Hamilton stopped within a lap of each other on laps 13 and 14, and fitted the hard tyres, but they continued to struggle.
Verstappen motored on out front and, surprisingly, despite older tyres, extended his lead as the Mercedes ran into problems with tyre blistering.
Verstappen pitted on lap 26 for medium tyres, rejoining right behind Bottas, whom he passed immediately around the outside of Luffield corner.
Once back in the lead, Verstappen was again able to hold the Mercedes, with Bottas about two seconds behind.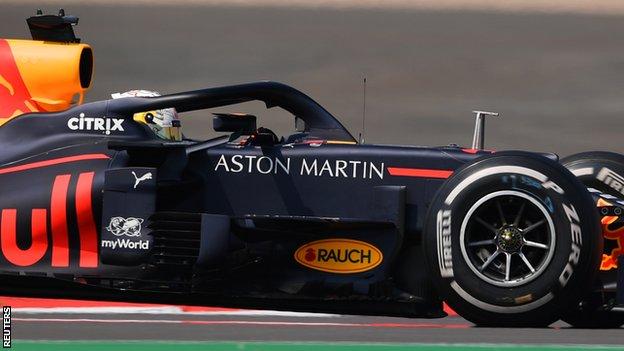 Verstappen then stopped again six laps later to switch back to the hard tyre, and Bottas followed him in, the Finn's hopes of victory now over.
Hamilton, though, stayed out for another nine laps. His tyres were blistered badly but he drove well to maintain a gap of around 10 seconds over Verstappen and Bottas.
That meant when he finally came in on lap 41, with 11 to go, he had an abundance of grip compared to the cars in front.
He quickly passed Leclerc and then closed in on Bottas, passing him into Brooklands corner with two laps to go.
The result, with fastest lap for Hamilton, means he extends his championship lead over Bottas to 34 points, and Verstappen has slipped ahead of the Finn into second place, 30 behind the leader.
How about that from Leclerc?
Leclerc took a superb third in the uncompetitive Ferrari last weekend at the British Grand Prix and he continued his excellent form this weekend.
Qualifying did not go so well for the 22-year-old - he could manage only eighth on the grid compared to fourth last time, but his race drive was every bit as good.
The Ferrari was running low downforce to try to off-set its straight-line speed disadvantage, so to make a one-stop strategy work was a remarkable achievement.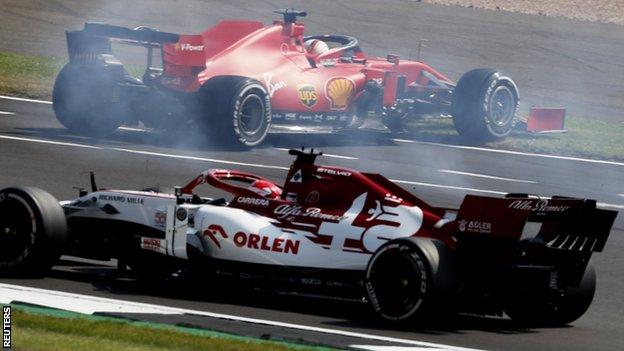 His team-mate Sebastian Vettel had a difficult day, almost losing control of his car at the first corner and lucky not to be tagged as he fish-tailed left and right in yet another unforced error from the German, and struggling to 12th place.
Red Bull's Alex Albon drove well to take fifth, a drive that featured a number of bold overtaking moves, ahead of the Racing Points of Lance Stroll and Hulkenberg.
Renault's Daniel Ricciardo faded after a strong qualifying in fifth place, not helped by a spin between Turns Three and Four while battling with McLaren's Carlos Sainz, and ended up 14th.
Lando Norris took ninth for McLaren, while George Russell was 18th in the Williams.
Driver of the day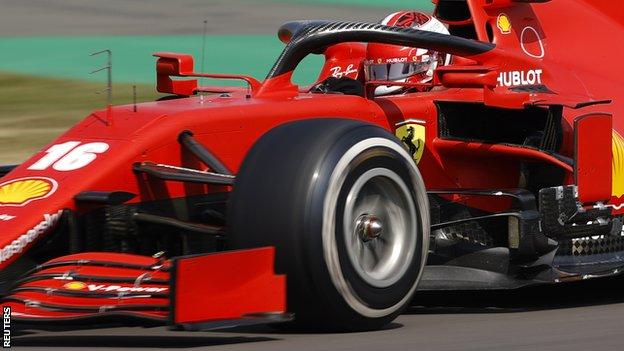 What happens next?
Another weekend, another race. This time in Spain, despite the rise in coronavirus cases there. A hot summer in Barcelona. Could Mercedes struggle again?
What they said
Max Verstappen: "I didn't see it coming, but after the first stint we seemed really good on tyres and we didn't have many tyres issues at all. It is a great result to win here and I am incredibly happy. We have not had an opportunity to push them so far this season. We need to use soft tyres - that seems to suit our car."
Lewis Hamilton: "It was a massive challenge today but congrats to Red Bull and Max, they didn't have the problems we had. Unexpected to have blistering as hardcore as we experienced. I was managing the tyres like you couldn't believe. In the middle stint, one half was bald and the other half was OK. I was afraid it was going to explode."
Valtteri Bottas: "It was very frustrating - starting on pole and finishing third. As a team we were sleeping at some points, Red Bull's strategy was far better and we have to look at this. There was a chance to keep up with Max, but as soon as I pushed the tyres fall apart. When you have those blisters, you lose cornering grip."