Austrian GP: What has happened to Ferrari?

By Andrew Benson
Chief F1 writer
Last updated on .From the section Formula 1782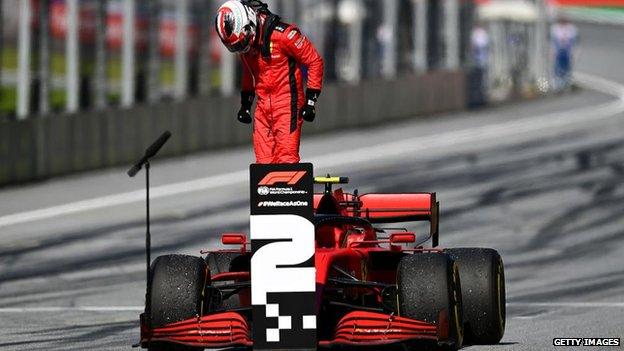 Charles Leclerc saved Ferrari's blushes with a superlative drive to second place at the Austrian Grand Prix, on a day that had started with a podium finish for Formula 1's most famous team looking unlikely in the extreme.
Leclerc, rewarded for a stellar debut season with the team in 2019 with a new five-year contract over the winter and de facto number-one status, paid Ferrari back with a performance that he called "one of my best races since I arrived in F1".
But the 22-year-old was under no illusions that the result meant the team were in better shape than they had looked after he had qualified seventh, and team-mate Sebastian Vettel failed even to make it into the top 10.
"Unfortunately not," he said, pointing out that three safety cars and numerous incidents had played a large role in his unexpected result.
Ferrari had downplayed expectations of their performance even before arriving in Austria, saying in their pre-event preview that they had discovered a design problem that meant a re-think of their car's aerodynamic philosophy.
But even they did not expect the size of the deficit they experienced when the season finally got under way at the Red Bull Ring, after a four-month delay caused by the coronavirus pandemic.
Ferrari won three races last year, and Leclerc set more pole positions than any other driver. And yet in qualifying on Saturday they were not only nowhere near their usual rivals Mercedes and Red Bull, but faced the ignominy of battling with teams that last year were in the midfield and at least a second slower than them.
Leclerc's qualifying time in Austria on Saturday was 0.987 seconds off the pole time of Valtteri Bottas' Mercedes - and 0.920 seconds slower than Leclerc's own pole position time from last year's race.
How on Earth, one may well ask, has Ferrari lost a second from one year to the next, and how has it gone from front-runner to also-ran?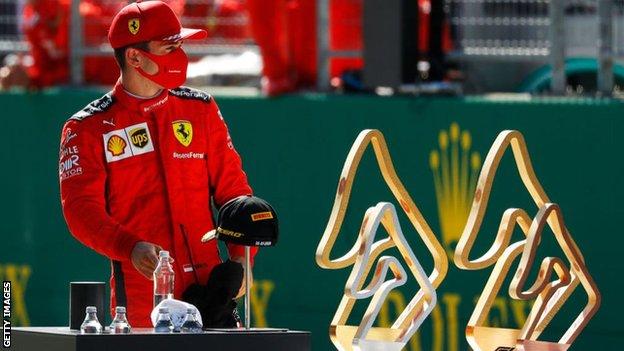 What was wrong?
Vettel said after qualifying that the Ferrari was "lacking overall grip and downforce and a bit too much down the straights - the car is a bit too draggy at the moment".
Team boss Mattia Binotto talked about "miscorrelations with the design, especially on the aero". New parts to start fixing this will arrive at the third race of the season in Hungary on 17-19 July, after a second race in Austria this coming weekend. But Binotto warned they "will not be the final solution - there are no silver bullets".
The problem, though, is not only with the car's aerodynamics. Binotto said after the race that they were losing "0.3secs is in cornering and 0.7secs power-limited on the straights". This tallies with information from the other teams.
Ferrari have said that they put special effort into the car's level of downforce for this year, knowing that its cornering performance was its weakness in 2019.
In Austria, the red cars were a match for the Mercedes in the high-speed corners, but were losing out in the medium and low-speed corners.
So their work on cornering performance has paid off to a degree - it's on the straights that they have a big problem.
Is it drag or engine?
Binotto and the drivers repeatedly mentioned the car's drag at the weekend, and it is true that drag can have a significant effect on straight-line speed.
Those who remember McLaren's travails with Honda from 2015-17 will remember that they thought their biggest problem was the engine, only to discover that the car was just as slow on the straights when they switched to Renault in 2018 - because it was too draggy.
But Ferrari's rivals have drawn a different conclusion. Privately, they point to the row over Ferrari's engine last year.
Last year, Ferrari's cars were routinely gaining 0.5secs a lap - and sometimes more - over Mercedes on the straights. Until, that is, there was a rule clarification governing engine performance at the US Grand Prix, at which point a run of six consecutive pole positions for Ferrari came to an end.
Then, during the winter, Ferrari reached a private agreement with governing body the FIA.
The FIA said they had doubts about the legality of the Ferrari engine last year but could not prove that they were doing anything wrong. So they sought a settlement with the team. This caused anger among Ferrari's rivals who demanded to know what the settlement said.
The FIA said they would be happy to say, but Ferrari are refusing to lift their confidentiality agreement on the grounds that they are protecting their intellectual property.
Back to Austria this weekend. With all this as context, rivals looked at the difference in pace for all teams from last year's race to this. And they saw that all the teams using Ferrari engines had lost considerable performance - in addition to Ferrari's loss, Haas were 0.619secs slower and Alfa Romeo a whopping 1.119secs.
Of the other seven teams, only Red Bull had not improved from last year to this - but they had lost only 0.038secs. Mercedes had gained 0.323secs; McLaren and Renault nearly 0.5secs; and so on.
You can probably guess what conclusions Ferrari's rivals drew.
Binotto has always insisted that Ferrari's engine last year never contravened the regulations. And this weekend he said: "There was no clear breach of regs otherwise we would have been disqualified."
After the race on Sunday, though, he did admit that the engine was part of their current problem.
"I think it is part of the truth that (in the straight-line deficit) there is a bit of engine power and a bit of drag," he said.
What he has not explained yet is why this would be the case.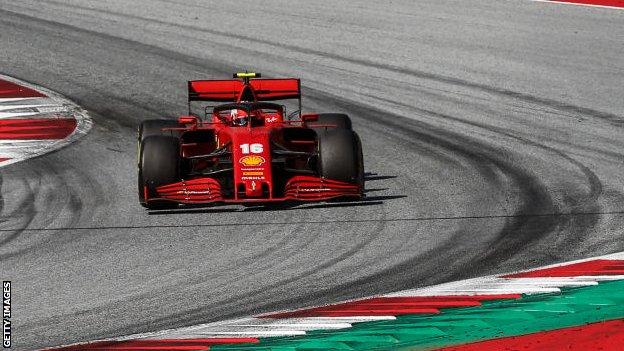 Can they do anything about it?
Whatever the cause of Ferrari's straight-line speed deficit, this is not a problem with a quick fix.
For a start, the engines are frozen for this season, other than for reliability fixes, so there is little Ferrari can do to solve that problem. As for the car's drag issue, Binotto insists: "There is much we can do."
In reality, it is extremely unlikely that Ferrari can make up anything like the performance shortfall seen in Austria in the six short months between now and the likely end of the season.
And it should be remembered that things will likely look even worse for them on many other tracks.
The car was a second a lap off the pace in Austria on one of the shortest laps on the calendar.
If it does not improve, it will be considerably more than that behind at somewhere like Spa in Belgium, the longest track on the calendar, and one where straight-line speed performance has a much bigger effect on overall lap time. And the same goes for their home track, Monza, where they could be facing an especially dispiriting weekend.
And there are even bigger concerns than that. Binotto has blamed this year's lack of performance on a "correlation" problem between what they expected of the car in their simulations and what it delivered on track.
If Ferrari can get things so badly wrong over the winter, there have to be concerns that there is a deep-rooted problem that will not be easy to solve.
As for Leclerc, who has already proved himself one of the brightest talents of the new generation, five years at Ferrari might suddenly look a lot less attractive a prospect than it did when he signed his new contract in December.
"We made the best out of it," he said on Sunday. "I told myself we need to take any opportunity, and every time I had an opportunity on track I took it - in an aggressive way but that's the way I had to drive.
"I am extremely happy but that does not make me forget we need to work extra hard to get better because that is not where we want to be in terms of performance. Everyone needs to be motivated. It is not going to be like this every weekend. We will not be as lucky as this every weekend."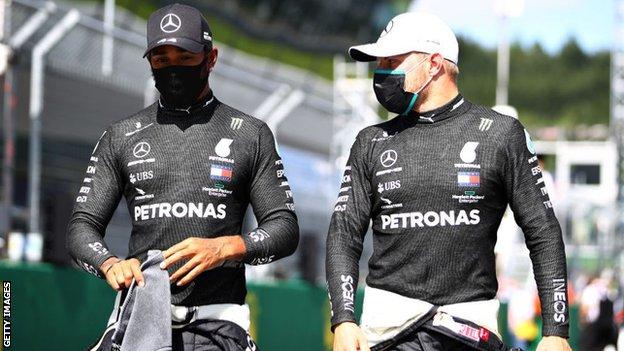 A bad weekend for Hamilton
The season got off to an electrifying start, with a thrilling race full of drama and incident.
Valtteri Bottas took the expected win for Mercedes, but reliability concerns made it tougher than expected, while Lewis Hamilton very much did not have his best weekend.
Beaten narrowly by Bottas in qualifying, Hamilton was demoted to fifth place on the grid when Red Bull asked stewards to look again at an incident in which he did not slow for yellow flags after the Finn ran wide in the closing seconds of the battle for pole.
Hamilton had escaped without censure on Saturday but new camera angles showed a yellow light to which he had not responded.
And the race did not go his way. He fought his way up to second place behind Bottas within 10 laps, and was looking poised to mount an assault on the lead until the first of three safety cars.
Then reliability problems intervened with both Mercedes, two further safety cars mixed things up, and Hamilton ended up tangling with Red Bull's Alexander Albon and getting another penalty, which demoted him to fourth.
It was, as Mercedes team boss Toto Wolff said, "a bad day for Lewis".
But it was a good day for F1. The season is finally underway. The race was terrific. There were starring performances from Leclerc, Albon and Lando Norris, who took the McLaren to a maiden podium after a superb fourth place on the grid.
Mercedes appear to be in a league of their own, and the title fight already seems to be a private one between Bottas and Hamilton. But now Hamilton has a 13-point deficit to make up, and with a shortened season ahead he knows he cannot afford too many more weekends like this.
Next weekend cannot come soon enough.