Formula 1 season preview: 'F1 sets off on mystery tour like no other'

By Andrew Benson
Chief F1 writer
Last updated on .From the section Formula 1335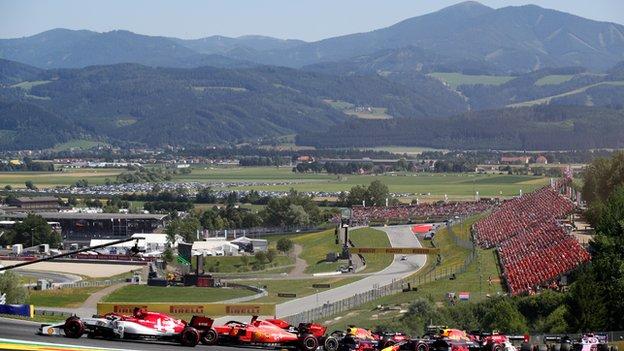 Formula 1 returns this weekend to a different world from the one of nearly four months ago, when the teams and drivers were preparing for the abortive opening race in Australia.
F1, like much of the rest of society, is tentatively emerging from coronavirus lockdown, and the location chosen is the isolated environs of Austria's Red Bull Ring.
The season, which had to be shut down in Melbourne back in March before a wheel had turned in anger, restarts with three races on consecutive weekends.
Two are on the compact but demanding track in the foothills of the Styrian Alps, followed by a third at the Hungaroring outside Budapest.
This is the start of a hectic run of eight races in 10 weeks across Europe, including two in Britain, which F1 hopes will be the start of a World Championship comprising something like 15 to 18 races.
As things stand, though, the exact shape of the rest of the season remains uncertain, other than it will definitely end in the Middle East with races in Bahrain and Abu Dhabi.
Dealing with the virus
The racing is resuming, but the virus still lurks, and F1 has put in place a package of measures to ensure it is taking the minimum risk possible to ensure competition starts up again safely.
All participants have been tested for Covid-19 before going to Austria, flew out on charter jets with only F1 personnel on board, and will be repeatedly tested while on the road. Teams will be kept apart from each other, both at the track and by staying in separate hotels.
The media presence has been kept back to an absolute minimum, with restrictions on the number of broadcasters and how many staff can attend.
Journalists are not part of the F1 testing regime until arriving at the track, but must have proof of a negative test taken not more than 72 hours earlier, and will be tested while attending the event.
The written media presence has been reduced to about 20 journalists, compared with a more normal 300 or so, and they will be kept apart from teams and drivers at all times. No journalist will be allowed into the paddock where the teams are based, which is the hub of F1 life in normal circumstances. All news conferences will be by video link.
The competitive landscape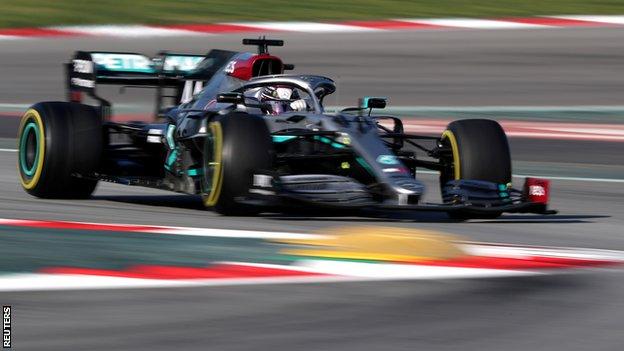 Arriving in Melbourne, the feeling was that Mercedes were starting the season as favourites, with Britain's Lewis Hamilton bidding for a seventh drivers' championship that would draw him level with all-time record-holder Michael Schumacher.
The sense after pre-season testing was that Mercedes still had the quickest car and that Red Bull, with Max Verstappen, were likely to be their biggest rivals.
Ferrari said before Australia, and have continued to say since, that they are not as competitive as they would like to be and expect to be a little behind Mercedes on pace.
They admitted this week they have been forced to make a major change of direction in terms of aerodynamic design after an analysis of their lack of performance in pre-season testing, the first fruits of which will not be seen until the third race in Hungary.
The teams' factories were effectively shut down for more than two months, from shortly before the end of March to the end of May. But they have now had a month to prepare potential upgrades to their cars from the specification in which they would have started the season.
More than that, though, the start of the season now is very different from what it would have been, and on paper it gives a pretty decent chance to Red Bull to start on the front foot.
Verstappen has won the past two Austrian Grands Prix, and Red Bull's car has always been competitive in Hungary. So the Dutchman has what would appear to be a very strong chance of taking the fight to Hamilton as the year gets under way, even if the lack of fans at races means he won't be serenaded by his army of orange-clad fans this time.
Red Bull's competitiveness at their own circuit is partly caused by the fact that the track is located at an altitude of 800m, which appears to favour the Honda engine compared with the Mercedes.
This, engine boffins at the teams say, is down to how each manufacturer has chosen to design and run its turbo. Mercedes is believed to run its turbo and compressor at the regulation maximum 125,000rpm limit more often than Honda. This gives optimum efficiency most of the time.
But at altitude the turbo and compressor have to work harder to compensate for the lack of oxygen in the atmosphere if the engine is to produce the same power.
If the turbo is already running usually at maximum revs, there is no headroom to increase its speed to compensate for altitude, and the engine becomes what is known as 'saturated'. By contrast, an engine that is optimised to run less often at maximum turbo revs can speed up its turbo and compressor to compensate, reducing the performance differential between the two.
This effect is most pronounced in Mexico City, where the track is at 2,000m, but also applies in Austria and Brazil - all three are races where the Honda and Renault engines have appeared in the past few seasons to take a step forward in competitiveness compared with Mercedes.
Nevertheless, it would be a bold move to predict that Mercedes will struggle for competitiveness in Austria.
For one thing, that was 2018 and 2019 - it is not known whether the design of the respective engines has changed in this respect over the winter.
Secondly, Mercedes' struggles in Austria in the past two seasons have had two very specific causes.
In 2018, Hamilton and team-mate Valtteri Bottas were running one-two before both retired with hydraulic system failures.
And in 2019, the team had made a mistake on its cooling package at the design stage, which could not be sufficiently fixed during the season. This meant the car ran too hot when the ambient temperature was above a certain level. Race day in Austria was over 30C, so the engine had to be run detuned.
There is no reason to believe that either of these handicaps will apply in 2020.
Drivers' merry-go-round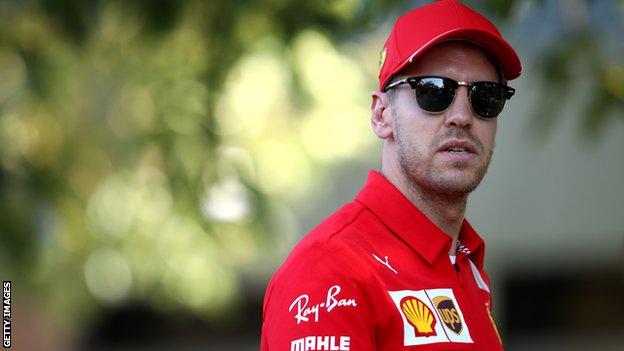 Teams may not have been able to work on their cars for much of lockdown, but F1 has been extremely busy over the last three months. Team bosses have negotiated a series of cost-saving rule changes, including a budget cap to be introduced next year. And the driver market has gone crazy.
Sebastian Vettel, Daniel Ricciardo and Carlos Sainz all start the season driving for teams they already know they will be leaving at the end of it. And Vettel, a four-time champion, does not even know whether he has a future in the sport next year.
The effects of this on team dynamics within Ferrari remain to be seen, but it is unlikely Vettel will feel particularly inclined to accede to any team orders to support team-mate Charles Leclerc this year.
However he handles the situation, Vettel faces a final season with Ferrari not only trying to re-establish his reputation to a degree after being beaten on all metrics by Leclerc last year, but trying to do so while driving for an organisation with which he knows he has no future.
Leclerc, on the other hand, very much is Ferrari's future - that was made clear by the five-year contract extension they gave the 22-year-old a couple of months before telling Vettel he was surplus to requirements.
Sainz is the man replacing Vettel at Ferrari in 2021, while Ricciardo will take the Spaniard's place at McLaren. But while negotiations over Sainz's move away from McLaren were handled on good terms, Ricciardo's decision to leave was a surprise to Renault, and there is bound to be some ill-feeling.
All that adds up to a potentially spicy little recipe, and that's even before bringing in the fact that both Hamilton and Bottas are out of contract with Mercedes at the end of the year.
Hamilton's new contract is considered a given, but while Mercedes are understood not to be interested in Vettel - indeed, Bottas says they have told him exactly that - there is still a potential threat to the Finn's position from Williams driver George Russell.
The most likely scenario is that Bottas will get another contract. But Russell is a Mercedes protege and, with the future of Williams uncertain after the decision to put the team up for sale, Mercedes F1 boss Toto Wolff might be tempted to try the 22-year-old Briton out alongside Hamilton as he looks to the future.
These are just some of the scenarios bubbling away as F1 embarks on a season in a unique and unsettling set of circumstances. It has already been a year like no other - and it is set to continue that way.