Charles Leclerc completes esports quadruple
Last updated on .From the section Formula 1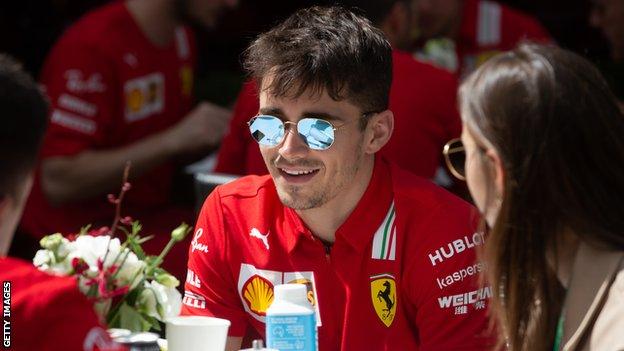 He scored four pole positions in a row in his first season for Ferrari last year. And after only a couple of weeks of practice Charles Leclerc has now completed an unprecedented quadruple.
Well, we have no idea if it's unprecedented, given how many people have games consoles, but Leclerc's having quite the week when it comes to driving his Ferrari from the no doubt considerable comfort of his Monaco home.
Yeah, he's into esports - and sim racing in particular - in a big way.
On Sunday the 22-year-old won his fourth major esports race in row - the Formula 1 Virtual China Grand Prix (it would have been the proper Chinese GP this weekend). Qualifying on pole position, he drove yet another flawless race, beating Red Bull's Alex Albon.
In a field of 19 - including F1 drivers, racers from other series and notable other sportspeople - Leclerc was the class of the grid.
In case you were wondering, all the professional racing drivers finished ahead of the 'guests', which included golfer Ian Poulter, Real Madrid and former Chelsea goalkeeper Thibaut Courtois and Lazio striker Ciro Immobile.
The star of the stars had to be Poulter, who finished last after crashing his Renault while being interviewed by the commentators with three laps to go.
"I've never sweated so much. You've got me all flustered," he said as he hit the wall at the beginning of the start-finish straight.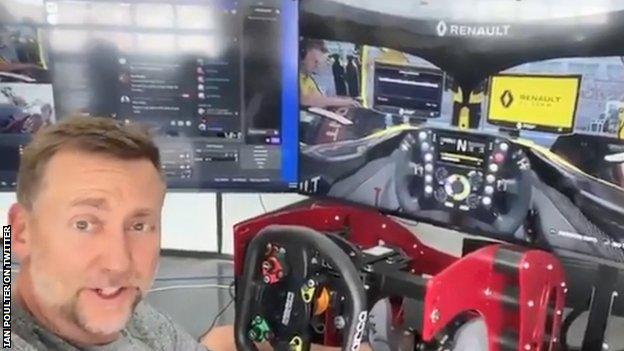 Of course, in 'real life' circumstances, it's not likely a 44-year-old golfer would be lining up on the F1 grid, but, for the uninitiated, you can't actually damage your car in this particular race. You can lose control and hit things, but you don't disappear into a cloud of dust and carbon fibre.
One pro did disappear, however. Alfa Romeo's Antonio Giovinazzi 'left the race' with five laps remaining for unknown reasons - possibly someone pulled the plug?
Leclerc's run of form
Having won the previous Virtual F1 GP, held at a simulated Albert Park circuit in Melbourne, after just a few days of practice, Leclerc has become obsessed.
On Friday he helped raise more than $70,000 (£55,000) for charity to help fight coronavirus - alongside lots of other drivers - by winning the Race For The World. Courtois also got involved in that one too.
Then, after a bag of crisps and tin of pop (possibly) and a few hours' kip, Leclerc was back at it again - this time for the Veloce Not The GP Versus series, where drivers including Jamie Chadwick, Alex Albon and Nicholas Latifi went head-to-head in one-lap race-offs.
Oh, and Courtois again. He went out in the first round.
That time, Leclerc beat Williams' Latifi - yet to actually contest a real grand prix thanks to coronavirus - in the final.
Leclerc did, however, suffer one ignominy in a lorry race the other day with Williams' George Russell. It didn't end well.
Leclerc said after Sunday's win: "I'm actually enjoying very much playing, and streaming. But the post race celebrations are somehow feeling a bit different. Switching off the computer and going to cook white pasta is a bit less glamour than spraying champagne on the podium."
During the China race former McLaren driver and current Mercedes Formula E man Stoffel Vandoorne finished a creditable third.
That was only once place behind what he managed in the esports version of his current employment, as Formula E launched its Race At Home challenge on Saturday with a test event on a virtual Monaco circuit. BMW iAndretti's Max Gunther won the race.
Formula E will run a nine-week season across the lockdown, which involves all the drivers and teams from the currently postponed championship.