Azerbaijan Grand Prix postponed because of coronavirus outbreak

By Andrew Benson
Chief F1 writer
Last updated on .From the section Formula 1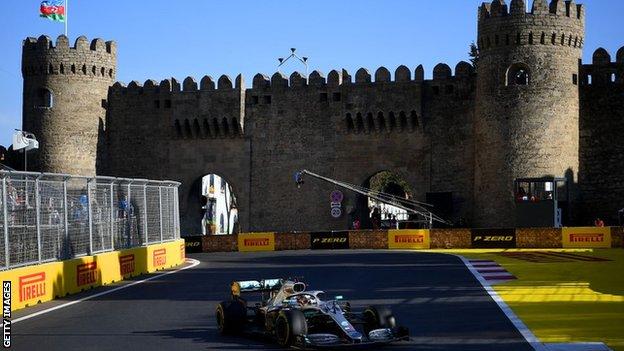 The Azerbaijan Grand Prix, due to take place on 7 June, has been postponed as a result of the coronavirus crisis.
The street race in Baku is the eighth race to be called off at the start of the 2020 World Championship season.
Race organisers said they would work closely with F1 "with a view to announcing a new date later in 2020".
The Canadian Grand Prix on 14 June is also in doubt after Canada became the first country to pull out of this summer's Olympic Games in Tokyo.
F1 chairman Chase Carey said in a statement that he expected "the season to start at some point this summer, with a revised calendar of between 15-18 races".
The 2020 schedule originally contained a record 22 races but the coronavirus crisis has thrown the season into disarray.
Seven Grands Prix - Australia, Bahrain, Vietnam, China, the Netherlands, Spain and Azerbaijan - have been postponed while Monaco has been cancelled altogether.
Carey said he was expecting a wholesale reordering of the schedule and an end to the season later than originally planned.
"While at present no-one can be certain of exactly when the situation will improve, it will improve," he said. "When it does, we'll be ready to go racing again. We are all committed to bringing our fans a 2020 championship season.
"We recognise there's significant potential for additional postponements in currently scheduled events.
"As previously announced, we will utilise the summer break being brought forward to March/April, to race during the normal summer break period.
"And [we] anticipate the season end date will extend beyond our original end date of 27-29 November, with the actual sequence and schedule dates for races differing significantly from our original 2020 calendar.
"It is not possible to provide a more specific calendar now due to the fluidity of the current situation. But we expect to gain clearer insights to the situation in each of our host countries, as well as the issues related to travel to these countries, in the coming month."
F1 has in the past week made a series of changes to try to put itself in the best possible shape once racing can resume.
In addition to the removal of the summer break, teams have waived their extensive consultation rights on the calendar, and the major regulation change planned for 2021 has been postponed until 2022.
F1 has accepted that all current dates may have to change as they seek to re-establish a schedule later in the year.
And changes to the format of race weekends can be expected as F1 seeks to cram as many Grands Prix as possible into whatever time it has. This could include reducing the normal three days of track action to two.