Alex Albon named Red Bull second driver for 2020 F1 season
Last updated on .From the section Formula 1157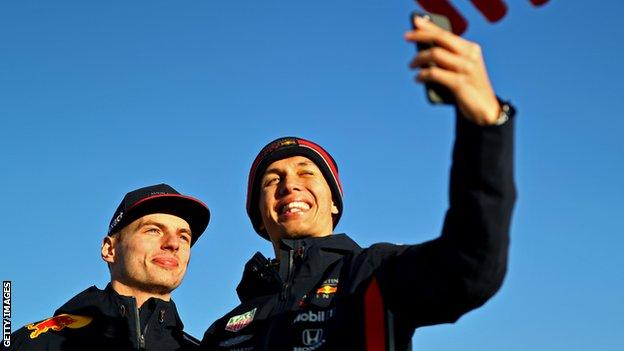 Red Bull have named Alex Albon as their second Formula 1 driver for next season.
Red Bull demoted Pierre Gasly to its junior team Toro Rosso mid-season and promoted the 23-year-old Thai-Briton for the remaining races.
Albon has finished in the top six in every race he has contested for Red Bull, outscoring team-mate Max Verstappen by 19 points.
"I know how fortunate I am to be given this opportunity," said Albon.
"I'm hugely thankful that Red Bull have put their trust in me and believed in my results since I joined the team and for them to keep me in the car next year is a big deal."
Red Bull Racing team principal Christian Horner said there was still "plenty of potential to unlock" in the youngster, who made his Formula 1 debut for Toro Rosso at this year's Australian Grand Prix.
"Alex has performed extremely well since his debut with the team in Belgium and his results - seven finishes in the top six - speak for themselves," he said.
"It's extremely hard to deny that level of consistency and in tandem with a growing reputation as a tenacious, fiercely committed racer, Alex has proved that he fully deserves to continue his progress with Red Bull."
Meanwhile, Gasly will remain with Toro Rosso for the 2020 season, alongside Daniil Kvyat.
Analysis
BBC chief Formula 1 writer Andrew Benson
Albon has impressed since he was promoted in place of Gasly for the second part of the season.
Perhaps his single stand-out performance was matching Verstappen's qualifying time at the Japanese Grand Prix, despite it being Albon's first visit to the daunting Suzuka circuit.
There have also been a series of strong race drives, including coming through the field from the back in Belgium and Russia.
The statistic that he has outscored Verstappen since he joined the team is slightly misleading, as the Dutchman has had a couple of messy races and a retirement through no fault of his own in Japan - and Albon has yet to prove he can match Verstappen's pace consistently.
But the team have been very impressed by his technical feedback and his intellectual approach to his job.
He carries around a little notebook in which he keeps key bits of information and is said by senior figures to be extremely sharp when it comes to analysing the performance of his car.
Red Bull is a highly pressured environment but Albon has proved to be a calm and unflustered character. He and Verstappen get along well, and it is clear Verstappen has respect for Albon's ability, the two having been old rivals from their younger days in karting.
Albon, who has a British father and Thai mother and has spent most his life in the UK but chose to race under a Thai licence, had a roundabout route to F1, but watching his development in 2020 will be one of the key themes of next season.