Romain Grosjean and Kevin Magnussen to stay at Haas for 2020 season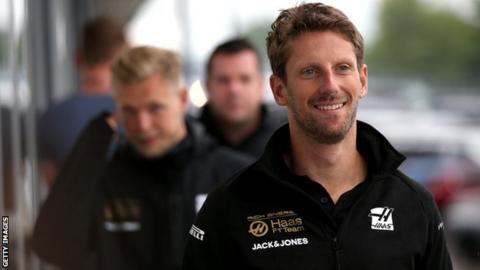 Haas have chosen to stick with Romain Grosjean rather than replace him with Nico Hulkenberg as Kevin Magnussen's team-mate in 2020.
Haas said they decided to retain the Frenchman in the interests of stability after a difficult year technically.
Team boss Gunther Steiner said the decision was "a close call".
"The main thing was do we want this step and introduce a new element into the team? That was the main reason we stayed with Romain," Steiner said.
Magnussen was already under contract for 2020 and Haas ultimately decided to extend the contract of Grosjean, who has been with the US-based team since their inception in 2016 and has developed a reputation as a fast driver who is prone to making serious errors.
But Steiner said he had also been instrumental in helping Haas analyse what has gone wrong with their car this season.
"He is with the team for four years - we know his highs and his lows, like you guys know," Steiner said.
"On a good day, he is a very good driver. He knows the team very well.
"The biggest reason is our car this year is not performing as we wanted it to perform, which has nothing to do with the drivers. It is the car - we are very conscious about that at the moment and open about it.
"A new guy wouldn't know where we started. Romain was a big part of getting the understanding of why we are wrong with the car, he was a big help and we didn't want to have any more unknowns."
Steiner said a desire to return to Haas's strong performances in 2018, when they finished fifth in the World Championship, was a key factor.
"Our focus was only how can we get back to where we were last year," Steiner said. "We need to get that going again, so just replicating what we did in 2017 for 2018 will help us get there."
He admitted that Grosjean's errors could well cost the team points but said that was taken into account.
"Maybe he brings us there to get to the points and then we have to deal with afterwards - but if we never get there we can lose points," Steiner said.
"Why do I need to change and take a risk? Only time will tell if it is the correct decision."
What next for Hulkenberg?
The decision looks to have left Hulkenberg in a tricky position if he wants to prolong his F1 career.
He has also been talking to Alfa Romeo, where some in the team are said to prefer taking Hulkenberg rather than Italian Antonio Giovinazzi, who has had an error-prone debut season.
But Giovinazzi is a member of the Ferrari driver academy and the teams have close links - Alfa use Ferrari engines and receive sponsorship funding from the Fiat Group for changing their name from Sauber for this season.
Beyond Alfa, Hulkenberg's options look limited following Renault's decision to replace him with Frenchman Esteban Ocon for next season.
There is a potential opening at Williams alongside George Russell, but that team are expected to need a driver to bring sponsorship money.
Beyond that, the only apparent uncertainties are at the two Red Bull teams.
Red Bull will wait until later in the year to decide whether to retain Alexander Albon after promoting the Anglo-Thai rookie from Toro Rosso two races ago.
And Toro Rosso is a junior team that is unlikely to take on a veteran such as Hulkenberg from outside the Red Bull programme.