Valtteri Bottas will remain at Mercedes for 2020 Formula 1 season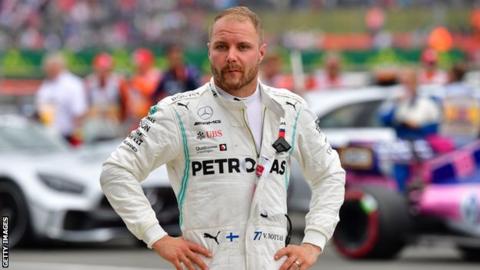 Valtteri Bottas will remain at world champions Mercedes for the 2020 Formula 1 season.
Mercedes exercised an option to extend his contract after team boss Toto Wolff decided to retain the Finn rather than promote reserve driver Esteban Ocon.
Ocon has joined Renault for 2020 after a year on the sidelines.
Wolff had been concerned that Bottas' form had slipped after a strong start to the season but preferred stability over the uncertainty of taking Ocon.
"For 2019, we set Valtteri the challenge of coming back even stronger than we saw him in the first part of 2018 - and he has achieved that, with some really impressive performances in the early races this year," said Wolff.
Bottas, who joined Mercedes in 2017, is second in the championship, 62 points behind team-mate Lewis Hamilton.
He is level with the Briton on four pole positions going into the Belgian Grand Prix this weekend but has won only two races compared with Hamilton's eight.
"I am very happy and proud to be part of the team for a fourth season and wish to thank every team member and the board of Mercedes for their trust and belief in me," said the Finn, 30.
"My performances have been getting better and better each year, and this is a great way to kick-start the second half of 2019."
Bottas and Hamilton had two wins each after the first four races of the season but Hamilton kicked on from there while his team-mate's form dropped off, especially in races.
He went into the summer break on the back of two disappointing grands prix, crashing out in Germany when running second and with a great chance to cut Hamilton's championship lead then finishing eighth in Hungary after damaging his front wing on the first lap in a collision with Ferrari's Charles Leclerc.
But Wolff ultimately decided against the potential risk of introducing an unknown element into the team.
He also had concerns that putting the 22-year-old Frenchman up against Hamilton so soon could damage his career and has instead freed Ocon to join Renault.