Austrian Grand Prix: Charles Leclerc leads way as frontrunners bring out red flags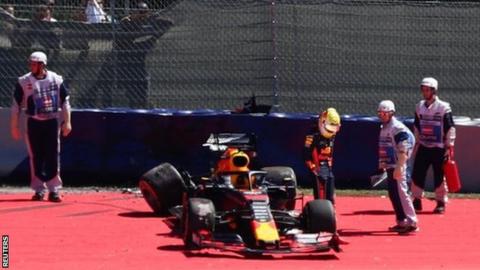 Ferrari's Charles Leclerc set the pace in a dramatic second practice session at the Austrian Grand Prix as Valtteri Bottas and Max Verstappen crashed.
Mercedes driver Bottas and Red Bull's Verstappen both went off heavily, the session stopped each time for their badly damaged cars to be recovered.
And Ferrari's Sebastian Vettel also had a big spin, just avoiding a crash.
Leclerc ended up ahead of Bottas, Red Bull's Pierre Gasly and championship leader Lewis Hamilton.
It is almost unprecedented for three such big-name drivers to have such significant incidents in one session - especially when no-one else crashed.
And it meant the times were not representative because, of the top four at the end of the session, only Leclerc and Gasly completed qualifying-style laps on low fuel, and even Leclerc's was compromised.
The Monegasque had to back off on his first flying lap because Vettel had gone off at Turn 10 ahead of him.
He improved on his second lap - by going faster in the final sector where he had had to back off for yellow flags - but his first and second sectors were slower than on his previous lap. That means there was more time in his car because the tyres would have been past their best on the second lap.
"The car felt quite good so that's positive but I suspect a stronger Mercedes tomorrow," said Leclerc. "It will be very difficult to keep them behind but we will do everything. I still believe it is Mercedes [who are favourites] but definitely we are closer than we were in Paul Ricard [last weekend]."
The times that put Bottas and Hamilton second and fourth were set earlier in the session, on the medium and hard tyres. Verstappen ended up ninth.
What happened in the crashes?
It seemed the strong, gusting wind was an influence on the errors drivers made, starting with Verstappen, who lost the rear of his car in the middle of Turn 10, a demanding corner with a downhill entry and a compression at the apex.
He spun, and hit the barriers backwards, damaging a rear corner, and he swore repeatedly over the radio as he expressed his frustration at his error.
The session had barely restarted when Bottas lost control at Turn Six, a long, quick downhill left-hander. He lost the car just after getting on the power, caught the snap, but was already off the track, and speared through the gravel before a sizeable impact with the barriers.
"It was pretty big hit for me but I'm all OK with no pain," said Bottas.
"There were some gusts out there this afternoon and I think I managed to find one of them - the corners here are very tricky and very penalising if you make even a small error. But I must say I prefer this kind of circuit which penalises mistakes - it's how I like it and it makes it even more exciting.
"Before the shunt, I had an issue with the engine this morning which meant we swapped to the old one for FP1. That compromised me a little bit but we found a clear direction on car set-up."
Bottas' accident ruined Hamilton's qualifying-simulation lap, but afterwards the Briton reported "a clean day for me with no major issues, although I broke a couple of front wings on the kerbs like a lot of other drivers".
He added: "We are flat out for a large portion of the lap this year - even corners like Turns Six and Seven, Turn Nine and the last corner are seriously quick in these cars - and we have been tickling the set-up all day to improve it.
"Ferrari and Red Bull look quick, particularly Ferrari, and it will be interesting to see how it pans out tomorrow. This is one of those circuits where the times are always very, very close and small margins make the difference; that's a positive because it means we will have our work cut out."
The Ferraris went out for their quick laps as soon as the track was re-opened after a second eight-minute stoppage. Both soon set fastest sector times, Vettel in the first sector and Leclerc in the second, before the German lost it on entry to Turn 10 - earlier in the corner than Verstappen had - and the car just stopped before hitting the barriers.
Later in the session, McLaren's Carlos Sainz also went off at Turn Six, after a snap of oversteer on entry, but he managed to rejoin after a trip through the gravel.
Some encouragement for Ferrari
Although it was impossible to compare the headline times for a true picture of competitiveness, there was some encouragement for Ferrari in the longer runs on race levels of fuel.
Leclerc's long run was of a comparable pace to Hamilton's, which raises some hopes Mercedes might have some opposition this weekend.
The silver cars have won every race so far this season, and Ferrari have let at least two opportunities to beat them slip through their fingers.
Behind the top teams, Sainz was fifth fastest, ahead of the Haas of Romain Grosjean, Alfa Romeo's Kimi Raikkonen, Vettel, Verstappen and the second McLaren of Lando Norris.