Azerbaijan GP: Charles Leclerc fastest in practice

By Andrew Benson
Chief F1 writer
Last updated on .From the section Formula 1221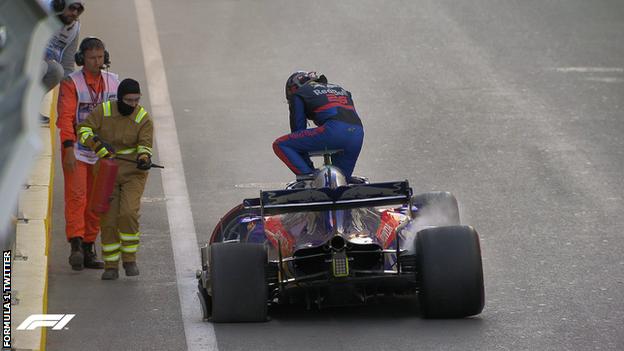 Charles Leclerc led a Ferrari one-two in an incident-packed second practice at the Azerbaijan Grand Prix.
The 21-year-old led the way for much of the session and ended it 0.324 seconds ahead of nominal team leader Sebastian Vettel with Lewis Hamilton third.
Hamilton was 0.669secs off Leclerc's pace as Ferrari made a flying start to the weekend with an upgraded car.
There were two red-flag periods after crashes for Lance Stroll and Daniil Kvyat.
Stroll lost control of his Racing Point at Turn Two early in the session, taking off his front-left corner after losing the rear on the way into the corner.
And Kvyat had a big impact at Turn Seven with about 25 minutes to go, again because of a rear-end snap, heavily damaging the left-hand side of his Toro Rosso.
Kvyat's crash brought to an end what had been until then a promising session for the Russian. He had a late start to the session as the team fixed a problem on his car, but he had just beaten team-mate Alexander Albon by 0.039secs to go sixth quickest when he braked too late trying to go for a faster time and smashed the car into the wall.
Safety concerns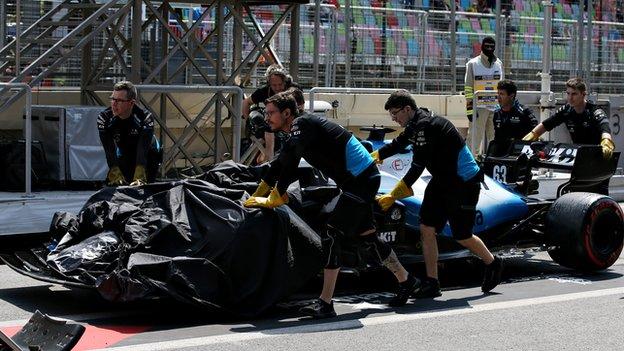 The two incidents cost the teams more time, after the first session was cancelled because George Russell's Williams hit a manhole cover, destroying his car.
In farcical scenes, the truck bringing Russell's car back to the pits crashed into a bridge over the track.
That leaked hydraulic fluid on to Russell's car beneath.
Only the two Ferraris had set lap times when Russell's incident happened, and the session was ended so officials could repair the cover and check the more than 300 around the rest of the track.
In the Formula 2 support race qualifying session that followed two marshals were run over by the rear wheels of a stricken car.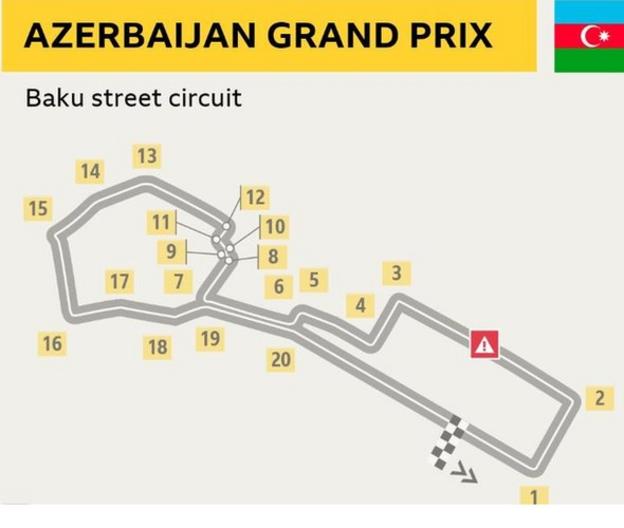 Ferrari look fast
Leclerc's pace threw down the gauntlet to his rivals on a weekend that has started with him making it clear that he intends to force a re-think from Ferrari on their policy of favouring Vettel with team orders this season.
Leclerc was immediately quick at the start of the session, his time on the middle-compound 'medium' tyres 0.7 seconds quicker than Hamilton despite brushing the wall out of Turn Seven, and more than a second up on Vettel.
On the fastest 'soft' tyres, Leclerc went fastest on his first run, nearly 0.7secs quicker than Vettel, before the German responded to sneak ahead, and then Leclerc reclaimed top spot with his third lap.
The Ferraris, fitted with a major aerodynamic upgrade, appeared to have an edge over Mercedes, with Hamilton ending up 0.669secs behind Leclerc.
"I am very happy, I like the track a lot and it has been a good day," Leclerc said. "The car in general was OK. I felt good in the car and on this track."
"To judge the new aero package we have is quite difficult. Overall, it was a positive day.
"I think we are pretty strong but on the other hand there is a lot more to come from Mercedes.
"They were very quick on the long runs. I am pretty sure tomorrow when they put everything together it is going to be very tight."
Red Bull's Max Verstappen was fourth fastest, 0.921secs behind Leclerc, ahead of Hamilton's team-mate Valtteri Bottas and Kvyat.
Verstappen's team-mate Pierre Gasly, who was ninth fastest and half a second off the Dutchman, was penalised for failing to stop for the weigh bridge during the session and has to start the race from the pit lane as a result.
It was the continuation of a torrid start to his Red Bull career for the Frenchman, who has lagged behind Verstappen at all three races so far.
Hamilton said: "It's been a bit of an odd day, but I still enjoyed it. FP2 went really well, I was feeling good out there and I was more comfortable in the car than I was last year.
"However, the Ferraris are clearly very quick and it looks like they're quite a bit ahead of us, so we'll need to investigate to see where we are losing time compared to them. It's unlikely that we will find seven tenths overnight, but we'll do everything we can to push the car in the right direction."