Lewis Hamilton: Mercedes driver braced for 'toughest battle yet'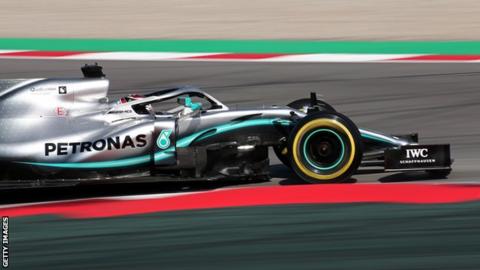 Lewis Hamilton says he is braced for his "toughest battle yet" after conceding Ferrari have had the best car in pre-season testing.
The five-time world champion believes his Mercedes team's deficit to Ferrari is "potentially half a second".
However, Hamilton ended the final test day just 0.003 seconds slower than Sebastian Vettel's pace-setting time.
"Last year there were many occasions we as a team were behind on performance and had to achieve," Hamilton added.
"We were not behind anywhere near as much last year."
Ferrari have been consistently quick during two weeks of testing in Spain and their car has proved easy to drive and fast in all conditions.
The Mercedes, by contrast, has been difficult to balance and prone to tyre problems.
Hamilton, who was helped on his way to the title last year by a series of mistakes by Ferrari and their lead driver Sebastian Vettel, said: "Last year they arrived with a car working well but they have done even better this year.
"It's OK. We don't mind the challenge, it just means we have to work harder. I'm not worried or disappointed or anything. We have a hill to climb but we know how to do it."
Ferrari team principal Mattia Binotto said: "I'm happy to know Hamilton believes we are faster and very strong but I believe Mercedes will be very strong in Australia and it would be completely wrong to think we are faster than them. I am not expecting them to be behind us. I think they will be very, very close."
Vettel ended pre-season with the fastest time, and Hamilton's late surge moved him ahead of the German's team-mate, Charles Leclerc, who was just 0.01secs slower than Vettel.
However, Ferrari's final test has been troubled by recurring reliability problems.
Leclerc lost time to a cooling system problem on the first day, Vettel crashed on the second day because of a wheel-rim failure, which also cost Leclerc running.
And on Friday Vettel had to abandon a race-simulation run in the afternoon when his car broke down on track with an electrical problem that forced them to abandon the rest of the test.
Red Bull also hit trouble on the final day of the test. After Pierre Gasly crashed the car at high speed on Thursday, the team were half an hour late getting the repaired car out on track on Friday, with Max Verstappen at the wheel.
The Dutchman then lost time with a gearbox problem in the afternoon and ended the day 11th fastest, although Red Bull did not run the two fastest tyre compounds.
Fastest times, day four, final pre-season testing, Circuit de Barcelona-Catalunya
1 Sebastian Vettel (Ger) Ferrari) one minute 16.221 seconds
2 Lewis Hamilton (GB) Mercedes 1:16.224
3 Valtteri Bottas (Fin) Mercedes 1:16.561
4 Nico Hulkenberg (Ger) Renault 1:16.843
5 Daniil Kvyat (Rus) Toro Rosso 1:16.898
6 Carlos Sainz (Spa) McLaren 1:16.913
7 Romain Grosjean (Fra) Haas 1:17.076s
8 Daniel Ricciardo (Aus) Renault 1:17.114
9 Kimi Raikkonen (Fin) Alfa Romeo 1:17.239
10 Kevin Magnussen (Den) Haas 1:17.565
11 Max Verstappen (Ned) Red Bull 1:17.709
12 Sergio Perez (Mex) Racing Point 1:17.791
13 Robert Kubica (Pol) Williams 1:18.993
All times set on fastest tyre except Verstappen, who was on the middle tyre of five.