Alexander Albon: Toro Rosso deal for 2019 for British-born Thai driver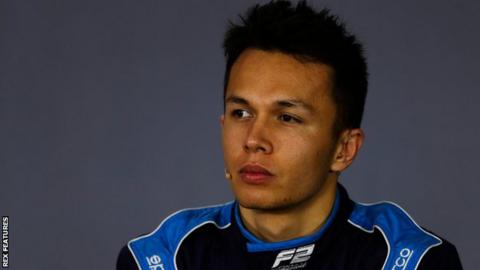 Red Bull junior team Toro Rosso have signed Alexander Albon to compete their line-up for 2019.
It means there will be four drivers of British origin on the grid next year.
Albon, 22, was born in London but races under a Thai flag. He joins rookies Lando Norris at McLaren and George Russell at Williams and five-time champion Lewis Hamilton.
Albon has been given a second chance by Red Bull after being dropped from their driver programme in 2012.
He replaces New Zealander Brendon Hartley at Toro Rosso.
As such, the 22-year-old is in a similar position to his new team-mate Daniil Kvyat, whose contract Red Bull terminated last year after four years driving for them in F1, before they decided to bring him back into the fold for 2019.
Albon said: "It's such an amazing feeling to know that I'm in Formula 1 next year.
"Throughout my single-seater career, I went through a few ups and downs. I was dropped by Red Bull in 2012, so from then I knew my road to Formula 1 was going to be a lot harder.
"I worked really hard and tried to impress every time I got in the car, and I have to say a big thank you to Red Bull and (motorsport boss) Helmut Marko for believing in me and giving me a second chance.
"I've always been motorsport mad and since I first got in a car it's been my dream to be in F1. To be given this opportunity is just incredible."
Albon has won his chance as a result of a strong season in Formula Two, where he finished third, and Red Bull's paucity of other options on their junior driver scheme.
Red Bull motorsport director Marko decided Hartley's performances were not convincing enough in his debut full season for him to ever consider that he might promote him to the Red Bull senior team.
Albon is the first Thai driver to race in F1 since Prince Bira in the 1950s.