Formula 1: FIA reject Haas' protest on Force India championship entry

By Andrew Benson
Chief F1 writer in Abu Dhabi
Last updated on .From the section Formula 1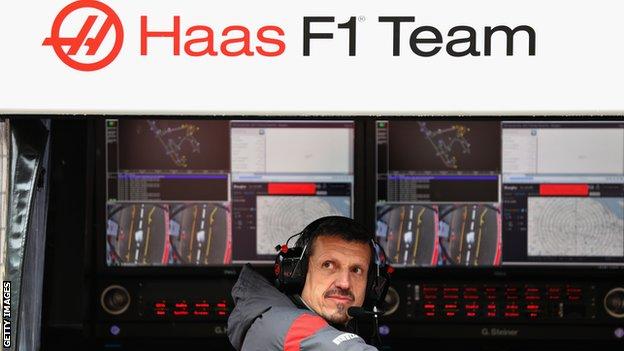 Haas' protest that the Force India team are not entitled to an entry in the world championship has been rejected by Formula 1 officials.
Haas claimed that Force India, which collapsed in July and was bought by a new owner, were not a constructor.
This was rejected by governing body the FIA, but the decision could have financial consequences because it confirms Force India as a new team.
That could mean they lose the right to previously earned prize money.
The stewards ruled that the Force India had not broken rules that forbid teams from using parts designed by other competitors because the old entity could not be considered a competitor, as it had ceased to exist.
And they said there was no restriction in the rules on using parts from a former or excluded team.
However, the FIA's confirmation of Force India as a new team could call into question their entitlement to more than $30m worth of prize money next year - and equally make Haas entitled to double that.
Haas team boss Gunther Steiner said at a news conference on Friday that he was simply seeking "equality for all teams".
He added: "We came in under certain conditions. We were aware of what we had to do, but that was not the case (for Force India)."
This is a reference to the decision by F1 to allow the new Force India to keep receiving prize money earned by the old one.
The initial intention had been for new owner Lawrence Stroll to buy the equity of the old team but this hit a snag because of the legal and financial difficulties surrounding former co-owners Vijay Mallya and Sahara Roy, who have been accused by Indian authorities of financial impropriety.
These meant it was impossible to complete a sale in time for Force India to race at the Belgium Grand Prix after the summer break, and instead the old team was allowed to collapse and Stroll bought its assets. The FIA then granted it an entry as a new team.
But Haas always objected to it being allowed to keep its prize money - and other teams only granted their permission for the deal to come together on certain conditions, which have not yet been satisfied.
If Force India are reclassified by F1, they would lose more than $30m of prize money next year. And Haas could potentially gain $60m which they were not previously entitled to.
Haas has not yet said whether it will take the process any further.
F1 has been approached for a response but is yet to comment.