Formula 1: Mercedes' Niki Lauda aims for return 'soon'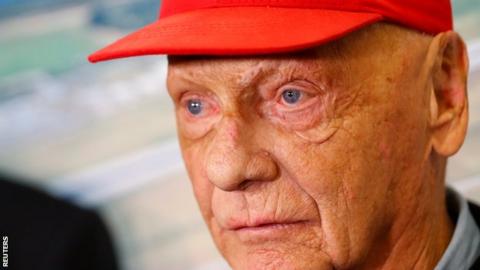 Mercedes non-executive chairman Niki Lauda says he will be back at work "soon" as he recovers from a double lung transplant in August.
The three-time Formula 1 world champion posted a video message on Mercedes' Instagram page congratulating the team on their fifth world title double.
"The important message is I will be there soon and off we go, the pressure comes, for the sixth time," Lauda said.
Lauda, 69, added the team's achievement this year was "outstanding".
"As you all know, I had a rough time from my health point of view," he said, "and the support I got from all you people on my way was unbelievable and I was out of bed quicker because I felt to be home in a big strong family and friends.
"The achievement of this year - outstanding. Five championships in a row, Lewis again, Bottas right there, we could not have done a better job."
Lauda was given his transplant in August after doctors discovered he had been suffering from "severe lung disease".
Doctors revealed after the operation that he would have had between three and seven days to live without the transplant.
Lauda has legendary status in F1 not just for his championships, two with Ferrari and one for McLaren, and 25 race wins but his recovery in 1976 from a fiery accident at the German Grand Prix.
Lauda was given the last rites after his Ferrari caught fire and he was trapped inside it at the Nurburgring, and he suffered severe burns to his face, hands and lungs, but raced in Italy 40 days later.
Doctors said the illness this year was not a consequence of the accident.