Abu Dhabi GP: Valtteri Bottas fastest as Red Bull show pace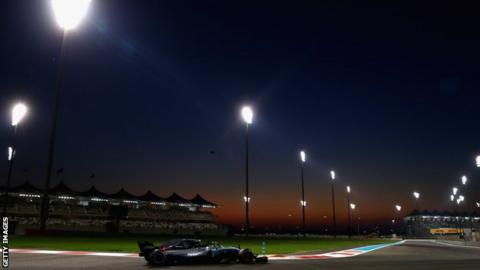 Mercedes driver Valtteri Bottas headed Red Bull's Max Verstappen in second practice at the season-closing Abu Dhabi Grand Prix.
The Finn, who has yet to win this year while team-mate Lewis Hamilton claimed a fifth world title, was just 0.044 seconds quicker than Verstappen.
The second Red Bull of Daniel Ricciardo was third, 0.192secs off the pace, ahead of Hamilton and the Ferraris.
Kimi Raikkonen headed Sebastian Vettel, who has not won a race since August.
The German wants to finish the season on a high after a title challenge slipped through his fingers as a result of errors from driver and team.
Vettel said that winning would be "difficult", adding: "Today we were not fast enough, so we see. We need to find quite a bit of pace. For one lap we should be able to improve quite a bit. The conditions came to us. The car was definitely quicker this evening than this afternoon."
"Overall, it's been a good day," said Hamilton. "Even though the first session was not great. The track was very green in the beginning, so there was a lot of sliding around and - just like everyone else - we were struggling with the tyres.
"We made some really good changes over the break and I was much happier with the car in the second session, but there's still a lot of work to do. Red Bull looked quick. They're usually fast in practice and in the race, so I have no doubts it will be the same this weekend."
A close fight come race day?
But on the evidence of Friday, such as it is, the top three teams will be closely matched - only 0.333secs separated all their six drivers on a relatively long lap.
Verstappen is the form man as the season comes to an end. He would have won in Brazil two weeks ago had he not tangled with a lapped car, did win in Mexico two weeks before that, and climbed from 18th on the grid to finish second the race before that in America.
On race pace, Hamilton, Verstappen and Raikkonen also looked closely matched on the hyper-soft tyres, which will need careful management if teams start the race on them.
But the softest tyre in Pirelli's range was again proving fragile and it may be that some of the leading teams will try to get through second qualifying on the harder ultra-soft tyre to give themselves a more comfortable race.
There were no major incidents in the session, after Sauber's Marcus Ericsson spun and dinked his front wing in the earlier first 90 minutes.
Off track, Haas, whose drivers Romain Grosjean and Kevin Magnussen were seventh and ninth fastest have lodged a protest against Force India.
Their claim is that Force India are technically breaking the rules because they are racing cars they did not design, which is a requirement in F1.
This follows Force India's collapse into administration in the summer and rescue by the Canadian businessman Lawrence Stroll. Although the same people are working for the team now as before, the rescue package involved Stroll buying the team's assets and being allowed an entry as a new team, starting from zero points.
Haas are upset because Force India have been allowed to keep their entitlement to a significant part of the prize money fund, which is only available to teams that have finished in the top 10 in two of the previous three seasons.
Haas team principal Gunther Steiner said: "We are seeking equality for all teams. We came in under certain circumstances. We were aware of what we had to do. But that was not the case in this case.
"We tried to mediate to find an amicable solution but if you don't get anywhere at some point you need to do something."
He added: "I don't want more money for us. I want that it is fair."
Who will win in Abu Dhabi?
Choose your top three drivers from the list below
Hamilton ran on Friday the engine that he used in the last race in Brazil, and which at one point there the team felt was within one lap of failing.
Mercedes said the problems was with the variable valve system and that settings were changed during the race to "contain the risk of failure/maximise performance".
Mercedes say they have "made hardware changes outside the sealed perimeter and we are running that engine today".
Mercedes will analyse the engine at the end of Friday's running. If it is not fine, they face the choice between running one that has already done seven weekends - and therefore would be over its planned life - or fitting a new engine.
Fernando Alonso, in his final race, was 13th fastest for McLaren.