Abu Dhabi Grand Prix: Max Verstappen defends Esteban Ocon altercation at Brazilian Grand Prix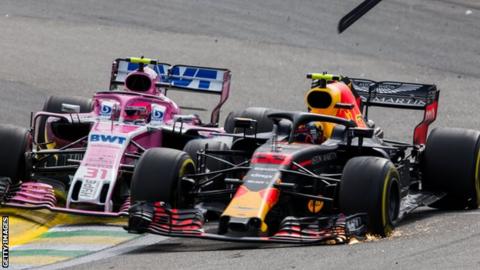 Max Verstappen has defended his "normal response" after he shoved Esteban Ocon when the Frenchman had denied him a likely win at the Brazilian Grand Prix.
Verstappen, 21, was leading on lap 44 when backmarker Ocon tried to un-lap himself and the pair collided.
The Dutchman spun and lost the lead to Lewis Hamilton, eventually coming second, before pushing Ocon in the chest three times after the race.
"It could have been much worse," said the Red Bull driver on Thursday.
Speaking at a news conference before the final race of the season in Abu Dhabi, Verstappen added: "What do you expect me to do? Shake his hand and say 'thank you very much for making me second instead of first'? I think it is quite a normal response.
"We are all emotional and at the time I had lost a victory. Pushing, in any sport, it happens. I actually saw it a few days ago in football again. So from my side, I thought it was quite a calm response."
He remonstrated with Ocon in the driver weighing area after the race and both drivers were then called to see the stewards to explain the incident.
Verstappen was ordered to carry out two days of public service to atone for "making deliberate physical contact with" Ocon, who was given a 10-second stop-go penalty for the collision during the race.
Verstappen said he only reacted the way he did because of something the Force India driver said.
"You don't hear what is said, you just see me pushing. I was after an apology and I got a bit of a different response," Verstappen added.
"But if you understand the whole conversation you will see it as a bit different. He said something that I didn't expect to hear. It doesn't matter what it was.
"I don't expect to crash with a backmarker. If you get hit like that, I honestly don't understand what I should do differently."
Ocon, who will not be driving in Formula 1 in 2019, said: "It's not a great thing to be involved with a crash with the leader. It's not a thing you want to see and I'm sorry for Max.
"It was his race to win, he did a fantastic job during the whole race. We have to move forwards in what happened. We can't change the past."
How to follow the Abu Dhabi Grand Prix on BBC Sport
BBC Sport has live coverage of all the season's races on BBC Radio 5 live and BBC Radio 5 live sports extra, plus live online commentary on the BBC Sport website and mobile app - including audience interaction, expert analysis, debate, voting, features, interviews and video content.
All times GMT. Broadcast times are subject to change at short notice.
Abu Dhabi Grand Prix coverage details
Date
Session
Time
Radio coverage
Online text commentary
Thursday, 22 November
Preview
20:30-21:00
BBC Radio 5 live
Friday, 23 November
First practice
08:55-10:35
BBC Sport online
From 08:30
Second practice
12:55-14:35
BBC Radio 5 live sports extra
From 12:30
Saturday, 24 November
Final practice
09:55-11:05
BBC Radio 5 live sports extra
From 09:30 (continuous)
Qualifying
12:55-14:05
BBC Radio 5 live sports extra
Sunday, 25 November
Race
13:00-15:00
BBC Radio 5 live
From 11:30
Monday, 26 November
Review
04:30-05:00
BBC Radio 5 live