Fernando Alonso: The end at Ferrari & another wrong decision leads back to McLaren

By Andrew Benson
Chief F1 writer
Last updated on .From the section Formula 1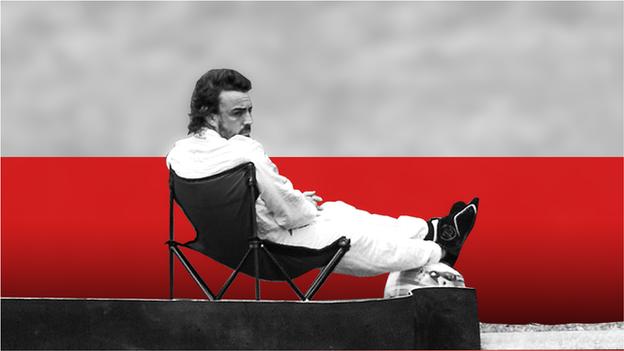 Fernando Alonso: the F1 great who couldn't catch a break - part four of five
Luca Di Montezemolo led Ferrari for 23 years from 1991-2014 and he says his final year in charge was "maybe the worst season of my career".
The nightmare started on the day he realised the team had "heavily underestimated" what was required of the new hybrid engines in F1.
This did not just mean a season of uncompetitiveness; he knew it meant a serious problem with Fernando Alonso.
The first pre-season test was in Jerez in Spain. Alonso's team-mate Kimi Raikkonen drove the first two days.
"He told me: 'There is no power in the engine,'" Di Montezemolo says. "And the third day was Fernando and he told me exactly the same. And I understood that the season was over because it was impossible to work on the engine, because under the rules it was frozen.
"I think that was the moment Fernando said: 'If I continue to stay at Ferrari, I will never again win a championship.' Because it was really a shocking moment."
While Alonso was coming to terms with it, something else was afoot. Sebastian Vettel and Ferrari had been flirting with each other for a while.
Now, unknown to anyone outside the very top echelons of Ferrari, Vettel, who was by then a four-time world champion with Red Bull, had begun serious discussions about joining the team.
Di Montezemolo says: "He came to my home with a very nice box of Swiss chocolates, because he lives in Switzerland.
"It was before the start of the season, and to make the story short, he told me, 'Listen, if this season, as I suspect, I do not win the championship, I want to come to drive for Ferrari.'"
The problem was that Ferrari already had two drivers under contract - Raikkonen until the end of 2015 and Alonso, whose deal ran until 2016. If Vettel was to join, Alonso was going to have to leave.
'Fernando loved Ferrari - but he was not confident any more'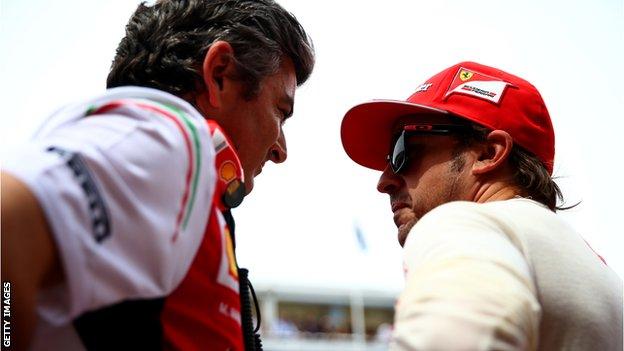 Three races into the 2014 season, Ferrari team principal Stefano Domenicali resigned, saying he was taking responsibility for the car's poor performance.
His replacement, Marco Mattiacci, started talks with Alonso about the driver's future. Initially, Mattiacci was keen for Alonso to sign an extended contract and the conversations were about him committing to the team for another three years - until 2019. But before long that changed.
Di Montezemolo says: "Fernando at the beginning said yes, and then said no, and then said: 'I don't want to renew.'"
In his negotiations with Mattiacci, Alonso was talking about wanting options in the contract to leave after one more year, or within the next three. Mattiacci felt this did not speak of a man committed to building a future with Ferrari and he put negotiations on hold.
He felt there was no rush to conclude a new deal with Alonso, seeing as he was under contract until 2016 anyway. But at the same time, he started pursuing Vettel more assiduously. He met a man keen to join Ferrari and commit to a new project.
Di Montezemolo says: "Mattiacci was very in favour to close the relationship with Alonso, without even doing deep negotiations to find a way to renew. I was not so convinced.
"If Alonso had come to me and said, 'Listen, I believe. I want to stay because I think Ferrari is Ferrari and I am sure next year we can improve,' I would have signed in 30 seconds.
"My concern was that in my conversations with Fernando, I always remember him very doubtful, very critical, a person who didn't really believe in the possibility that Ferrari can be competitive in 2015.
"Mattiacci decided if we can have Vettel, it is better for both of us to change. For him (Alonso), because if he stays it will be with a lot of doubts in his mind; for us, because we don't have a very motivated driver. Vettel wants to push, he loves Ferrari. Michael (Schumacher) was the best supporter of Vettel to me.
"So in the end, I said: 'I agree. If the situation with Fernando is still that he doesn't want to take a final decision, he wants to wait, he is not happy, he complains, it is better to let him go. Maybe he can find an opportunity outside - and, for us, fresh air.'"
A further complication was that Di Montezemolo was having "difficult relations" with Fiat president Sergio Marchionne, who was poised to take over at Ferrari.
"Until a certain moment, I did everything that was possible to have Alonso convinced and motivated for the future," Di Montezemolo said.
"Then, two elements: I was sure to leave Ferrari. So I didn't want to push Fernando too much because I was not able to keep my word with him. It was not correct for me to convince Fernando to stay and then leave. Fernando (would say): 'Listen, why did you not tell me you were going to leave?'
"And second because I have seen Fernando not convinced. For me, the mind of the driver is the most important."
That by the summer Mattiacci and Alonso were not getting on is no secret. Some sources say part of the reason for that was that Mattiacci offered him better terms - in terms of more money and more say in the team - only to withdraw the offer.
But Di Montezemolo says salary did not come into it.
"I never discussed money with Alonso before he decided to leave," he says. "Money was not on the table, at least in my discussions with him. Never.
"In other words, he did not decide to leave Ferrari for money, and we did not decide not to try to do our biggest effort to keep him because of money.
"He was not motivated, he was not sure, with a lot of doubts. And the father of Fernando had also a big influence on him. His father said: 'No, it is time for you to change. Leave Ferrari unfortunately for many reasons - you were not able to win the championship, you have to find some other alternative to win the championship.'"
The end game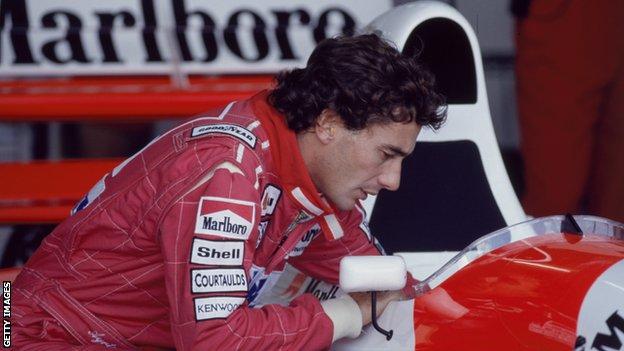 Still, though, there was the matter of extricating Alonso from his contract. Alonso was by now being wooed strongly by McLaren, who were starting a new relationship with Honda, and were offering him a $40m salary - considerably more than the 28m euros or so he was on at Ferrari.
Alonso convinced himself this would be a better option than staying with Ferrari. Romanticism played a part in his decision - he remembered the McLaren-Hondas he watched in his youth, and was attracted by the idea of emulating his boyhood hero Ayrton Senna's success in a new McLaren-Honda era in the 21st Century.
Over the summer of 2014, Alonso began to push Ferrari harder and harder for a release from his contract. By late August, they had secured a deal with Vettel to join, and were ready to agree to let Alonso leave.
A legal document was drawn up formally ending Alonso's contract. Alonso was called to a meeting with Mattiacci in Maranello in September.
"They put it on the table," a source says, "and said: 'Here it is. It is signed. If you sign it, you can go.' And Fernando took it, signed it and left. It was a very tense meeting."
Vettel had actually signed his contract before Alonso signed his release papers. Di Montezemolo describes this as "not very important; a legal (detail)".
There were trigger points in Vettel's deal that needed to be satisfied before the contract was activated, a Ferrari source says. These ensured Ferrari could not be left exposed, with three drivers signed for two seats. We can assume one of these was to get Alonso out of his contract.
Di Montezemolo adds: "I remember one thing very well. It was the beginning of September, before Monza. So, 5/6 September.
"Marchionne was in my office, and I said: 'Listen, because you will come in my position, I want you to talk with Vettel.' At that time, he had not signed formally yet. But everything was decided, confirmed between Mattiacci and Vettel.
"It was just a few days before Marchionne arrived to replace (me). So my position was to be correct, to put Marchionne at least in touch with Vettel on the telephone.
"Marchionne was in my office, him and me together, Vettel in his home, and Vettel said: 'I am very happy.' And Marchionne said: 'I am very happy. I know from Luca you will be our driver, so I am looking forward to see your signature.' And he said: 'It is just a question of the lawyers getting together.'"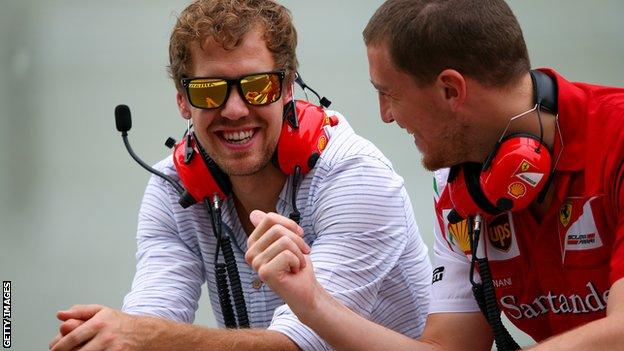 Vettel's move to Ferrari emerged into the public arena a month later, at the Japanese Grand Prix in early October. When it did, Alonso was angry. Not because, as some believed at the time, he had been tricked by Ferrari into signing a release he did not want to sign, but because he had lost control of the narrative.
The fact Vettel was joining Ferrari was announced by Red Bull, and it came before Alonso had said he was going to leave. From an image point of view that looked bad for Alonso. The order of events in public made it look like it was Ferrari's decision and not his.
The reality was that both had mutually decided that going their separate ways was the best solution. And that had come about because Alonso had lost faith in the team and decided he needed to leave.
When the switch became public, Alonso had not yet signed for McLaren-Honda. In fact, McLaren boss Ron Dennis had arranged for him to visit their technology and motorsport base in Sakura the day after the Japanese Grand Prix.
Honda board members who attended the race meeting in preparation for their debut in 2015 left during the grand prix to fly back to Sakura to prepare it for Alonso's visit.
When he got there, what he saw convinced him he had done the right thing.
"What is for sure is that Alonso decided to leave Ferrari at the end of August - already decided," Di Montezemolo says. "When he went to Sakura, it was the last push. I don't remember if he decided (to join McLaren) before, but it was the last push. 'I took the right decision to leave Ferrari because I am really impressed,' said Alonso."
The day after the end of the 2014 season, Ferrari announced they had replaced Mattiacci with Maurizio Arrivabene. Why has never been made public, until now - Marchionne had told Mattiacci he wanted to move him to another job within the company, away from F1, and Mattiacci resigned.
Sixteen days later, Alonso's three-year contract with McLaren-Honda was announced.
An epilogue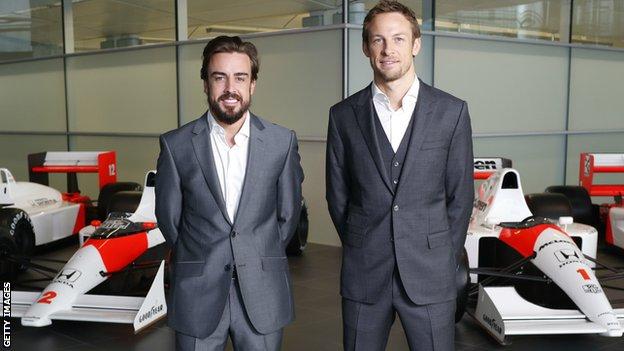 History relates that, on a competitive level, it was a mistake for Alonso to leave Ferrari for a McLaren team that were already struggling in 2014 even with Mercedes engines and were embarking on a new relationship with a manufacturer not yet ready to compete in F1.
But, equally, why did McLaren take Alonso back after everything that had happened in 2007?
Some time ago, in a surprisingly open casual conversation, Dennis told me: "The one thing you shouldn't miss is how young he came in (to F1), who was around him influencing him and how he developed a much better and more mature approach to his motor racing.
"The Fernando Alonso that was signed for McLaren in this last period was a very different animal from the Fernando Alonso who signed to discontinue his relationship with Renault.
"I'm talking about, if you say a normal learning curve of a young person sits at, say, a 10-degree incline, his was like 45 degrees. In other words, he went up a very steep learning curve and that changed significantly his character.
"He was unbelievably patient and understanding in the first year, the second year less so and then of course it was just pure frustration. That person then, how he handled that period, he would never have been able to handle it at any earlier stage of his career.
"Why did I take him back? Because I still rate him and I still believe he is one of the best if not the best driver in F1, and he was available to us, and I believed it was the right thing for the team because he'd matured.
"You'd find it hard to believe I made that decision, but things change."
How might things have changed had Alonso stayed at Ferrari?
Inside Ferrari, sources say, they are convinced Alonso would have won this year's drivers' championship had he been in the car instead of Vettel.
On the other hand, Alonso points out that Mercedes have won the championship every year since he left.
"How I could have been in 2018 still not winning a championship with Ferrari if already after five years I felt a lot of pressure and a lot of things were not going perfectly OK?" he said in an interview with BBC Sport in September.
"Because if you are not winning with Ferrari, there are a lot of things going on, and already with five years I think it was enough. If this was my eighth year in F1 with Ferrari not winning, it is difficult to imagine."
And yet, had Alonso stayed at Ferrari for 2015, how could he have not seen that McLaren and Honda were nowhere near ready to win, and concluded that Ferrari, whatever their troubles, were the best place he could be?
His career has been, in many ways, a series of wrong decisions replayed. As one insider close to him said: "Ultimately, Fernando kept on receiving bad advice and history repeated itself.
"When he should have stayed at McLaren, he signed to go back to Renault. When he should have moved to Red Bull, he signed with Ferrari. When he should have stayed at Ferrari, he signed for McLaren. Unfortunately, always the wrong decision, and he was never alone deciding."
History, to paraphrase Domenicali, could have been very different.