Fernando Alonso: Comparisons with Lewis Hamilton & what makes Spaniard an all-time great

By Andrew Benson
Chief F1 writer
Last updated on .From the section Formula 1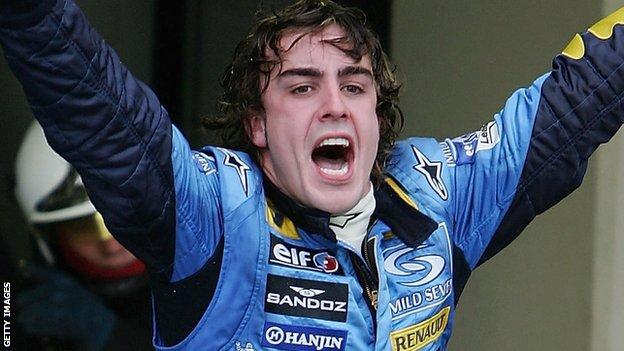 Fernando Alonso: the F1 great who couldn't catch a break - part five of five
Fernando Alonso and Lewis Hamilton have together been the gold standard in Formula 1 for more than a decade, setting a level of excellence out of reach of all their rivals.
The two men share many characteristics - a world-class ability, incredible speed and matchless race-craft - but they are also different in important ways.
Hamilton is the mercurial one, his unbelievable pace on one qualifying lap and in wet conditions perhaps his two biggest assets, countered by occasional off days, even if they have become fewer in number.
Alonso is the more rounded, his consistency, adaptability and relentlessness his most defining characteristics.
But just what makes Alonso stand out? Few know his abilities better than McLaren performance director Andrea Stella, who has worked perhaps more closely with the Spaniard over the last decade than anyone else.
The 47-year-old Italian was Alonso's race engineer at Ferrari from 2010-14, having previously worked with seven-time champion Michael Schumacher, and moved to McLaren with him in 2015.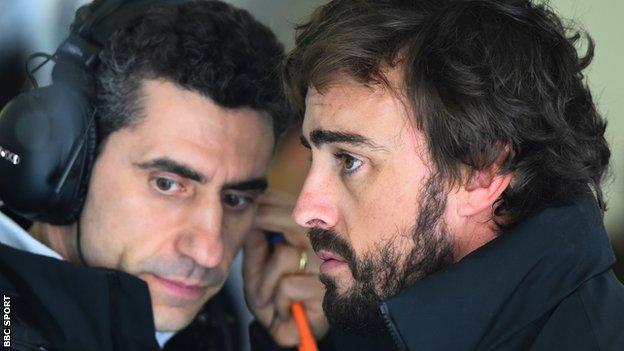 "Fernando is one of those cases in which we can't look at his trophies to place him in the history of Formula 1," Stella says. "If it was golf, if it was tennis, it would be a different story. But in F1 this is not possible."
Stella says Alonso is leaving F1 as "a much better" driver than the man who won two world titles with Renault, or who came so close to two more with Ferrari in 2010 and '12.
"Obviously, unfortunately, he can't really show that," he says. "But for me it is enough to see where McLaren are in the constructors' championship."
Stella is referring to the fact that McLaren look set to finish sixth this year with what is on average the second slowest car on the grid. Alonso has scored 50 of their 62 points. Thanks to him, McLaren are three places higher than they deserve to be.
It is the very definition of Alonso - the ability to get the maximum out of any car, in any conditions, at any race, more often than anyone else, is his USP.
In a rare interview, Stella underlines Alonso's ability, but also shares surprising insights into a man who he says is very different behind the scenes from his apparently ruthless, hard-headed image.
'He may look tough, but it's a presentation'
"First of all," Stella says, "you have to understand that driving a car is no different from playing the violin, in that you can do it at different levels.
"You can be the best player and do the best concerts, and you can be almost there so most people would not recognise the difference between being the best violin player and being just one step away from that.
"To make this final step, first of all you need to be humble and think: 'That's not enough. I need to improve.' And second, 'How do I do that?'
"And while Fernando may look a tough personality, that is more a presentation. It is more when he is part of a competition.
"When he is inside the group of engineers, he becomes very comfortable. He is the first one to say, 'How can I improve?'
"When he came to Ferrari, he said to me things I could not understand. Like, 'I am not a good driver in the wet. I am not good in Hockenheim. I am not good (in this and that)…' And I was like, 'What? I thought you were better than this.' He was very open.
"The process of being humble, of acknowledging the gap to perfection, is a strong characteristic of his, which I can understand from outside may not be perceivable. But within the entourage, the team, it is actually quite developed. Through the years, he has worked on these weaker characteristics."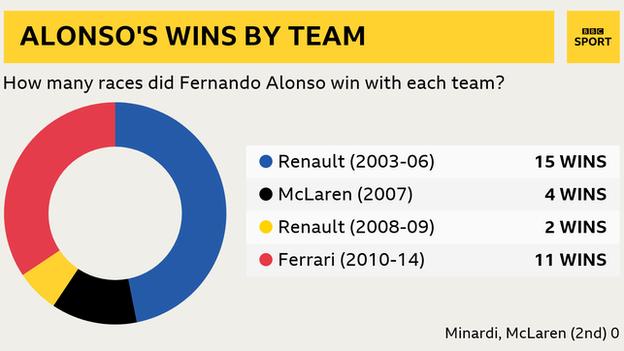 'You struggle to find a weak point'
Stella's remarks echo things Alonso has said in public about himself. He has a number of times said he is not the fastest in qualifying or in the wet, but that overall he reckons he has a higher average level of performance than anyone.
In an environment in which nothing ever stays the same for long - whether it be car set-up, track conditions or tyres - drivers constantly have to adapt to changing circumstances. He can access more of his ability more of the time than possibly any other driver. It is a view echoed, to one degree or another, by virtually everyone he has worked with.
"The essence of his qualities is that he is very complete," Stella says. "You struggle to find a weak point, basically, in terms of high-level skills.
"The technical preparation in terms of driving. The ability to cope with a variety of situations. Intelligence - just capacity to understand the situation while he is in or out of the car.
"Commitment. Every driver is committed. Every driver will tell you: 'I am the most committed.' But it is so difficult for Fernando to accept he is slower than someone else. It is very essential to his nature. Which potentially might have created problems when he was not mature enough to manage this fundamental aspect of his identity.
"To manage this inner characteristic, you need to develop yourself as a human and you also need people around you to help absorb this problem.
"I have seen this with Michael. He had a very strong entourage, part of which was the team itself, to sort of absorb his inner ambition to be the best. This aspect of Fernando is certainly not less than Michael, but it expresses itself in different ways."
Alonso's ability 'like a perfect circle'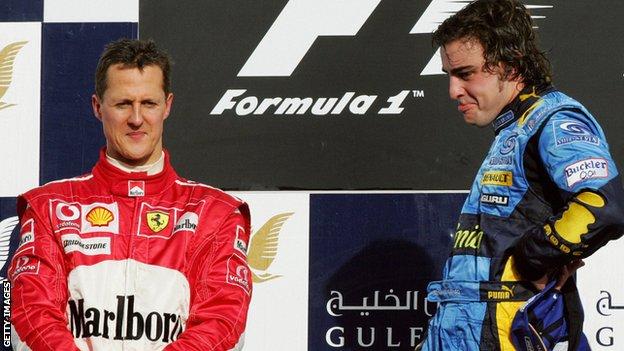 To compare Alonso and Schumacher, Stella conjures the idea of mapping the individual qualities that make up a racing driver - speed, wet-weather driving, technical feedback, intelligence, consistency, tyre sensitivity, adaptability, the ability to compute things beyond the immediate driving etc - as points around a centre, the further away from the centre, the more highly developed the skill.
He says: "If you take a circle of qualities, where Fernando is very high (in all of them) but potentially not the best in any of them, I think Michael was potentially the best in some of them, but in some others he was weaker than Fernando.
"So Michael's would be more like a star, whereas Fernando's is more like a perfect circle, but potentially not up to the excellence some of the drivers might have shown (in some of the areas)."
Stella uses examples from two areas - driving and technical feedback - to illustrate how two different approaches can lead to a similar end result.
"Michael was an attacking driver. He approached things from beyond the limit, back to the limit. Fernando is more from below the limit, to the limit.
"So for example, Michael's capacity to control the rear end and drive an oversteery car was just unbelievable. But sometimes this became his weakness. Because he drove a car so oversteery in free practice that when it came to qualifying, where you push that 1% more, he might have too much oversteer, or too much rear tyre degradation in the race.
"So with Michael, the engineers had to have an active role in trying to control his capacity and say: 'Michael, where are you doing this and where is the car doing that? We need more from the car and less from you.'
"Fernando understands his own limits better, and he is very good at understanding where he is contributing and where the car is contributing. He can prepare the car for the race very well thanks to this.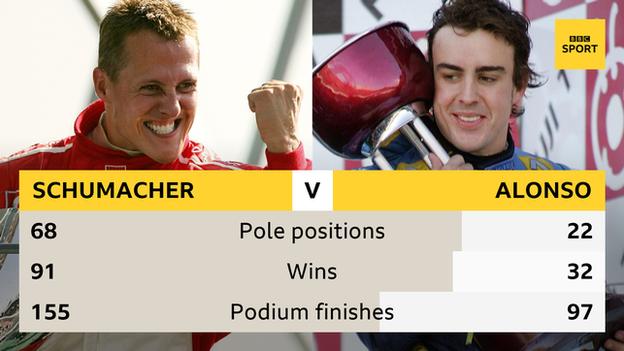 "Another interesting difference is that Michael was very analytical and dialectical. We spent so much time speaking about the car.
"Fernando is a concise person. When he comes back to the pits, in the first three words of his feedback, he has said 95% of his point.
"With Michael, the technique was more about filtering the essence from the details. With Fernando, it is more using a lot of specific questions to build a detailed-enough picture from the essence.
"His sensitivity to the car is exceptional. It is just a matter of where you feel comfortable as a driver. He feels comfortable if he knows that we are attacking 90% of the problem."
And Stella gives one final insight into the level of Alonso's sensitivity to the car's behaviour, and adaptability, and the benefits that brings.
"With Fernando, when there is a problem, it tends to be spread over all the corners. Like, if there is too much oversteer, you see it is more or less everywhere. While some drivers may say understeer here, oversteer there.
"That is a matter of awareness. You can create your own understeer, for example. Like, if the car is a bit nervous, you don't commit to turn early enough, or to turn enough. So you delay the turn-in, and then you are always going to get an understeery car mid-corner.
"But not all drivers realise that this mid-corner balance is very much a result of what happens in the earlier 50 metres. And that's very tricky for an engineer, because if you only go with the driver, you get lost, because you keep going after the mid-corner understeer."
Two anecdotes of excellence
I ask Stella to pick the best race he has seen from Alonso. He tells two stories. The first is from the 2012 German Grand Prix.
Alonso was in the middle of his greatest season, battling for the championship in a Ferrari that was only the fourth fastest car on the grid. The car was more competitive in the wet than in the dry. It was raining heavily for qualifying and he and Stella sensed an opportunity.
At the previous race at Silverstone, Alonso had taken pole in the wet after making a mid-session pit stop for fresh wet tyres, an unusual tactic at the time, when drivers tended to just go out and run and run when it was raining. They decided to try the same again. But Alonso wanted to take matters to the limit to give himself the best chance of taking pole.
Stella says: "On television, the straight was like a mirror because there was so much water. But Fernando said, 'Give me one plus one.'"
He wanted to go out with fuel for just one flying lap and a fresh set of tyres. Come back in to the pits, refuel again for just one lap and do the same again.
It was the obvious way to get the most out of the car - have it as light as possible on the best tyres for each of two single laps. But it is an unusually bold call in such difficult conditions because, as Stella says, "if you have one little problem, it's over."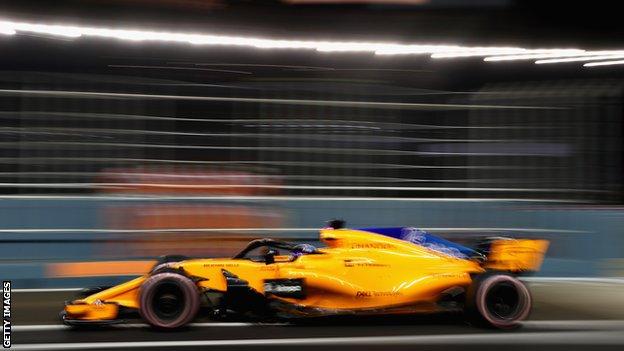 In the end, Stella decided "it was a bit too extreme". He over-ruled Alonso and they compromised - fuelled the car for the entire session but came in for fresh tyres and one final lap after an initial run. Alonso got his pole - and went on to win the race, holding off the faster Red Bull of Sebastian Vettel the whole way.
"This is a good example of his self-confidence," Stella says, "but at the same time his capacity in a pressurised situation like qualifying to process the situation and say, because it was very tight, 'One lap of fuel. We want the lightest car possible. It will be the first lap, and we will manage the risk.'
"That was very impressive. Who else would have done this?"
The second is from this year's Singapore Grand Prix, one of McLaren's more competitive races in the worst year in their history.
"We knew the chance to score points was all about going long on the first stint when other people would feel they have to pit," Stella says. "But we weren't sure how long you could go, so we were relying a lot on Fernando to tell us how the tyres were going.
"We were expecting him to say maybe around lap 20, 'I can go another 10 laps.' But around lap five/six, he came on the radio, and said: 'I think we can go 35.' And we stopped lap 34. And when we stopped, the tyres were finished.
"I don't want to create a myth like he is a magician. Nothing like that. It is just a matter of preparation, and developing an immense competence in what you do. Similar to playing the violin."
After this weekend, a great virtuoso will be lost to F1.