Fernando Alonso: The Ferrari years and the championships that got away

By Andrew Benson
Chief F1 writer
Last updated on .From the section Formula 1159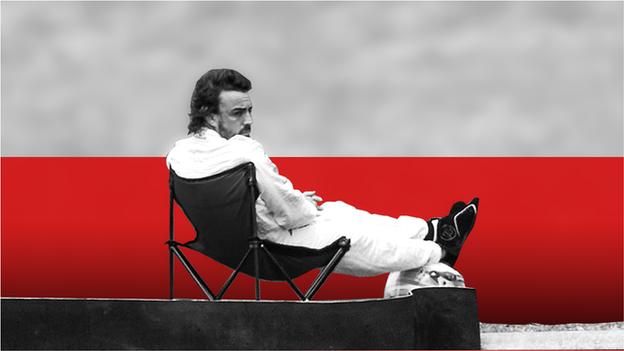 Fernando Alonso: the F1 great who couldn't catch a break - part three of five
Luca Di Montezemolo was Ferrari president throughout Fernando Alonso's time with the team, and he remembers him, Michael Schumacher and Niki Lauda as "the three best drivers I have seen in the Ferrari team".
"What I appreciated about Fernando is he was always a fighter, a fighter, a fighter," Di Montezemolo says.
Alonso joined Ferrari after a two-year sojourn back at Renault. Twice in his first three years at Maranello, he lost out on the championship at the final race. Each time, he had got himself in that position despite not having the fastest car.
"From mid-2010 to 2014," one Ferrari insider said, "Fernando was the best driver in the world. There's no argument about that."
Those championship defeats were very difficult to take.
In 2010, after overhauling a 47-point deficit and then taking the championship lead with a remarkable victory in the soaking gloom of South Korea, the team made a mistake in calling him in for an early pit stop at the final race in Abu Dhabi. He got stuck behind the Renault of Vitaly Petrov, which was faster on the straight, and finished seventh as Vettel won in his Red Bull and grabbed the title from under Alonso's nose.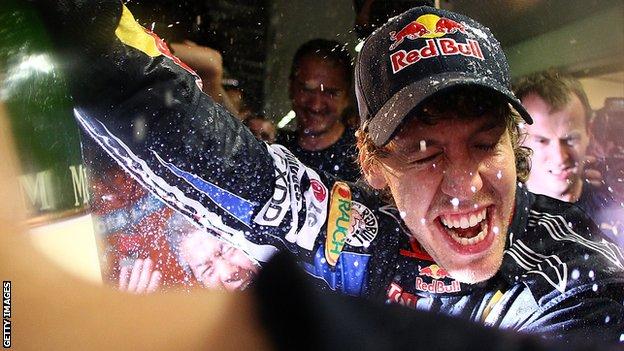 Two years later, it was even more galling.
In the fourth-fastest car, Alonso led the championship for much of the season, taking three outstanding victories along the way in Malaysia, Valencia and Germany. He was overtaken by Vettel in a burst of four consecutive wins by the German in a run of races in Asia in the closing stages of the season. But Alonso lost the title only because of two instances of bad luck.
He was taken out at the start of both the Belgian and Japanese Grands Prix: in Spa by Romain Grosjean's flying Lotus after the Frenchman tangled with Lewis Hamilton's McLaren; at Suzuka when the front wing of Kimi Raikkonen's Lotus punctured his left rear tyre.
Had only one of those incidents not happened, Alonso would have been champion.
"Despite not having the best car, the team did fantastic work," Di Montezemolo says. "So I am sad that the combination between Ferrari and Alonso - who for me is still one of the two or three best drivers in the world, even now - didn't work. For nothing, for a few details, a few elements.
"If he had won just one championship with Ferrari, he would have entered into history - 2010, 2012, he was able to win twice.
"Having said that, I have a very good memory of Alonso because he was able to put Ferrari on the top, win or not win, for four seasons."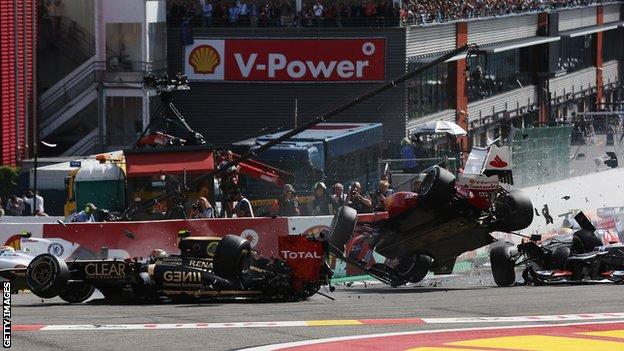 Stefano Domenicali, Ferrari's team boss from 2008-14, adds: "The car was not really very strong and despite that he was able to come very, very close to winning the title with Ferrari because of a lot of things he did as a driver. And therefore, even if it is not correct to say that in life, he was very unlucky."
Domenicali says 2012 was especially difficult to take: "To achieve that situation with the level of performance we had on the car was remarkable.
"That's why it was really very difficult at the end of the season to see, after such a fight with not really a good car, to be in that position and to lose not because it was your fault, but because you were in a place where you shouldn't be.
"I remember when there was the shunt with Grosjean, first corner at Spa, we said, 'OK, things are happening.' Then it was a big sense of frustration when, immediately after, we had the same situation in Japan with the tyre cut by Kimi in the first corner.
"That was really a very difficult moment. But it was even worse in India, where [Vettel won again and] there was this feeling of: 'Come on, this is not possible, recovering 60 points on the other side because of something you can really not fight.' The emotions were quite high at all levels."
The seeds of Alonso's departure from Ferrari were sown right there.
'He is a guy who needs the support of the team'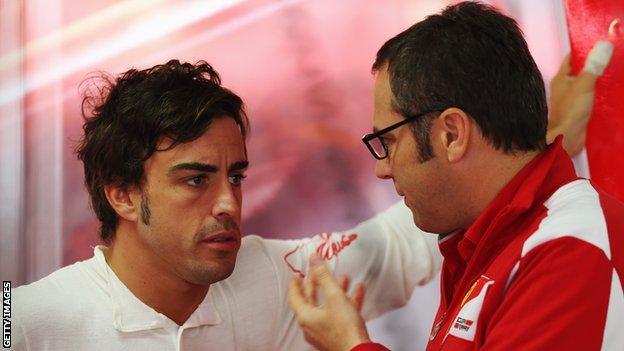 Domenicali says: "Fernando was really motivated to make sure he won with Ferrari. In the most difficult moments, he had that objective very clear in his mind, and that kept his motivation very high. He was always trying to push for all the details.
"So he was very interested in what was happening in Maranello. He was always connected with his engineers, and he had a very good relationship with his group of people. That was very special and it was important for the guys. And he had a very good relationship with all the world around Ferrari.
"In the period I was there, he tried to do everything to make sure he could win.
"He always pushed very hard in all conditions. Of course, he is a driver who really understands what racing is all about and he is a guy who needs the emotional support of the team. That was very important for him."
Domenicali says Alonso's reputation as being difficult to manage, someone who drove the team apart, is "unfair".
"There are people with different personalities, of course," he adds. "When you have someone who is - how can I say? - a very strong force, you need to manage the fact that he has a great personality. You need to handle it. It is something you need to work on with all the big drivers.
"I know sometimes people said he was putting negative pressure on the team. But when you have a champion, you have to understand his sensitivity and his point of view. And it was up to me and the team to handle that.
"He was very unlucky not to win the title because I do believe he deserved that. And of course with a title, the history of that period would have been changed dramatically."
A slow loss of faith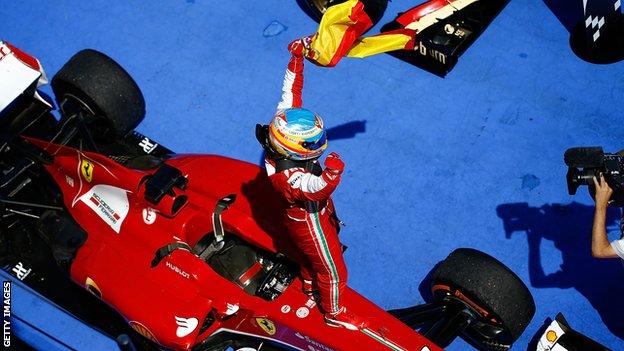 "Fernando was always very correct, tried to push the team to improve," Di Montezemolo says. "But he entered in crisis with himself in his mind in the second half of 2013 and the first half of 2014."
Things began to go downhill in the summer of 2013 as Alonso started to question whether Ferrari would ever be able to deliver him a car in which he could win a third world title.
At the start of the season, Ferrari's car was not absolutely competitive, but it was gentle on tyres, which were especially sensitive in early 2013, and Alonso won two of the first five races.
By the time of the eighth race, the British Grand Prix, Alonso was second in the championship. He was already 36 points behind Vettel - but closer than he had been to the lead than at the same point in 2010.
The Silverstone race saw a series of major tyre failures. Pirelli responded by making the tyres more robust. Ferrari's competitiveness fell back, and Alonso's frustration grew.
In July, his management held talks with Red Bull. Alonso believed a contract would be forthcoming. But it never materialised and, according to a Ferrari insider, Alonso's mood was dark over the weekend of the Hungarian Grand Prix as a result.
After the race, an Italian TV interviewer asked him what he wanted for his birthday. He replied: "La macchina degli altri" - meaning someone else's car.
Di Montezemolo was livid. He arranged for a press release to be put out the following day - Alonso's actual birthday - saying he had phoned his driver to wish him a happy birthday, but also to "tweak his ear" for his "latest comments".
Di Montezemolo professes not to remember that incident now, but he does say: "Sometimes for me it was necessary to work on him to avoid a situation where some declarations, some ideas, started because he wanted to win, [and] could create problems in the team.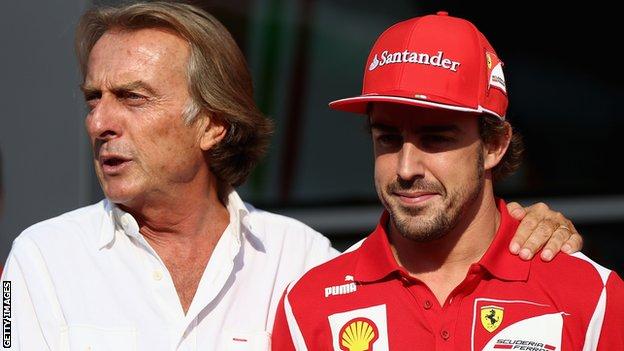 "I disagree when somebody says: 'Alonso is a driver that destroys, no, creates troubles in the team.' No.
"For sure, the biggest difference between Michael Schumacher and Alonso is that Michael in the best and in the worst moments was always very, very close to the team.
"Fernando is a guy that in comparison with Michael is more concentrated on himself than on the atmosphere of the team.
"This doesn't mean he is not good for the team. But I was obliged to work a lot with him on his mind, on his attitude. Because for him it was more easy to make criticisms. Not outside, but inside the team sometimes, when it is better to be more close with the team to avoid somebody in the team going: 'Oh, but Alonso is not happy.'
"Fernando was not against the team. Not. But in the worst moments he was more looking at himself, [he had] more doubts: 'What do I have to do? Maybe my race driving is not at the best. Maybe the engine designer…' More conscious of himself than the team."
He doubted himself as a driver?
"No," Di Montezemolo says. "'What can I do in this team to be more competitive? Maybe' - I give you an example - 'I have to change my race engineering, maybe it is better to convince Domenicali to change the engine guy. Maybe it is better to say to this boy I don't want to see you any more in the pits.'
"He was more doubtful regarding the overall competitiveness of the team, but always, always very strong, very pushing, trying to do from himself the maximum even in the difficult conditions."
That summer, Domenicali became concerned that Alonso would take a break from F1 at the end of the year. Ferrari had kept Massa as his team-mate at the end of 2012, despite misgivings about his performance, to keep Alonso happy. But they had already committed to dropping the Brazilian at the end of 2013.
So, with fears Alonso might quit, Domenicali felt he could not risk having two drivers with no experience of the team - and he re-signed Raikkonen as an insurance policy if Alonso was to walk away.
There was one final meeting with Red Bull. At the Belgian Grand Prix in late August, Alonso sat in a car at Spa airport with team boss Christian Horner and technical chief Adrian Newey and discussed a move.
In the end, it came to nothing. Alonso stayed at Ferrari for 2014.
On track, he set his mind to destroying Raikkonen, and he achieved it, out-qualifying him 16 to three at an average of more than a half a second a lap, and being beaten by him in a race only once on merit all year.
But off track, Alonso was increasingly not sure that staying at Ferrari was a good idea.
Di Montezemolo says: "In his mind, he was thinking: 'Maybe this is not the best moment to stay in Ferrari because maybe McLaren can be better, maybe (Nico) Rosberg can leave a seat at Mercedes' - that was two years before Rosberg signed the new deal with Mercedes. 'Maybe I can go to Red Bull.' He started to think about other possibilities."