Fernando Alonso: Lewis Hamilton, Ron Dennis & where it started to go wrong at McLaren in 2007

By Andrew Benson
Chief F1 writer
Last updated on .From the section Formula 134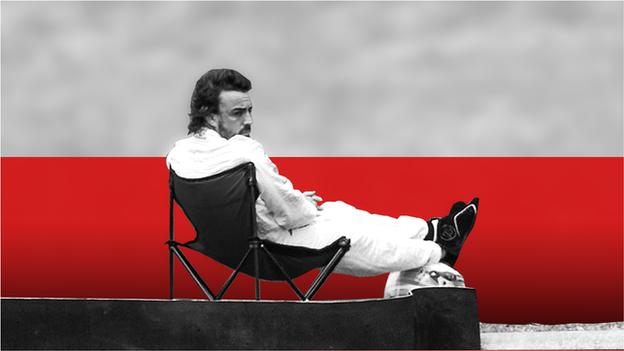 Fernando Alonso: the F1 great who couldn't catch a break - part one of five
Fernando Alonso retires from Formula 1 this weekend at the Abu Dhabi Grand Prix as one of the sport's biggest stars but arguably its greatest enigma.
The 37-year-old is a two-time world champion and has won 32 grands prix; a great achievement in absolute terms, but a relatively meagre one for a driver Lewis Hamilton rates as the best he has ever raced against.
Greater success evaded Alonso - fundamentally rooted in bad choices, personality conflicts, and plain rotten luck.
But what really happened along the way? Alonso's story will be published in a series of episodes this week, based on interviews with the key people directly involved in the various incidents at the time. Some spoke on the record, some on condition of anonymity.
This opening part is about the first serious flashpoint in a year in which two of the all-time great F1 drivers went head-to-head in the same team, and how their team boss' desire to control the situation only made it worse.
A clash of personalities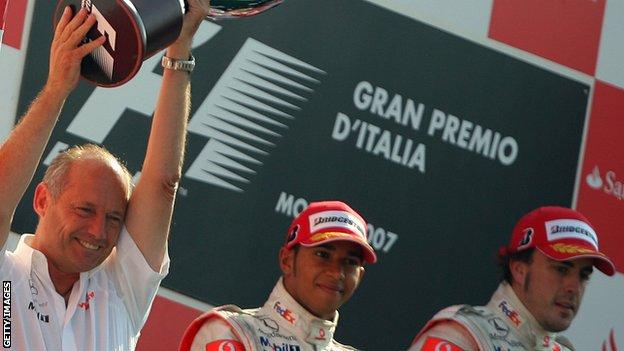 In popular perception, Alonso's relationship with McLaren was broken by events at the 2007 Hungarian Grand Prix, when a dispute over tactics in qualifying led to Alonso blocking Hamilton in the pits, a grid penalty, and a seismic row with team principal Ron Dennis, in which Alonso threatened to blackmail the team.
In fact, it was already terminally damaged before that. Ten weeks before that, in fact, in Monaco, where Alonso was so angered by a post-race argument that his relationship with Dennis never recovered.
In many ways, Alonso's 2007 season with McLaren has come to define perceptions of his career - the intense fight with Hamilton, the fall-out with Dennis, the 'spy-gate' scandal, in which Alonso was involved in the team eventually being thrown out of the constructors' championship and being fined $100m for possessing nearly 800 pages of Ferrari technical information.
But not everything happened in the way most remember it.
Alonso's move to McLaren began as he and Dennis were about to go out on the podium in Brazil in 2005. Alonso, then at Renault, had just clinched his first world title, by finishing third behind McLaren drivers Juan Pablo Montoya and Kimi Raikkonen. As they waited for the ceremony, Dennis asked Alonso whether he would like to drive for McLaren one day.
Since he was a boy, watching the dominant McLaren-Hondas of Alain Prost and, particularly, Ayrton Senna, Alonso had dreamed of exactly that. What had started as an off-hand remark quickly became serious negotiations. A deal was struck that winter for Alonso to drive for McLaren for three years from 2007.
He joined as a double world champion. He was the driver who had ended five years of domination by Michael Schumacher and Ferrari, and his two world titles with Renault were won the hard way. First, against Raikkonen in a faster but more fragile McLaren in 2005, and then in a man-to-man duel with Schumacher in 2006.
He had established himself as a fast, tough, relentless competitor. Following Schumacher's retirement at the end of the 2006 season, Alonso was F1's new 'main man'.
But his relationship with his new team started to go wrong from very early on.
Expectations unrealised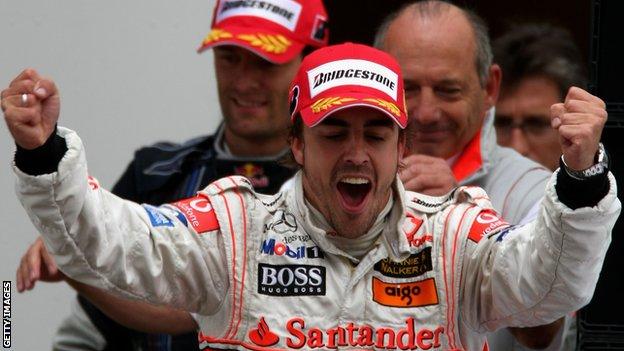 Alonso signed for McLaren long before they decided to promote Hamilton, who they had nurtured since he was 11 years old, as his team-mate. When they did, Alonso wondered whether employing a rookie was a good idea for a team that had aspirations of winning the constructors' championship, but he was not worried.
First of all, his self-confidence assured him he would have no problem beating a driver in his rookie season. Equally, although there was nothing about it in his contract, Alonso believed Dennis had verbally promised him priority status in the team. Dennis has always insisted it was not the case.
Once at McLaren, Alonso soon began to question how things were working.
"He came expecting to be treated like a king," remembers one senior figure at the time, "and it was even small stuff. Like, in those days, in the trucks at a test, there was nowhere the drivers could get changed privately. They just got changed at the end of the race truck, in a corner. And I think he came expecting to have a room.
"Fernando is an emotional character and people like that want to feel like they're treated as the best even if there is no substance to it. But McLaren being very British was all, 'Well, we're very correct in everything we do.'
"So from the beginning there were all sorts of misses in terms of his expectation of how he should be treated. Which are not necessarily unreasonable, by the way."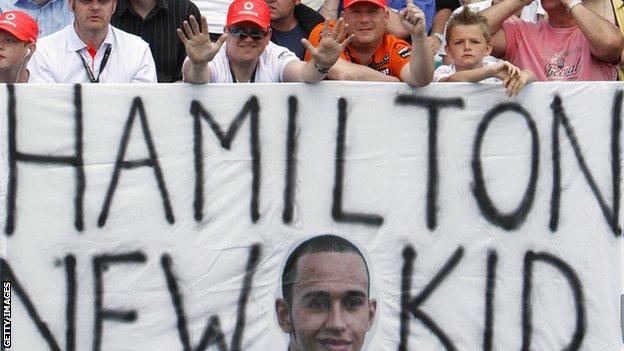 That would not have been an issue if he had been decisively faster than his team-mate. But he wasn't. Hamilton was immediately on the pace, giving Alonso a hard time on track, and the older man did not like it.
In the first race of the season in Australia, Hamilton announced his intentions by passing his team-mate around the outside of the first corner just after the start, before Alonso re-passed him in the pits to take second behind Raikkonen's Ferrari.
Alonso won next time out in Malaysia, but team harmony was already fracturing.
Hamilton's performances were unsettling Alonso. Hamilton's father Anthony was arguing his son's case vehemently and consistently with Dennis and his number two Martin Whitmarsh. And Alonso was beginning to make the point to Dennis that the two drivers should not be racing each other. The cocktail was combustible.
At the third race of the season, in Bahrain, Dennis chose to have one of his 'supportive chats' with Alonso while his driver was sitting at a table outside the McLaren motorhome in full view of the paddock. The photographers lapped it up. Dennis tried his best, but already any hope of maintaining a pretence that everything was hunky dory was gone.
Monaco one-two sparks almighty row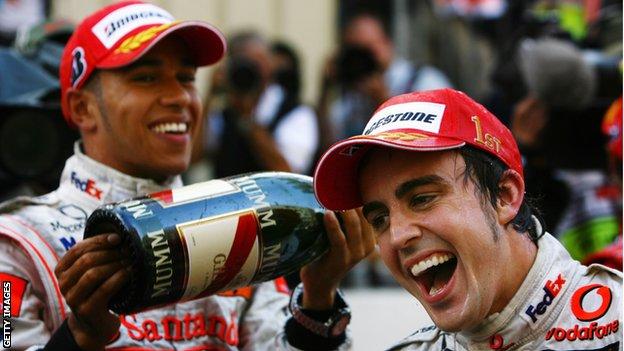 By Monaco, the fifth race, tension was high. Hamilton had taken four consecutive podiums and was leading the championship by two points from the man who believed he was supposed to be team leader. Ferrari drivers Raikkonen and Felipe Massa, with a win apiece, were close behind.
Hamilton was quickest through practice, but it was Alonso who took pole position, and went on to dominate the race.
But when the drivers got back to the pits, all hell broke loose.
"There was a row," one senior McLaren insider says. "Somehow Lewis felt he could have won the race and I don't remember being entirely convinced that he could have done. I seem to remember the right guy won it."
Publicly, the narrative - partly propagated by Dennis' interviews - was how McLaren had manipulated the result to secure a one-two, but prevent the battle between the two drivers playing out.
Dennis said he "virtually had to decide in advance" who won the race. Hamilton did nothing to play that down when he said in the post-race news conference: "It is something I have to live with. I've number two on my car and I am the number two driver."
The implication - or at least the inference taken by many - was that Hamilton was the rightful winner.
To say the least, Alonso was not happy with this interpretation of events.
Why Alonso was annoyed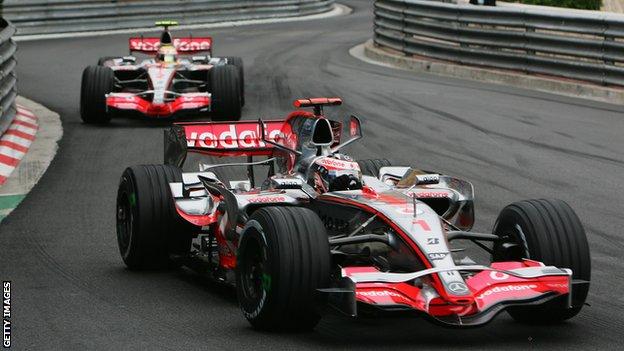 Alonso had led from the start and had built an eight-second lead within 17 laps, as Hamilton suffered more badly with tyre graining - where the surface tears and causes a loss of grip.
Alonso then lost time lapping backmarkers but was just over four seconds in front by the time of his first pit stop on lap 26.
These were the days of refuelling. Hamilton believed he was stopping five laps after Alonso, but was brought in after only three. Alonso said he had saved enough fuel in his opening stint to make his stop two laps later than planned.
But the idea that Hamilton could have gained enough time on empty tanks before his stop to pass Alonso had he stayed out longer was undermined when Alonso returned to the track, 15 seconds behind his team-mate.
At this point, on empty tanks and with durable Bridgestone tyres with negligible performance drop-off, Hamilton's car should have been quicker than Alonso's after a stop for fuel. But Alonso first flying lap with a full fuel load and fresh tyres was within 0.1secs of Hamilton's time on empty tanks.
In other words, even if Hamilton had stayed out for another couple of laps, he would not have taken the lead.
At the second stops, it was a similar story. Alonso was nearly 11 seconds in front when he pitted. Hamilton was brought in two laps later, but even if he had stayed out for another few, he was unlikely to have been able to make up that deficit.
From there, Alonso backed off, to protect overheating rear brake calipers, which were known before the race to be a vulnerability on both cars. Hamilton quickly caught him up and followed closely behind to the flag.
"Lewis was putting on pressure," an insider said, "and Fernando had to speed up and he was very annoyed. He said: 'Imagine if my brakes failed. What is the point of that? He was never going to overtake me. I was just cruising.'
"So Fernando was not happy to have to push at the end of the race, because of reliability problems."
When Alonso climbed out of the car, he was met by Dennis, who told him he'd had to control the race, and tell Hamilton to back off, and that Alonso should be gentle with Hamilton about it.
What Dennis meant was, this is my problem, let me deal with it. But Alonso did not take it that way. He thought Dennis was implying he was not the rightful winner, that he had only won because the team had slowed Hamilton down and controlled his pit stops. Alonso was furious.
Dennis did not realise it at the time - and may still not do now. But, according to a source close to Alonso: "That was the divorce. That moment onwards it was full divorce."
Hamilton was not happy either.
He had been the quicker man through practice. He felt he had only lost pole because he had been held up by Mark Webber's Red Bull in qualifying - although this was not certain, as Alonso had himself been slowed by Nico Rosberg's Williams in the closing corners of his lap.
Then, in the race Hamilton had been brought in earlier than expected at both his stops, so had not had the chance to run his strategy - which had been to fill up with more fuel in qualifying with the idea of running longer than Alonso. And he had been called off attacking Alonso in the closing laps. The fact that, the way the race panned out, he was probably not going to beat Alonso anyway was irrelevant to him.
Dennis, in making a perfectly understandable decision to call off the race after the final stops and then justifying it, had inadvertently annoyed both his warring drivers.
The consequences of that would be immense.