Lewis Hamilton: Formula 1 world champion explains 'poor place' India comments
Last updated on .From the section Formula 1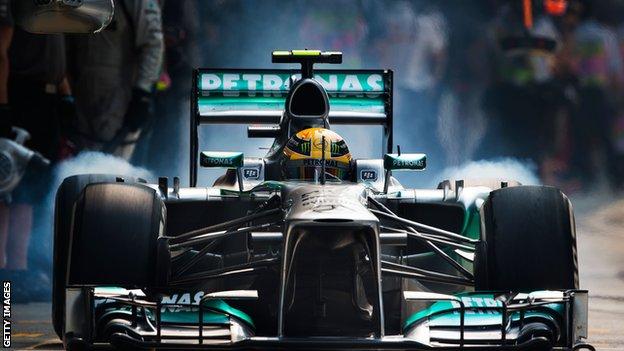 Five-time world champion Lewis Hamilton has clarified comments he made about India being a "poor place".
Mercedes defended their driver, saying his intended juxtaposition between rich and poor had been taken "grossly out of context".
Briton Hamilton, 33, told BBC Sport this week that it was "strange" to race in India and he "felt very conflicted".
"I noticed some people are upset with my comment on India," he tweeted on Thursday.
"My reference was that a grand prix there felt strange to drive past homeless people, then arrive in a huge arena where money was not an issue.
"They spent hundreds of millions on a track that was now never used and that money could have been spent on schools or homes.
"When we did have the race nobody came because it was too expensive or there was no interest."
The Indian GP lasted three seasons - from 2011 to 2013.
F1 bosses have agreed a "multi-year" deal to stage a race on the streets of Vietnam's capital Hanoi from April 2020.
Since 2004, races in Bahrain, China, Turkey, Singapore, Abu Dhabi, South Korea, Russia and Azerbaijan have been added to the calendar.