Max Verstappen: Christian Horner defends Red Bull driver after push
Last updated on .From the section Formula 1735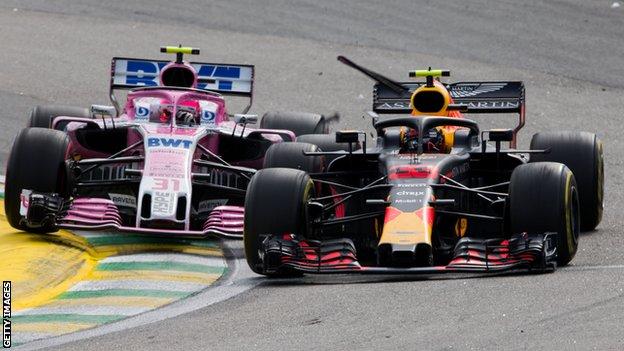 Red Bull team principal Christian Horner has defended Max Verstappen after he pushed rival driver Esteban Ocon, saying: "Drivers aren't robots and we don't want them to be."
Verstappen confronted Force India's Ocon following Sunday's Brazilian Grand Prix after a collision between the pair cost the 21-year-old Dutchman victory.
Governing body the FIA has ordered him to do "two days of public service".
"I don't think it got out of hand," said Horner.
"Through the irresponsible actions of a backmarker we've lost a grand prix, and it just wasn't handled at all well by Ocon. It was totally irresponsible to be racing Max.
"Of course we don't condone violence in any way but you have to understand that emotions are running very high."
Verstappen was on course for victory when backmarker Ocon left his car on the inside of the Red Bull at the Senna S and pitched it into a spin.
The incident cleared the way for Lewis Hamilton to secure the 10th victory of his championship-winning campaign, with Verstappen finishing second.
Ocon was hit with a 10-second stop-and-go penalty, the harshest punishment available to the stewards other than disqualification.
"We have seen in other sports that there is interaction between players, and it's down to the referee to step in and manage that," said Horner.
"What I don't know is what words were exchanged, and how Max was antagonised."