Brazilian GP: Max Verstappen and Esteban Ocon come to blows

By Andrew Benson
Chief F1 writer
Last updated on .From the section Formula 1994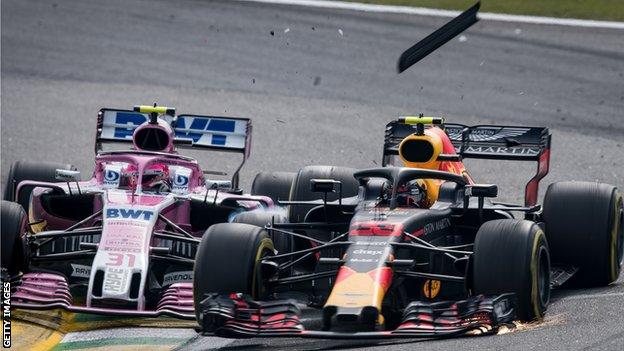 There are two sides to every story, they say, and that was certainly true of the incident between Max Verstappen and Esteban Ocon that decided the destiny of the Brazilian Grand Prix.
Verstappen was cruising to what would have been a superb second victory in a row when the two crashed on lap 44, forcing the Red Bull into a spin, and handing the lead and eventual victory back to Lewis Hamilton.
Verstappen was furious, Ocon unrepentant. The stewards decided the Frenchman was at fault and handed him a 10-second stop-and-go penalty, the most severe punishment before a disqualification.
But in the green room before the podium, Hamilton suggested the incident was not quite so clear-cut.
He told Verstappen that Ocon had the right to unlap himself. Verstappen agreed, yet added: "But you can't crash into the leader, who's not doing anything crazy."
Hamilton's response? "You had more to lose than he did. He had nothing to lose."
Verstappen was briefly lost for words. This sounded very much like advice from someone he can not help but admire and respect.
Hamilton's view is where moral correctness and racing judgement diverge. And, some would say, that's the difference between a five-time world champion of 12 years' experience and a brilliantly talented but occasionally rash 20-year-old who still sees the world very much in black and white.
Verstappen's view
When the incident happened, Verstappen had 27 laps to go before he completed a brilliant win.
He had started fifth, optimistic that despite the Red Bull's lack of qualifying pace, he would be able to challenge the Mercedes and Ferraris in front of him. He quickly passed Kimi Raikkonen, Sebastian Vettel and Valtteri Bottas and was 1.8 seconds behind Hamilton after just 10 laps and clearly quicker.
His pace persuaded Mercedes' strategists they had to stop Hamilton as soon as they could, to protect against the Red Bull stopping first and passing the world champion with what is known as the 'under-cut'.
Hamilton was called in on lap 19, the team over-ruling his request to stay out because he felt it was too early and he still had life in his tyres. Verstappen's job now was to extend his first stint as long as possible.
He did this superbly, the team not stopping him until lap 35 to give him the biggest possible tyre advantage into the final part of the race, and when he rejoined a couple of seconds behind Hamilton he passed him within three laps.
That should have been the race won. He had better tyres than Hamilton behind him, and the world champion was in any case concentrating mainly on securing the constructors' title for Mercedes and was running into potentially terminal engine problems.
Indeed, Mercedes at one point had a warning of imminent failure within a lap, before they managed to bring Hamilton's exhaust temperatures under control.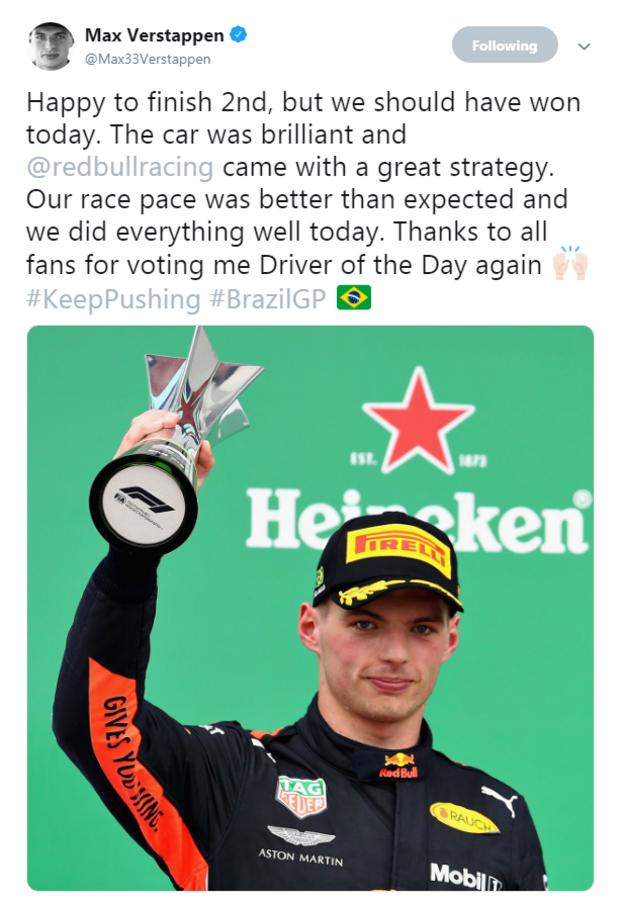 But the lap after Verstappen had retaken the lead, already into cruise-to-the-end mode, Ocon himself pitted for fresh tyres and came out behind him, a lap down, but on fresh super-soft tyres and going quicker.
After a lap behind Verstappen, Ocon was told by his team he could unlap himself and he went for it, going around the outside of Verstappen into Turn One.
Verstappen fought him, was slightly more than half a car's width ahead as they turned into Turn Two, and his right rear corner collected Ocon's front left.
The win was gone. Verstappen was furious.
"I was just trying to do my race and then a back marker takes a stupid risk," he said. "I lost a victory but hopefully in 15 years' time we can laugh about it.
"He has the right to unlap himself but still you have to be careful. He has always been an idiot."
His team boss Christian Horner backed him. "Through the irresponsible actions of a backmarker we have lost the grand prix," he said.
"Max is the race leader and Ocon had been lapped. He has a car much quicker on the straight. What on Earth he thought he was doing… It was not at all well handled by Ocon and totally irresponsible to be even dreaming of racing the race leader."
Red Bull's motorsport boss Helmut Marko went even further, alluding to Ocon's status as a young Mercedes driver and implying it might have been deliberate, saying: "This is a driver seeking a Mercedes contract and he is an idiot."
But Horner rejected that. "That's a coincidence," he said. "There is obviously history between the two drivers but it was just a very bad judgement call. He is a lap down, not even in the points and he is racing the race leader. The team have to take some responsibility."
The less simplistic view
Ocon said: "I came out of the box (pit). The first lap I stayed behind. The second lap the team said: 'You can unlap yourself if you want'. I went around the outside, the same overtake I did on Fernando (Alonso) and many other drivers but clearly he didn't give me enough space.
"I was side by side and I couldn't disappear and then I saw he turned and we collided. He can be upset but if you are leading the race you have to control it."
Hamilton had a grandstand view of the incident from just 2.7 seconds behind.
"I wasn't surprised by it or anything like that," he said. "I saw them racing but they weren't racing for the same position.
"I would have been in a different frame of mind. Fortunately, no one got hurt, and they kept going. It's a racing incident, I guess. Max is that go-getter guy and every now and then it bites you.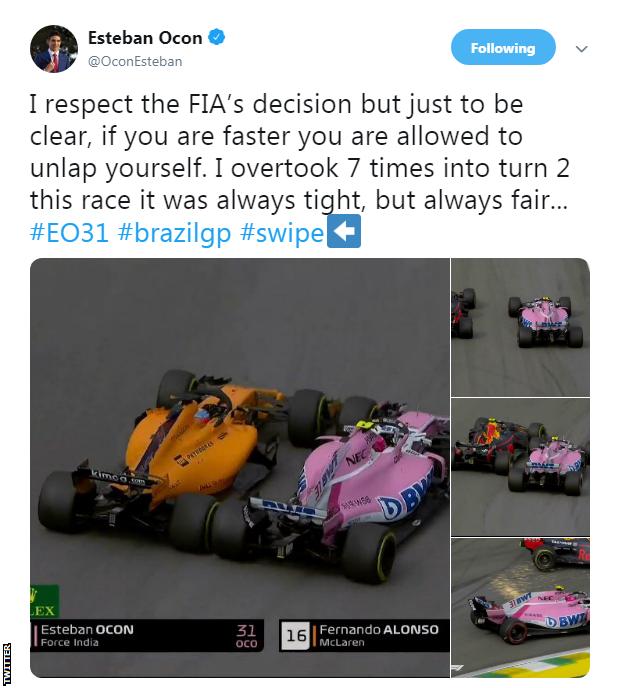 "There are no rules that say you can't unlap yourself. I've done it before. When you're in Ocon's position, you've got nothing to lose. You can go much quicker on the tyres and you're trapped. The guy in front is saving his tyres.
"It felt like it was fair game to unlap himself. Of course you don't want to cause an incident but in those scenarios you give each other space. You can never assume the guy is not on the inside. You have to assume he is and leave extra space."
Both views have merit. They are not even necessarily mutually exclusive. It's possible to believe both that Ocon was in the wrong in putting the race leader at risk and also that Verstappen might have been wiser to give him more space in the circumstances.
Hamilton's team boss Toto Wolff is a friend of Verstappen's father Jos, and rates Max very highly. Many believe the 20-year-old could one day end up at Mercedes, perhaps as a replacement for Hamilton when he retires.
Wolff said: "You can see there is a future champion coming together. Unbelievable talent and speed and I think once the raw edges are off, he will be someone who will be a world champion one day.
"In a few years he will look at the footage of today and maybe have his own opinion whether it was the right behaviour or not. But you can't accelerate these things. It's a learning process."
The fisticuffs afterwards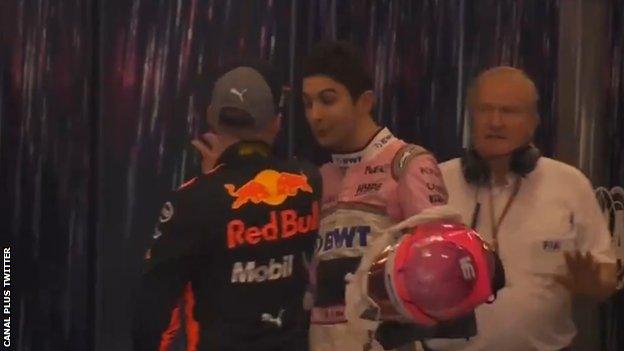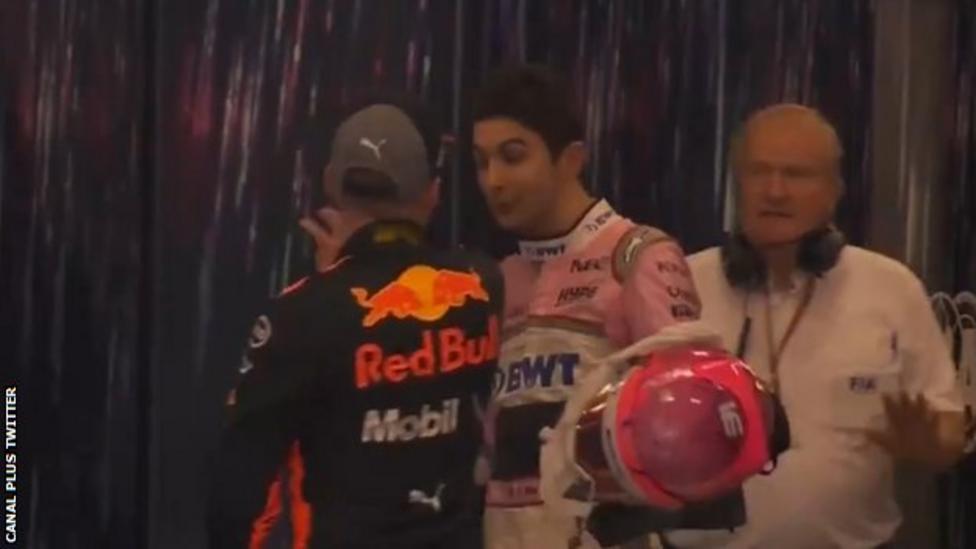 Immediately after the race, Verstappen confronted Ocon in the driver weighing area.
Earlier in the weekend, he had talked about his frustration after losing pole at the previous race in Mexico and said he "could literally do some damage if somebody said something wrong to me after qualifying. I was that angry".
In the car on the slowing down lap, he had intimated the same thing, when he said Ocon had to hope he did not find him in the paddock afterwards.
Now, he pushed Ocon once, then again and again, while clearly expressing his anger in words, too.
Ocon said: "What I am really surprised about is his behaviour after the race. We went on the scales and he started to push me and wanted to punch me and stuff. This is not proper."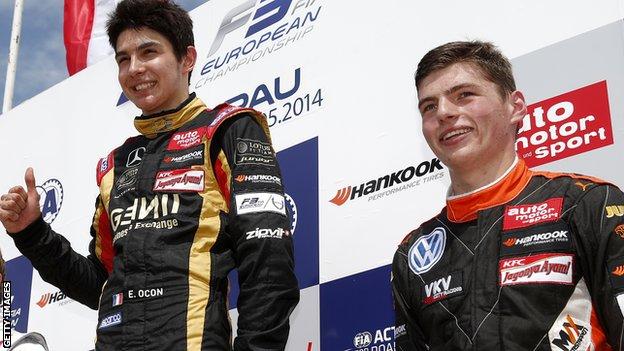 This was not an incident that arose out of nothing. Ocon and Verstappen are old rivals. They have raced against each other since karting, Ocon beating Verstappen to the European Formula 3 title in 2014. They clearly do not like each other.
"There is a lot of history between those drivers," Horner said. "It goes right back to karting. We don't know what words were exchanged between them. We don't condone violence but you have to understand emotions - you've had a victory taken away from you and they are running high.
"Of course there is a human reaction in these competitive animals. Emotions occasionally boil over."
Verstappen was called to see the stewards, and they said that while they were "sympathetic to his passion", it was "the obligation of sportsmen at this level to act appropriately and as role models to other drivers". His punishment is two days of "public service" at the direction of the FIA.
It is a penalty that carries echoes of those handed out to Sebastian Vettel for driving into Hamilton in Baku in 2017 and Michael Schumacher for trying to take out Jacques Villeneuve in the 1997 title decider in Jerez.
A remarkable achievement overshadowed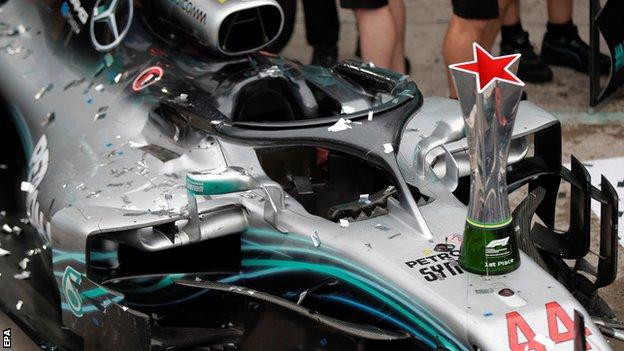 Verstappen's incident-packed day did two things.
Firstly, it provided a window into a potentially fascinating F1 future.
Both short-term, in the sense of hinting at the strength of the challenge he and Red Bull could mount to Mercedes and Hamilton if new engine partner Honda can deliver on the promise their latest engine is showing this season.
And long-term regarding the intensity of a potential future fight between Verstappen and Ocon, if the Frenchman, as many expect, ends up in a Mercedes in 2020.
But it also overshadowed Mercedes clinching their fifth consecutive constructors' championship and world title double, the latter matching Ferrari's achievements from 2000-4 with Schumacher.
This, Wolff said, had been the most difficult championship to win and as a result felt the best of all.
"We had a hell of a fight with Ferrari," he said, "and being able to win a fifth consecutive championship is something we wouldn't have dreamt of six years ago. In our wildest dreams it would not have come to my mind, equalising a Ferrari record that seemed unachievable.
"I feel so fortunate to be in this team. That Ferrari success is something I really looked up to and admired. To achieve it, you have to say a thousand times thank you to all the team members."
And there was a final word for the exceptional job Hamilton has done in overcoming what more often than not was a faster car.
"He is an exceptional driver and an unbelievable human and he has been an integral part of the team," Wolff said. "He is the one in the forefront and in the car. Many people have contributed to the success but clearly it wouldn't have happened without him."