Lewis Hamilton: Brazil security not on F1 champion's mind

By Andrew Benson
Chief F1 writer at Interlagos
Last updated on .From the section Formula 1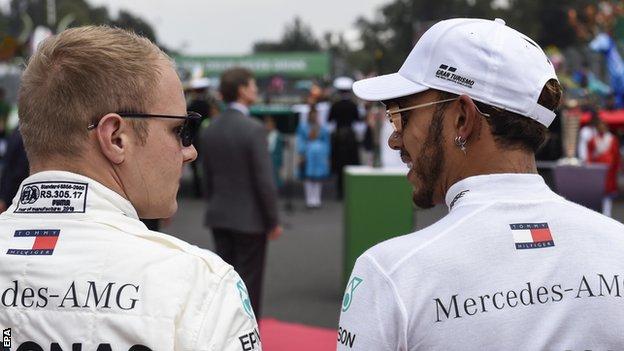 Lewis Hamilton says he is "confident" security has improved around the Brazilian Grand Prix track for this year's race at Interlagos.
Last year, members of Hamilton's Mercedes team were robbed at gun point leaving the track, one of a number of incidents over the race weekend.
Hamilton said: "I have always been safe here in Brazil so I have not approached any races here with safety on my mind.
"But I am confident F1 and the teams have taken action after last year."
Governing body the FIA says a series of measures have been taken to ensure F1 personnel are at reduced risk leaving the circuit, a time at which incidents have become increasingly common in recent years.
In one of those incidents, former world champion Jenson Button escaped from men with machine guns in 2010.
The new measures include increased police numbers and better targeting of the times when the police presence is deployed.
"They took action to try and put things in place to improve it and I am assured," Hamilton said. "I do feel confident it is improved. We don't know what's around the corner but I am hopeful of a positive weekend for everyone."
Another title still to win
Hamilton sealed his fifth drivers' title at the last race in Mexico. In previous years when he has clinched a championship before the end of the season he has failed to win another race, and he says he is determined to break that pattern.
Mercedes are hoping to tie up the constructors' championship this weekend, and will do so as long as Ferrari do not outscore them by more than 12 points.
But Hamilton pointed out that Mercedes had lacked competitiveness in the last two races in the US and Mexico.
"If you look at the last two races, we've struggled," he said. "I don't know how it's going to be at the next two races and I can't really explain to you why it's been so difficult for us the last two races, particularly the last one.
"But I am really hopeful we get in the car this weekend and it feels more normal and we are more competitive.
"We still have a job to do this weekend, which is to win the constructors' title, so the focus remains exactly the same as it has done the previous races in my mind."
He said he and the team did not yet fully understand why they had struggled so much in Mexico, where he finished fourth.
"It is not always the case you find all the solutions," he said. "So I am confident everyone has worked as hard as they can to rectify it and push forward but it might take this race and even the next race before we fully understand it.
"But I think it just points to the fact that there is still even at this time of the year things you can learn from and improve. Or methods you can apply to next year which will be important, so even though they have not been great races they have been steep learning curves for us."
Ferrari's Sebastian Vettel said: "We try everything we can. We go flat out and try and score more points. We saw in the last race how quickly things can change when you struggle with tyres. We keep our head down and try our best."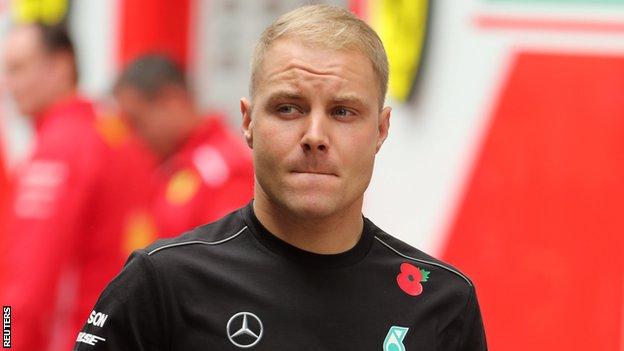 No gifts for Bottas
Now that the drivers' championship is secured, Hamilton's team-mate Valtteri Bottas will be free to race the Briton again.
But Hamilton said he would not be gifting any wins to the Finn, to pay Bottas back for ceding victory to his team-mate in Russia three races ago.
"The team are not going to make that call," Hamilton said. "I have not asked Valtteri if he would want that but he is not going to want that. He is going to want to win it his own way.
"I don't know if I'd be doing him any favours in the sense of giving him a win. I don't think he needs it anyway. I think he can do it himself.
"All I can do is try to make sure I'm supportive throughout the process throughout the weekend. I'm always really open with my set-up so I will continue to do so."
Bottas confirmed: "I definitely don't want to win by it being given to me. I'd want to win by winning myself."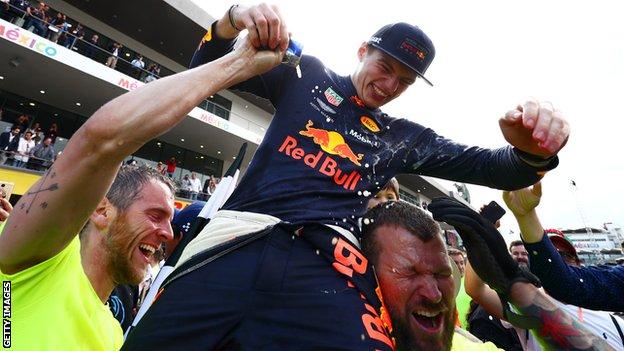 Red Bull are not expecting to challenge
Red Bull's Max Verstappen dominated in Mexico but he said the team would be unlikely to be able to challenge Mercedes and Ferrari in Brazil.
The nature of the Mexico City track negates some of the power deficit in Red Bull's Renault engine and emphasises they strength in high-downforce aerodynamics.
But Interlagos is different. Verstappen said: "There are not enough corners to make up the losses we had on the straight. We don't have enough power.
"Here, the straight is uphill and always turning, so the car is scrubbing speed and it makes it even worse. And with the downforce we have on the cars the corners are all a bit more easier. Same scenario we have in Silverstone where a few years ago it was like a proper track with proper corners but now so much is flat out that it gets more painful for us. There is not much we can do."