Lewis Hamilton, Michael Schumacher, Sebastian Vettel, Fernando Alonso - who's this century's greatest?
Last updated on .From the section Formula 1367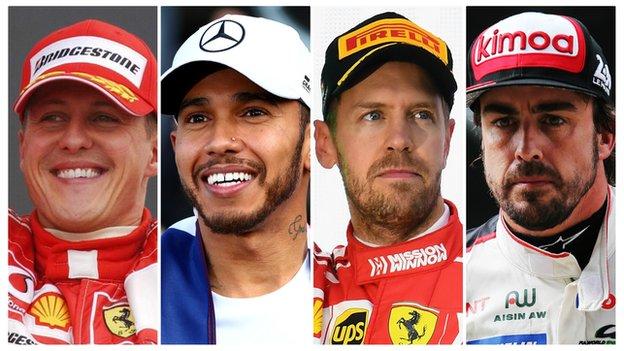 Who is Formula 1's greatest driver of the 21st century so far - Michael Schumacher, Lewis Hamilton, Sebastian Vettel or Fernando Alonso?
One man with better insight than most is Mercedes technical director James Allison, who has worked with all four over the past two decades.
"If they all had to be in a super-team fighting it out every year, my guess is that Lewis would end up on top," Allison said.
The 50-year-old added that he thought Hamilton was the fastest of those four.
Allison was talking as part of a BBC Radio 5 live review of Hamilton's fifth world title, secured in Mexico on 28 October.
He made it clear that he regarded speculation about where individual drivers ranked against each other as "a sort of idle game, because in a way, who knows? Everyone has an opinion and it's as valuable as that - i.e. not very".
He added that he did not think Hamilton would necessarily win each year in this fictional battle.
"But if they kept coming back every year to do battle in some sort of Valhalla-type confrontation, more often than not it would be Lewis wearing the crown at the end of the year," Allison said.
BBC Sport asked readers on 28 October to vote for their greatest driver of all time - the results are below.
Allison worked with Schumacher at Ferrari from 2000-05, with Alonso at two teams - Renault from 2005-06 and Ferrari from 2013-14 - and with Vettel at Ferrari from 2015-16.
Asked to analyse how Hamilton differed from the other three, Allison said: "Of that cluster, I think he is the quickest, at his best, and he shows us his best extremely frequently.
"I think he is the best of those in qualifying. It's not by accident that he is the all-time pole record holder. He just has a better turn of speed than the others.
"He has a record of finding clean but utterly improbable overtakes that surpasses the others. [Hamilton is] maybe not quite at Michael's machine-like consistency, season-in, season-out, year after year. But the Lewis we have seen in the past two seasons here is flawless."
Four-time champion Alain Prost told the programme Hamilton had performed "in a very brilliant way sometimes" in 2018 as he and Mercedes defeated Vettel and Ferrari.
"From the beginning, we knew it could be an interesting year and it has been even more interesting than we thought," Prost said.
"At the beginning of the year, the Ferrari was maybe a little bit better, a little bit more consistent. And then we had a fight between the teams and also between the drivers and the psychology of the drivers.
"We have reached the point where everybody can say that Mercedes [have come out on top] on one side - but more than the teams, the drivers, Lewis has done a fantastic job this year.
"Just look at his calm when things are not going well. And he has performed in a very brilliant way sometimes in qualifying and races. On the other side, Sebastian did some mistakes, much more than he is used to doing in the past.
"Lewis really deserved his titles this year, maybe one of the best of his five."
Damon Hill, the 1996 world champion, added that Hamilton's ability to create the balance he wanted, in both professional and private spheres, had been decisive in enabling him to raise his game in the past two seasons.
"At times [in previous years] it looked like he was a little bit distracted," Hill said, "and maybe he had a bit too much jet lag, because there were some races when you thought: 'Well, hang on, where's Lewis gone?'
"And he has to admit that was true - sometimes he went missing and maybe his off-track lifestyle was contributing to that.
"But when you look now at what he's done, you'd have to say he has provided himself with the happiness and contentment in his other life that you need in order to be able to cope with this intense experience of being an F1 driver.
"He has taken the pressure off himself. But he has these other things he does and then he can turn up, jump in and win. So there's a smartness. To know yourself that well and to create the right conditions is part of the job of a sportsman, and Lewis has done that."