F1: Senior engineer Rob Smedley to leave Williams at the end of season

By Andrew Benson
Chief F1 writer
Last updated on .From the section Formula 1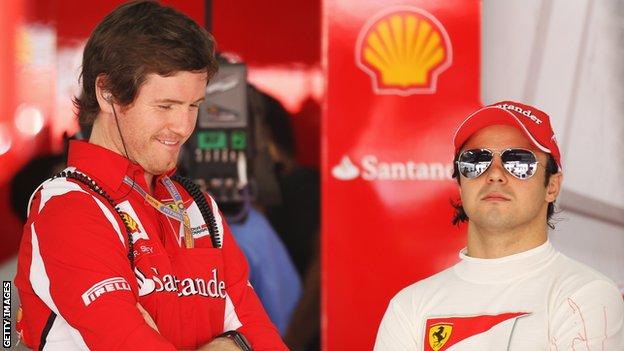 Senior engineer Rob Smedley will leave the Williams team at the end of this Formula 1 season.
The 44-year-old, who became famous for his frank and amusing radio messages to Felipe Massa at Ferrari, said he had not decided on his next career move.
Smedley became part of F1 folklore after a controversy over Ferrari team orders at the 2010 German Grand Prix, famously telling Massa: "Fernando (Alonso) is faster than you. Can you confirm you understood that message."
It was a coded team order for Massa to concede the lead to his team-mate to help the Spaniard's championship challenge.
Ferrari were found guilty of breaking the rules but the ban on team orders was lifted at the end of the season.
Among Smedley's other famous messages, delivered in his strong Teesside accent and with wry humour, was: "Felipe, baby, stay cool," when Massa was complaining about his visor at the wet 2009 Malaysian Grand Prix.
Smedley joined Williams in 2014, with Massa also deciding to join at the same time, as head of performance engineering and helped oversee the team's return to form after several years in the doldrums.
Williams finished third in the championship in 2014 and 15, and fifth in 2016 and 17, but have slipped in competitiveness this season.
A poor car and two drivers who pay for their seats have seen them slump to last in the constructors' championship.
Smedley said his time at Williams had been "a pleasure" but that it was "the right time to reflect on things and evaluate what the next move is".
"The team is going through a transition, but it's got a great name, it's one of the most iconic names in Formula One especially with British fans, and it has got to pick itself up and dust itself off," he said.
"Claire Williams - Frank's daughter - will lead the team out of where it's at right now, using the requisite talent there and buying talent in and coming up with a plan to take back the team back to where it should be, in the fans' hearts."
Williams said she "totally understands and respects his decision to take some well-deserved time out to spend with his wife and boys".
She added: "We will miss him both personally and professionally. He agreed to join us at a time when our performance was low, and we are grateful that he saw the potential for us to turn things around at that time.
"During his time with us, he has made a significant contribution to the team through his role, but he's also been just a great person to have at Grove, inspiring many with his enthusiasm and passion for Formula 1."