Huge tattoos, hair & hope - the Hamilton effect
Last updated on .From the section Formula 1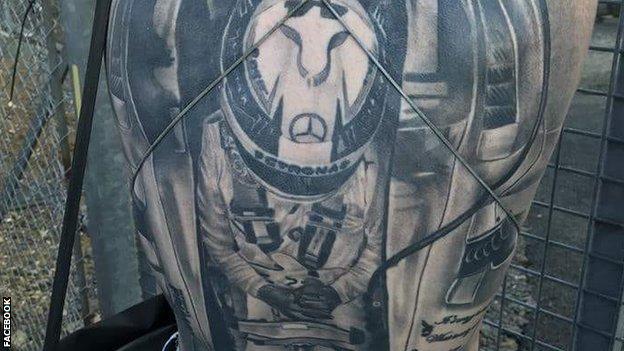 Huge tattoos, Mercedes coloured hair and kids - and pets - called Lewis... there are many ways Hamilton fans show their allegiance to the five-time Formula 1 world champion.
The Briton is adored for his handy ability to drive a car better than any other on racing circuits around the world, and displaying unforgettable moments for Formula 1 fans to remember.
After winning the drivers' championship in Mexico, he said: "To everyone around the world, there are so many great people who constantly send positive energy and who save up and travel to races, and those who can't afford to come and sit at home at the edge of their seats - it's so uplifting and I always say we win and lose together, I love them and I hope they know they are just as much a part of this as the rest of my team."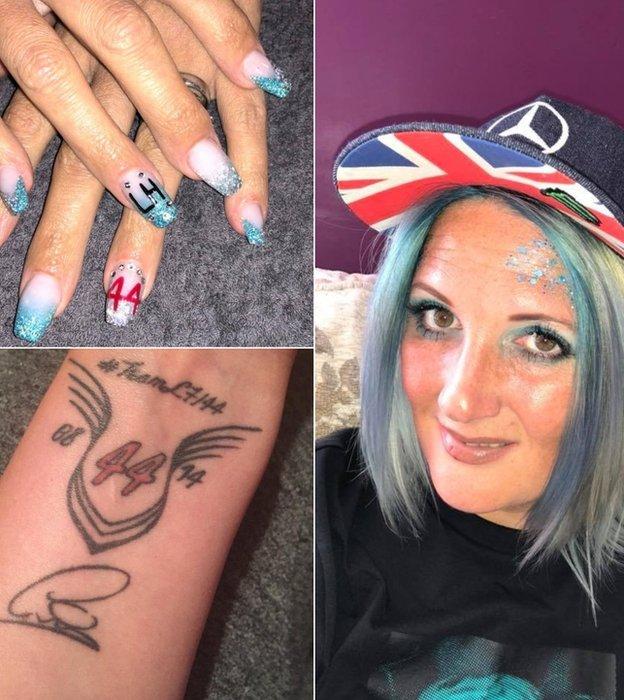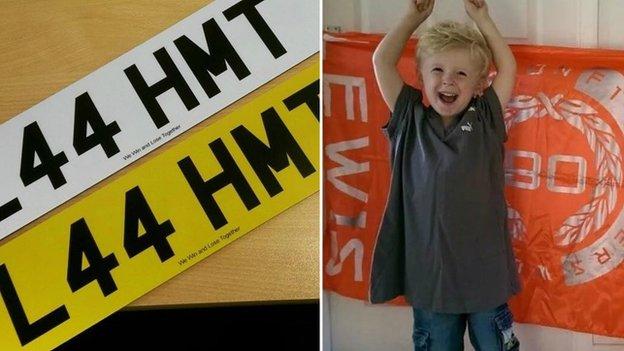 But to many, it goes much deeper than that...
He may not be everyone's cup of tea, but Hamilton advocates sharing positivity to his followers on social media, and to many, stands out as an influence to motivate fans to aim for achievement, regardless of many unfortunate complications in their lives.
Hamilton promotes positivity as "a kid who followed his heart". His advice is simple: "Always believe in yourself", and "dreams are always worth fighting for".
It seems easy, right? Not quite; some Formula 1 observers may look at these as 'empty words' he posts on social media, but Hamilton's rhetoric has a profound effect on some of his fans with more complex lives. These words of wisdom provide a beacon of hope, and inspire some life-changing moments for people.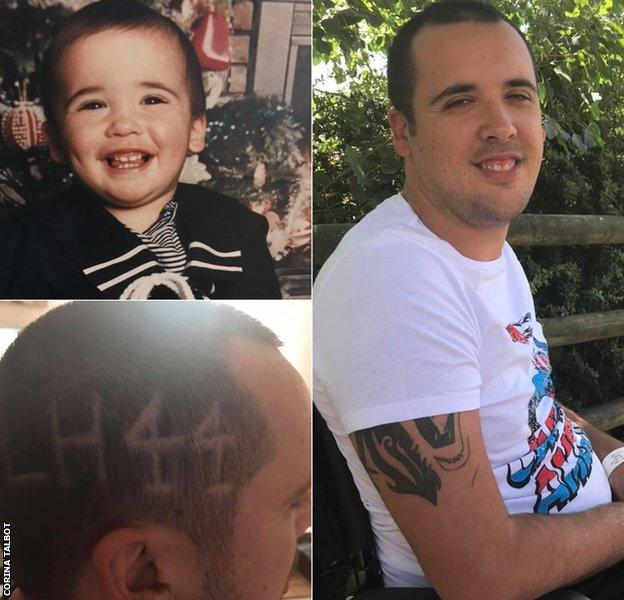 Corina Talbot is the mother of Ryan Talbot - who is now 29 and has a rare progressive and life-limiting illness for which there is no cure, and usually results in death in teens and early twenties. She spoke to BBC Sport to share her son's story, and the influence Hamilton has on his life...
"Ryan was like any other child. He was born full term, walked and talked at the usual age. But at the age of three became unsteady on his feet, falling into things quickly picking up bruises," Corina said.
"Over the years, I wasn't sure what it was that he had, and on several occasions I was referred to a child neurologist who said it was all in my head, and I had to accept him the way he was. I never gave up, and eventually, when Ryan was 19 we saw a professor who sees undiagnosed and misdiagnosed people."
After two years, and numerous tests, Ryan was diagnosed with ataxia telangiectasia. He's lost his ability to speak, and his speech is sometimes slurred, but Corina says he remains very clever, passing all his school exams.
She said: "Unfortunately, there is no cure and no medication he can take. Every year is a blessing I have him."
Ryan got into Formula 1 after watching the races with his mum and, as he grew up, became interested in the engineering and strategy side.
Corina continued: "As for Lewis Hamilton, he's always been a fan. I think he became connected by being similar ages and it gives Ryan the strength to carry on, giving him something to focus on. Lewis is very passionate and open about his feelings; he's always posting that you can be something in life and keep fighting."
Ryan's dream was always to go to a Grand Prix, and his mother made that happen last year, surprising him with tickets to Silverstone. She said: "I'm Ryan's full-time carer and it took me a year to save the money to go. He said it was the best weekend of his life.
"You never know what's going to happen in life. Ryan is doing well and keeps surprising his doctors at Papworth Hospital in Cambridge - which is the only place in the country treating people with this condition.
"At present there are around 80 adults in the UK with the condition. However, one of my twin girls is a carrier of the defected gene, and there is a one in three chance I could have had another child the same."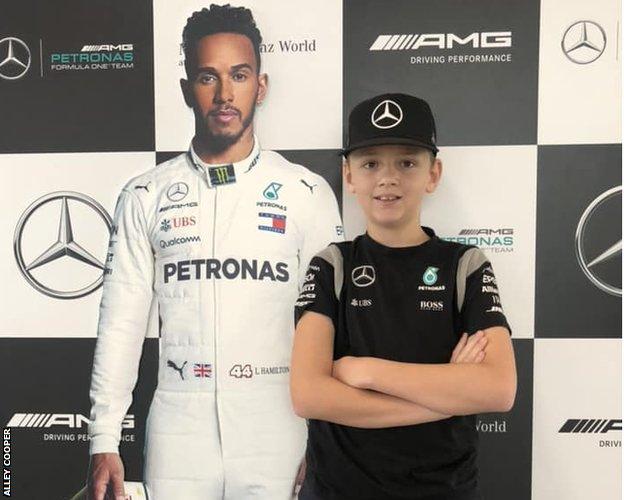 Ellis Cooper has Asperger syndrome and attention deficit hyperactivity disorder (ADHD), and Formula 1 is his specialist interest. It doesn't stop there; the 12-year-old knows perhaps everything there is to know about the sport. His mum Alley Cooper spoke to BBC Sport about his admiration of Hamilton.
She said: "I can't remember a time that Ellis didn't love Formula 1. He lives and breathes the sport; it's every emotion and every thought in his head at any given moment."
"Ellis idolises Hamilton so much that when he's doing well, all is good in Ellis' world. When he's not doing so well, Ellis will struggle and shut himself away until he's ready to come out."
Ellis can draw all the circuits from memory, and is full of what he calls 'fun facts' about F1. He can look at a picture of an F1 car and tell you the driver, car, track and year.
Alley recalls a time when he was younger, when she awoke early on a Sunday morning to find him already up and watching a race on television at 05:00. She said: "I couldn't believe it, I would usually have to wake him up.
"When asked to sum up Hamilton, his response is: 'Lewis has always been with me, forever. He is everything to me. I can't imagine my life without him or F1.'"
If Ellis isn't talking about Formula 1, he's playing the Playstation game, as Hamilton of course. But Alley said: "I find his passion for F1 an inspiration.
"It can make me anxious sometimes, as I want Lewis to win for Ellis's sake. My son has brought me to F1, and made me a fan, which includes both of us now getting up early to watch the races."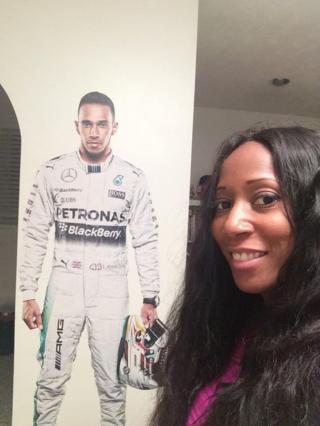 Desda James: "A full size Lewis taking pride of place on my living room wall. He's a pioneer, inspirational and brilliant in every way. Yet still humble"