Formula 1: How would the championship standings look without the errors?

By Andrew Benson
Chief F1 writer
Last updated on .From the section Formula 1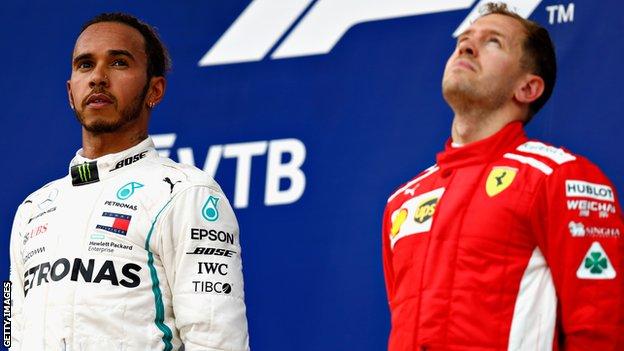 Sebastian Vettel admitted after the Japanese Grand Prix that he and Ferrari had helped Lewis Hamilton to the verge of a fifth world title by their own failings.
"We made it a bit too easy for them in the last couple of races," the German said. "Credit to them, they executed well. But we need to look after ourselves and do our bit and then we see."
Vettel was still clinging on to the hope that he could turn things around in the remaining four races.
Yet Hamilton now has a 67-point lead and can tie up the championship if he wins the US Grand Prix on 21 October and Vettel is lower than second. And with the performance advantage Mercedes have suddenly developed in the last three races, a Mercedes one-two looks eminently possible.
The errors made by Vettel and Ferrari have been a defining story of the season. But just how would the championship be poised if they - and Mercedes - had had error-free seasons?
In other words, just how "easy" have Ferrari and Vettel made it for Hamilton?
Australia
The first major error of the season came in the opening race, when Mercedes miscalculated the gap Hamilton needed to keep the lead under a virtual safety car period, and Ferrari stole the win for Vettel.
The result was that Hamilton was second when he should have won, Vettel the other way around.
Result:
Vettel goes from second (18 points) to first (25 points). He gains seven points
Hamilton goes from first to second. He loses seven points
Net effect: Vettel +14 points
Azerbaijan
A potential win for Vettel becomes a fourth place. Ferrari pitted Vettel too early, responding to Hamilton's early stop, which was a result of him locking a wheel and damaging a tyre. That gave Hamilton's team-mate Valtteri Bottas the lead.
At a re-start after a late race safety-car, Vettel locked up and ran wide trying to re-pass the Finn, and slipped back to finish fourth. Meanwhile, Hamilton won the race after Bottas suffered a puncture.
Result:
Ignoring chaos theory and assuming Bottas would have had his puncture anyway, Hamilton turns a second place (18 points) behind Vettel into a win (25 points): Plus seven
Vettel and Ferrari turn a win (25 points) into a fourth (12). Minus 13
Net effect: Vettel -20 points
France
Vettel crashes into Bottas at the first corner, spins to the back and recovers to fourth.
Result:
A driver error from Vettel turns a potential third place (15 points) behind a Mercedes one-two into a fifth (10 points). Minus five points.
Net effect: Vettel -5 points
Austria
Vettel is given a three-place grid penalty for impeding Renault's Carlos Sainz in qualifying. The driver does not realise Sainz is there and Ferrari do not warn him. Vettel is demoted from third place on the grid behind the two Mercedes to sixth, putting him behind eventual winner Max Verstappen's Red Bull.
Result:
Vettel and Ferrari turn a potential win (25 points), following the retirement of both Mercedes, into a third place (15 points): Minus 10 points.
Net effect: Vettel -10 points
Germany
Vettel crashes out of the lead in a late-race rain shower. Hamilton wins the race.
Result:
Vettel retires (zero points) from a race he should have won (25 points): -25 points.
Hamilton wins a race in which he would likely have been second (18 points): Plus seven points.
Net effect: Vettel -32 points
Italy
It is Kimi Raikkonen's turn to run last in qualifying - Ferrari have a system whereby the drivers alternate race to race. But in Monza, following another car gives a gain of about 0.3secs a lap because of the effect of the slipstream.
Ferrari choose not to reverse the order of the two cars, despite Vettel being their only title contender, and Raikkonen takes pole from Vettel by 0.161secs.
Before the race, Ferrari tell Raikkonen that he will not be retained in 2019. Raikkonen defends the lead from Vettel after the start, through the first chicane and approaching the second.
Hamilton takes advantage and passes Vettel around the outside into the second chicane. Vettel crashes into Hamilton and spins to the back. Hamilton beats Raikkonen to the win.
Result:
Vettel and Ferrari turn a potential win (25 points) into a fourth place (12 points) through poor race management and a driver error - minus 13 points.
Giving Ferrari the benefit of the doubt, let's say Hamilton would have beaten one of the Ferraris anyway with a drive of the quality he produced and say he turned a second (18 points) into first (25). Plus seven.
Net effect: Vettel -20 points
Japan
Both Ferrari and Vettel made mistakes in qualifying - Ferrari by fitting intermediate tyres for a dry track and Vettel in going off on his only dry lap in final qualifying once he had fitted slicks.
That meant Vettel started eighth instead of a likely third. And in the race he tripped over Red Bull's Max Verstappen, which he would otherwise have been ahead of.
Result:
Vettel finished sixth (eight points) when he could have finished third (15 points).
Net effect: Vettel -7 points
What is the total effect on the championship?
Adding all that up brings a total net loss to Vettel of 80 points. Which means, had Ferrari had a perfect season, he could still be leading the championship by 13 points.
That might not have changed the end result of the championship. Mercedes have made a big step forward in performance in the last three races and developed a significant advantage. If that is maintained over the remaining four grands prix, it is hard to see how Vettel could defend that lead.
At the same time, Hamilton has driven arguably his best season, and has been sensational in snatching some of the wins. It could easily be argued that only his genius put him in a position to win the races in Germany, Italy, Singapore and Russia, for example.
But, taking nothing away from Hamilton, it does go to show just how much easier Ferrari and Vettel have made it for him.