Sebastian Vettel v Max Verstappen and why F1 has too many penalties

By Jolyon Palmer
Former Renault driver
Last updated on .From the section Formula 1205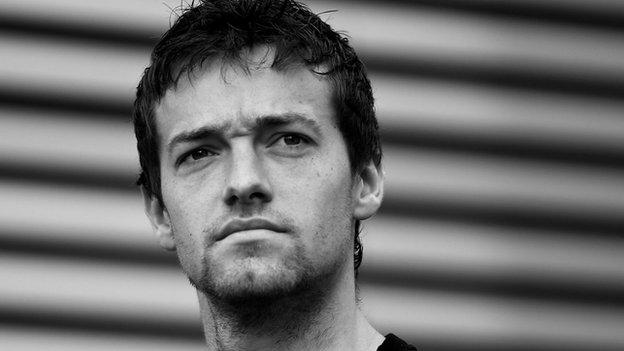 Former F1 driver Jolyon Palmer, who left Renault during the 2017 season, has joined the BBC team to offer insight and analysis from the point of view of the competitors.
The drivers' championship seems all but over after a calamitous weekend for Ferrari and Sebastian Vettel in Japan.
Not for the first time, both team and driver made mistakes at Suzuka, and Vettel again became tangled up with a rival in a race incident.
The result is Vettel is 67 points behind Lewis Hamilton in the championship, and it all could be over by the end of the next race, the US Grand Prix in Austin, Texas on 21 October.
But Vettel's collision with Red Bull's Max Verstappen was not the only controversial incident in Japan. And each one raised questions about how F1 is being policed by governing body the FIA.
Vettel v Verstappen
Vettel's weekend started to unravel when Ferrari chose to send both drivers out at the end of qualifying on intermediate tyres following a short rain shower, when in fact the track was almost bone dry and they had to come back in immediately for slicks.
That put both drivers under pressure with rain fast approaching again. Vettel made a big mistake on his lap and could qualify only ninth, which became eighth after a grid penalty for Force India's Esteban Ocon.
The need for Vettel to fight his way up through the field was always going to increase the risk of something going wrong - and so it proved.
He was quickly up to fourth place by the end of the first lap, but his attempt to make further progress faltered at the first attempt.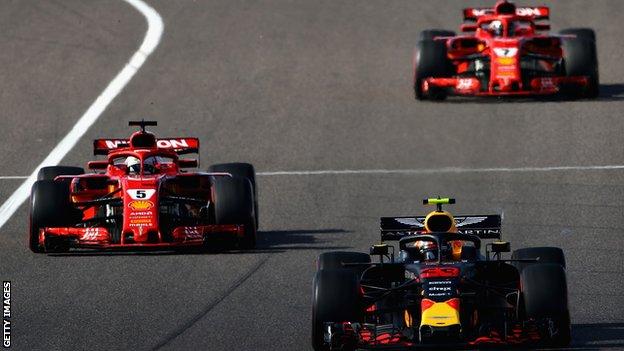 The Ferrari driver went for a move on Verstappen at Spoon Curve as soon as he got a chance. He attacked on the inside, Verstappen turned in, the pair touched and Vettel spun to the back, for the second time in four races.
I can understand the move from Vettel's point of view. He had the run, there was a gap on the inside and he went for it.
People can argue that he should have been more careful considering he's fighting for the championship, but that went out of the window long ago. He was 50 points down heading into the weekend and, with Hamilton leading the race, Vettel didn't have a lot of time for caution. He needed to grab the bull by the horns.
He had a huge closing speed, because Verstappen started 'clipping' (energy harvesting, meaning he was missing 160bhp) at the end of the straight. It was an instinctive move for Vettel to go to the inside. But it didn't pay off.
If he had waited until after Spoon, he would have had a better chance to make the move into the chicane at the end of the lap, a much more conventional overtaking spot. I'm sure in hindsight Vettel is aware of this as well.
In a split-second decision, his race was effectively over, and that has been the case all too often for Vettel this year in his championship bid. Moments of misjudgement have cost him a lot. The German and Italian Grands Prix in the summer were the obvious cases of this.
Verstappen had his own share of blame in this incident. Arguing afterwards that "in that corner you can't overtake," isn't a sensible or reasonable explanation. It was proved that you can. Vettel passed many other cars at that corner, including Romain Grosjean's Haas for sixth.
The Dutchman also said he left Vettel space, which in fact he didn't. He saw him coming and actually didn't leave a car's width on the inside. Vettel had no space on the track at the apex. The only space was if he had got well up onto the apex kerb, which in itself unsettles the car and would have thrown him into Verstappen.
In the end, Vettel spun and Verstappen carried on, with a strong drive to third. But, as with Hamilton and Vettel's collision at the second chicane in Monza last month, it could easily have been the other way.
In Italy, Vettel spun, Hamilton won and it was a turning point in the season. At Suzuka, it could have been Verstappen spinning off, and Vettel claiming a podium. I still think it would be a racing incident if that was the case and Verstappen would have only himself to blame.
The FIA took no action, which was the right decision in a racing incident like this. But a number of other incidents in the race highlighted the problem F1 has with stewards' decisions at the moment.
As for Vettel, who trails Hamilton by 67 points with four races remaining, his championship is now surely over. With Mercedes' recent surge in pace, the Briton is odds on to wrap up the title in Austin at the next race.
Few could have predicted that over the summer, but Vettel and Ferrari have faded in a fashion just as dramatic as in 2017.
Verstappen v Raikkonen
Verstappen tangled with both Ferraris in the space of a few laps in Japan - before his clash with Vettel, he had a collision with Kimi Raikkonen on lap one.
It was caused by Verstappen locking up his right front tyre as he hit the brakes, under pressure from Raikkonen. He cut the corner, and on rejoining, bounced over the apex kerb on the left. That launched his car into an understeer and across the track, forcing Raikkonen even wider and off on his right-hand side.
Verstappen was given a five-second penalty for the move, which by the letter of the rules is spot on. He left the track and clearly did not rejoin in a safe manner. Therefore the stewards were technically right to give him the penalty.
He absolutely disagreed with it, and was very vocal over the radio.
It's the second time in four races that Verstappen has picked up a five-second penalty.
The first was for crowding Mercedes driver Valtteri Bottas off the road into Turn One at Monza, again from third place. That time it cost him a podium. This time, fortunately for Verstappen, Ferrari, perhaps hindered by subsequent damage on Raikkonen's car, didn't have the pace, and Verstappen held his podium.
After the British Grand Prix, I wrote a column saying that the clash between Raikkonen and Hamilton at the third corner could have been deemed a racing incident, as it was the first lap and close racing is inevitable, and occasionally contact is made.
I feel similar in this case.
But there is a grey area here - and F1's approach to such incidents has changed in recent years.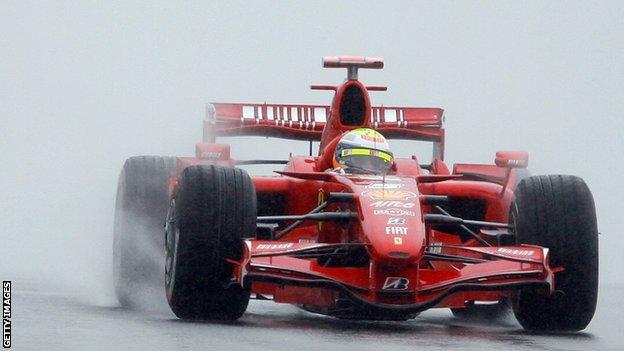 One of the best battles you will ever see in Formula 1 was Felipe Massa and Robert Kubica on the last lap in Fuji, in the rain, back in 2007.
They were wheel-to-wheel for half a lap, pushing each other to the absolute limits and often going over track limits and rejoining in an unsafe manner.
At the end of that fight, Massa kept his foot down on the run-off area of the final corner and maintained the place on the run to the line, but the battle was so good and so intense that no one was too bothered by that.
Ten years on, that same battle would result in penalties galore. Firstly for pushing another driver off track, then for rejoining the circuit in an unsafe manner, then for gaining an advantage by going off the track. By the letter of the law, so many penalties would have to be applied.
This was shown also by the penalty McLaren's Fernando Alonso received in his scrap with Williams driver Lance Stroll early in the race.
Stroll forced Alonso off the track, and subsequently quite rightly received a penalty. Alonso then kept his foot down over the last chicane, bouncing over the grass for a considerable time, and came back on well ahead.
Yes, by the letter of the law, he gained an advantage by going off track. Yet he was forced off, and only passed the driver who forced him off. Penalising Alonso for this seemed harsh.
Crucially in the Verstappen case, I don't believe he intended to run Raikkonen off the circuit. I think it was the natural momentum of his Red Bull car, and a result of the fact he clattered over the kerbs that took him there.
Magnussen v Leclerc
F1 has these petty penalties for incidents that are neither here nor there, and in fact are action points in the grand prix and give great wheel-to-wheel battles, with little risk or serious consequences.
Meanwhile, Haas driver Kevin Magnussen went unpenalised for what was surely a dangerous move on the straight to block off Sauber's Charles Leclerc.
Leclerc was arriving quickly behind Magnussen in the slipstream. Just as Leclerc moved to the right to overtake, Magnussen abruptly moved to block and Leclerc couldn't avoid smashing into the back of him.
The FIA said that Magnussen didn't get a penalty because he didn't react to Leclerc moving, they actually moved at a very similar time.
But the fact is, Magnussen moved over too late. If you want to defend a position, you need to be moving to the inside earlier, and give your rival time to react and go for the outside. That is fair racing.
Magnussen, I'm sure, would have been very aware of what he was doing. He would have seen Leclerc approaching in his mirrors and waited until the last moment to try and either put Leclerc off his stride, or force him to back off, as Hamilton had to on Vettel at Turn Two in Sochi the week before.
Here, Magnussen misjudged it, went too late and too aggressively in his change of direction, and put paid to his own race and hurt Leclerc's.
Time for a rethink?
For me, wheel-to-wheel incidents that are debatable need to be given more leeway. Let's face it, F1 in 2018 hasn't seen a lot of overtaking or on-track action, so it seems a shame to be penalising drivers so often when there's a bit of wheel banging.
However, not penalising Magnussen for a last-minute swerve on a straight at 180mph and causing a collision seems strange.
On the whole the stewards do a very tough job and there are always going to be people who are not happy with their decisions whether drivers get penalised or not.
But I'd love to see fewer penalties in general for the wheel-to-wheel racing that does happen.