Lewis Hamilton: 'Media need to show Sebastian Vettel more respect'

By Andrew Benson
Chief F1 writer
Last updated on .From the section Formula 1272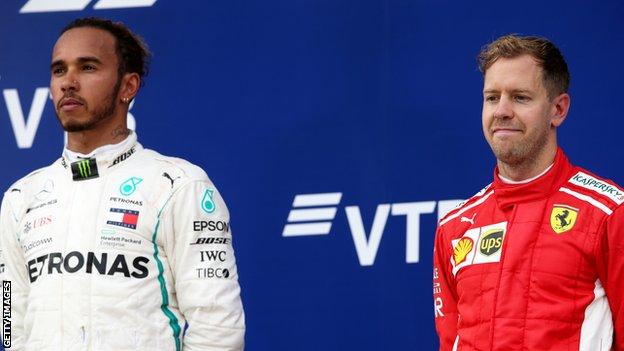 Lewis Hamilton says Formula 1 title rival Sebastian Vettel has received too much criticism this year.
Hamilton can win a fifth championship at the next race in Austin, Texas, partly because of a series of errors by the German and his Ferrari team.
The British Mercedes driver said: "I feel the media need to show a little more respect for Sebastian.
"You simply can't imagine how hard it is to do what we do at our level, for any athlete at the top of his game."
Hamilton added: "It is to be expected that being humans we will make mistakes but it is how we get through them that counts."
Vettel and Ferrari were fighting a close battle with Mercedes for much of the championship but their season has unravelled partly because of a series of errors, even before Mercedes found an extra gear at the Singapore Grand Prix in mid-September.
Four-time world champion Vettel has made small but costly errors at races in Azerbaijan, France, Austria, Germany, Italy and Japan, and Ferrari have made a series of operational errors that have also hit the team's hopes.
Vettel also attracted criticism for his collision with Max Verstappen at Sunday's Japanese Grand Prix.
Hamilton, who in Japan on Sunday took his ninth win this year and his sixth in seven races, will clinch the title at the US Grand Prix if he wins on 21 October and Vettel is lower than second.
Vettel said after the Japanese Grand Prix: "There is still a chance. We made it a bit too easy for them in the last couple of races. Credit to them they executed well, but we need to look after ourselves and do our bit and then we see.
"The last weeks have been tough for us but overall we could be in a better place. We are not.
"But we look forward and even if the last weeks have been difficult, the spirit inside the team, if you look at the guys, it is incredible how strong, positive and powerful they are.
"That made this team always very strong and will make it strong in the future. We know we still have a lot of potential to unleash and we need to work and dig deeper but we need to prove that the last races is not what we can do."