Japanese Grand Prix: All you need to know about Suzuka race

By Andrew Benson
Chief F1 writer at Suzuka
Last updated on .From the section Formula 1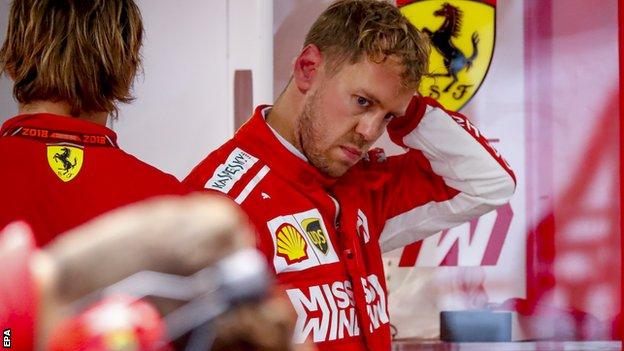 Lewis Hamilton said he saw the Ferraris pull out of their garage on treaded tyres at the start of final qualifying in Japan and immediately felt "it wasn't the right decision".
By the time the had got to the end of the pit lane, Sebastian Vettel agreed and got on the radio to say so. "I think it looks too dry," he said.
So did everyone else who had made it that far - Vettel and his team-mate Kimi Raikkonen were the only cars on intermediates as they headed out into the climactic part of a session marked by changeable conditions.
As Hamilton said: "It was very, very difficult to know whether the track was going to be dry or whether it was going to be wet."
But, as on a number of previous occasions this year, Ferrari got it wrong. And now Vettel surely knows, if he did not know before, that only a miracle can stop Hamilton winning a championship that the German really ought to still be leading.
Vettel did not exactly help himself either. Again, not for the first time. After a lap on the intermediates, he came straight back into the pits for a set of slick tyres. It was still dry enough to set a competitive time, but Vettel got his wheels on the kerb through the middle of the challenging left-hander called Spoon Curve, ran wide, and his only chance of a decent lap was gone.
The result is Vettel starts ninth on a track where overtaking is notoriously difficult, while Hamilton is on pole.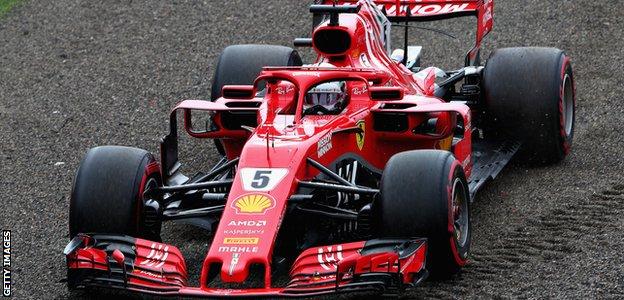 The gap between the top three teams and the rest is so big that Vettel will still likely get back to around fourth place - it's hard to see him beating Red Bull's Max Verstappen, who starts third. But unless Mercedes hit trouble, Hamilton will likely leave Japan on Sunday with a championship lead north of 60 points, with only 100 still to play for.
He deserves the title, and Vettel and Ferrari don't. They have had enough of an advantage through enough of the year for Vettel still to be leading the championship right now if they had achieved the results they were capable of.
But they haven't.
Vettel said: "When we took the decision, five or six minutes later it started to rain quite heavily, so there was something in the air. We expected there was more rain coming and obviously it didn't, so it was the wrong decision but when the conditions are like this obviously you either get it right or wrong. I'm not blaming anyone.
"I defend the decision. It is our decision as a team. It wasn't wet enough to start with and the rain didn't come, it came later."
The recriminations, though, may be starting. "Unacceptable" was the word Ferrari team principal Maurizio Arrivabene chose to describe what happened. Only two races ago in Singapore, faced with a question about the repeated errors they were making, he defended his team he took ultimate responsibility for what was going wrong.
He added: "it was easy to predict what was happening. Sometimes it is more useful to take your eyes off computers and watch the track, using common sense. The accounts will be made at the end, and we will intervene if necessary."
It would surprise no-one if there was some blood-letting in Maranello over the winter.
McLaren hit a new low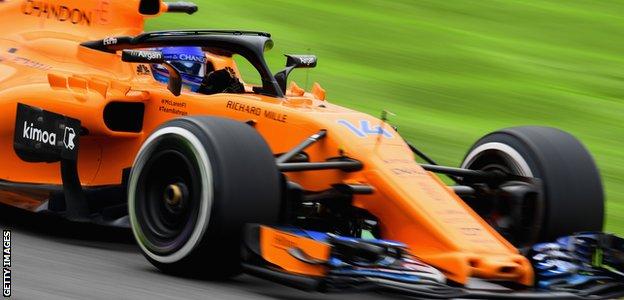 Ferrari were not the only team with questions to answer on Saturday in Japan. McLaren put in their worst performance of the year.
Fernando Alonso and Stoffel Vandoorne the slowest cars of all in qualifying at a track that rewards many of the qualities that make a good Formula 1 car - and brutally exposes when one lacks them.
"The car felt good," Alonso said. "Like it did last year. And that's the problem. The car is the same as last year and others have made lots of progress in that time."
It's no secret the McLaren is a poor car, but this is the first time both have not even managed to beat at least one Williams, whose car is piloted by drivers who, frankly, are lucky to be on the same grid as a driver of Alonso's calibre.
McLaren's flaws were not just about a bad car, though. There were also questions about a tyre selection that left them only four sets of the fastest tyre for the weekend - so limited a selection that Alonso did not even try the car on them before qualifying.
Alonso said that had made no difference, that the car felt balanced; it was just slow. But McLaren held their hands up and admitted it was a mistake.
"We got it wrong," said sporting director Gil de Ferran.
The decision over what tyres to use in Japan was taken at the end of June before De Ferran appointed to his position but he said he took full responsibility.
A review will be held next week in Woking, where some serious questions will doubtless be asked about how this happened.
That, though, is relatively easily fixable. It remains to be seen whether McLaren's confidence that they can produce a more competitive car next season is borne out.
A fillip for Hartley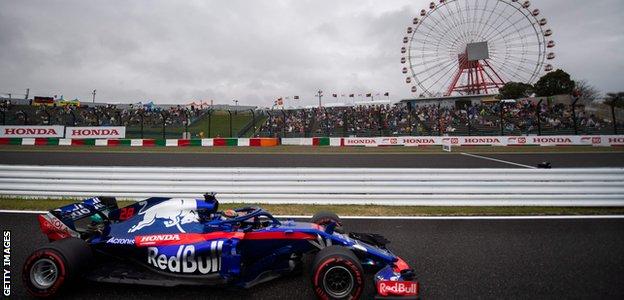 McLaren's dire position was put under an even harsher spotlight by the performance of Toro Rosso, whose drivers Brendon Hartley and Pierre Gasly qualified sixth and seventh with the Honda engine McLaren rejected last season on the basis that it was unsatisfactory.
Toro Rosso's performance was boosted by a significant upgrade to the Honda which made its debut in practice in Russia last weekend but is being used competitively for the first time at their home race in Japan.
The upgrade has made a big difference - Hartley said that getting into the top 10 would not have been possible without it.
The only positive out of this for McLaren is that had they not split with Honda, they would likely still be under the same self-delusion about their competitive position as they were last year.
For Honda, though, this is very good news - as it is for Red Bull, who switch to Honda from Renault for next season, and are full of optimism about it, even if they are well aware that there is some way to go before the engine matches Mercedes and Ferrari.
Hartley, who has had a difficult debut year with questions about his future hanging over him for much of the time, was thrilled.
"That felt awesome," he said. "I was quite emotional on the in-lap, which is something that doesn't normally happen to me but just all the build-up of crap over the last six months, knowing I've got better and better, but haven't always had the chance to show it or things haven't gone my way.
"There have been things that happened behind the scenes that I couldn't always talk about, or reasons things haven't gone my way. But today it came together and I'm very happy."
Choose your top three drivers from the list below
For what it's worth, Gasly said he believed he could have beaten Haas' Romain Grosjean to fifth place had he been able to run the same qualifying engine map as Hartley - which he was not able to do because problems in practice had meant there was not enough time to calibrate it.
Whether Hartley's performance is enough to begin to change the mind of Red Bull motorsport boss Helmut Marko over whether he deserves to be kept next year remains to be seen.
"I am not thinking about next year," Hartley said. "I am just focusing on the job and the main thing is getting a great start tomorrow lunch time."
Insiders say Marko has told Hartley that he will be kept on in 2019 if he can out-qualify Gasly, who is being promoted to Red Bull next year, over the remaining races. But that's a tall order, based on their seasons so far.
Even if he doesn't manage it, he could still save himself. To answer Marko's criticisms, Hartley said: "I need to deliver and score some points. All the controllables from my side. I feel in a good place."
If Marko decides to drop him after all, British Formula Two race-winner Alexander Albon, who has previous links with Red Bull, is rumoured to have been added to what Marko says is a "long list" of contenders, which also includes ex-Mercedes protege Pascal Wehrlein.
A Vietnamese Grand Prix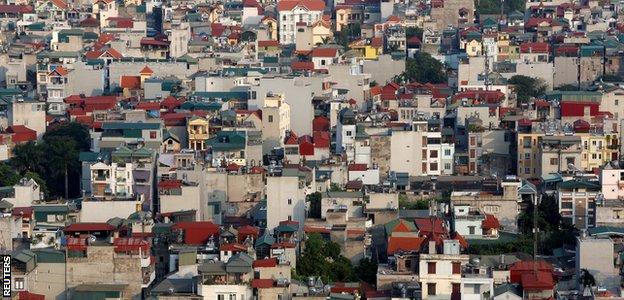 Formula 1 will have a new race in Vietnam from 2020.
The sport has been in talks about an event in the capital in Hanoi for some time - and that is no secret. But BBC Sport has learned that a deal has now been done and is due to be announced in the near future.
It will be on a street circuit outside the centre of the historic city, and it marks the first new entry to the calendar since the US group Liberty Media took over the sport at the beginning of last year. Since then, new race contracts have been announced, but only for races that pre-dated Liberty's arrival.
The Vietnamese Grand Prix will be the third race to be established in south-east Asia following Singapore and Malaysia - the latter being scrapped following the 2017 race due to poor ticket sales.
Former boss Bernie Ecclestone had explored races in both Vietnam and Thailand but none came to fruition.
For Liberty it marks an important step into a marketplace they see as important to their plans to expand the sport.
It is also a major success for the company at a time when questions remain about their stewardship of the sport, and where it is going in the future.
And it comes as a counterpoint to set-back over Liberty's plans to have a race in Miami, Florida. The city council there has delayed a decision on the race "indefinitely", and sources in F1 say that the event is unlikely ever to happen.
The US, though, is arguably the most important part of Liberty's plans to expand F1, and it is determined to add to the existing race in Austin, Texas, which is the next stop on the calendar after this weekend's event in Japan.
More than 30 potential sites are under consideration. Las Vegas remains a possibility. But most of all Liberty wants races in locations that resonate globally on the east and west coasts. In the west, California will be top of the wish list. In the east, New York if they can get it, which will not be easy.