Lewis Hamilton on Japanese GP pole position

By Andrew Benson
Chief F1 writer at Suzuka
Last updated on .From the section Formula 1472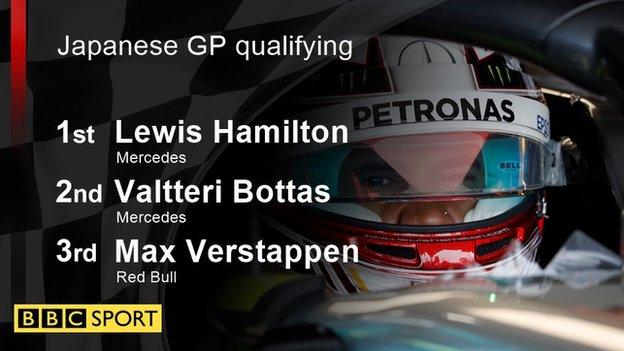 Lewis Hamilton took pole position for the Japanese Grand Prix with title rival Sebastian Vettel ninth after yet another Ferrari mix-up.
Hamilton set his pole lap in the first part of the final qualifying session while Ferrari missed an opportunity to run in the dry as a result of team and driver errors.
They erroneously sent the drivers out on treaded tyres in the dry at the start, and Vettel failed to get in a time after switching to dry-weather 'slick' tyres.
By the time of the second runs, it was already raining hard so no-one improved.
Vettel needed desperately to have a good weekend here in Japan after falling 50 points behind Hamilton in the title race after the Mercedes driver's win in Russia last weekend. But instead it could not have been a lot worse.
With five races remaining, there is only a maximum of 125 points up for grabs.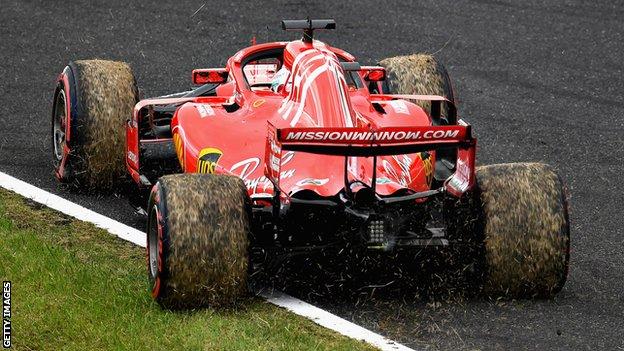 What were Ferrari doing?
Hamilton was 0.299 seconds quicker than team-mate Valtteri Bottas on their first runs in final qualifying as behind them Ferrari's session began to unravel.
The second session had been curtailed by a rain shower but the track was dry at the start of the final session and Ferrari chose to send both Vettel and team-mate Kimi Raikkonen out on intermediate tyres.
Vettel realised it was an error before he had even left the pits, but it meant he had to do a lap to bring the car back and fit slicks.
By the time they went out, Hamilton and Bottas had already set their times, and by the time the Ferrari drivers started their qualifying runs, the rain had just begun to fall.
Both ran wide at the Spoon curve, but Raikkonen only just, and he did a time fast enough for fourth behind Red Bull's Max Verstappen. Vettel went off much further and his time was good enough only for ninth, 4.432secs off pole.
Everyone went out again for a second attempt, but by now the rain was too hard and Ferrari's woe was complete.
What they said
Hamilton was understanding of Ferrari's plight but full of praise for his team afterwards.
He said: "The team have done an amazing job all weekend. The call at the start of Q3 was probably the most difficult call. And that gave us the chance to get pole position.
"It's my 80th and I can't believe I've got 80. We have worked so hard to refine and improve this car and the same for ourselves on the way we work as a team. I am so proud to be on this journey with them.
"Every team has smart people, but it is about how you perform together under pressure."
Hamilton also has the advantage of starting the race on the 'soft' tyre after making it through second qualifying on that, while Vettel has to use the more fragile super-soft to try to make up ground and limit the damage.
Verstappen perhaps summed up the result of this dire day for Ferrari.
Asked whether he would want to interfere in the title battle during the race, he said: "Is it still a battle?"
Vettel said the conditions were "OK" when he started his first lap on the slick tyres, but added: "I lost it then into (Turn) 14 and that was the only lap I had, which didn't help.
"We obviously lost a bit of timing due to that in the beginning but if it starts to rain five, six, seven minutes earlier, we did a miracle because we are the only clever one. If it's like that, we are the only ones looking stupid.
"I defend the decision. It is our decision as a team. It wasn't wet enough to start with and the rain didn't come, it came later."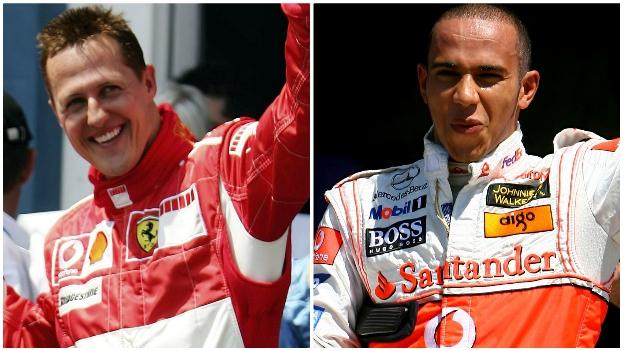 Oh, McLaren
Behind Raikkonen in fourth, Haas driver Romain Grosjean was best of the rest, ahead of the impressive Toro Rosso of Brendon Hartley and Pierre Gasly, Esteban Ocon's Force India, Vettel and Ocon's team-mate Sergio Perez. Ocon was later given a three-place grid penalty for not slowing sufficiently for red flags.
Toro Rosso's performance came on a weekend that Honda had introduced into competition an upgraded engine with more power and the step forward it provided was obvious.
The performance must have been difficult watching for McLaren, who last year ended their works partnership with Honda because they believed the Japanese company would not become successful.
But McLaren are propping up the grid at Suzuka, ahead only of the Sauber of Marcus Ericsson, who crashed in first qualifying.
It was the team's worst qualifying performance of the season - and for some time before that.
McLaren had definitively the slowest car in the field, and they also faced questions about a bizarre choice of tyre allocation, which left them short of the fastest super-soft tyre.
Fernando Alonso, though, their quickest driver in 18th place, 0.5secs ahead of team-mate Stoffel Vandoorne, said the tyre choice - and their decision not to use the super-soft until qualifying - was not relevant.
"The balance was great," he said. "It is not that we had bad balance. The pace is what it is, we have a couple of sets for tomorrow and we see if we can use it."