Japanese Grand Prix: Valtteri Bottas expects more Mercedes team orders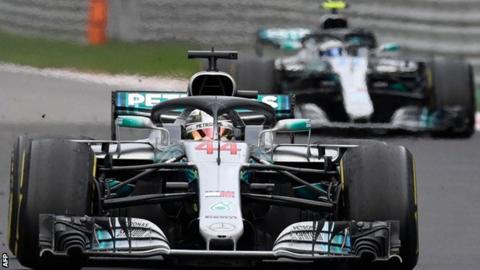 Mercedes' Valtteri Bottas says he has been told he could be asked again to cede position to Lewis Hamilton until the drivers' championship is decided.
The Finn was asked to move over for his team-mate to win last weekend's Russian Grand Prix, which took Hamilton closer towards a fifth world title.
Bottas said Mercedes had made it clear they may ask him to do it again, adding: "And it's what I expect."
He said any decision would be made on a "case-by-case basis".
Bottas added: "It depends on the situation. Last weekend, if Lewis did not have the blisters on his tyres, maybe I would have been allowed to win."
Mercedes made the call to ask Bottas to let Hamilton by because the Briton had blistered tyres having attacked and overtaken title rival Sebastian Vettel's Ferrari.
Vettel had got ahead because Mercedes had erroneously delayed Hamilton's pit stop by a lap, allowing the Ferrari to make up enough time to be ahead when Hamilton rejoined.
Mercedes wanted Bottas between Hamilton and Vettel, who was running close behind the Mercedes drivers, to make it easier to protect the Briton's damaged tyres.
Hamilton's victory gave him a 50-point advantage in the championship, with a maximum of 125 points still available over the remaining five races, starting in Japan this weekend.
Hamilton is conflicted on the subject of team orders, saying he could see both sides of the argument on a situation that has caused controversy.
"I'm split. On one side, I feel one way about it and on another, I feel differently," he said.
"It's a team sport. I remember watching it with Michael (Schumacher) and Rubens (Barrichello)," he added, a reference to the infamous 2002 Austrian Grand Prix, when Barrichello moved over to hand victory to his Ferrari team-mate on the run to the chequered flag, despite it being only the sixth race of the year and the German already having won four of the first five races.
"Like everyone, you naturally felt bad for Rubens because he did a great job and deserved the win. But then as a racer I know what it is to be working towards a championship and while for the short term the win would be nice for Rubens, on the long term he had no chance of winning the championship so they worked as a team to get the best result for Michael.
"This is the most unusual sport in that you have two championships. So unlike in football or other sports, everyone works towards one goal, there are two goals here and you are conflicted trying to achieve those two goals because only one driver can win and yet there are two drivers, and there is a team championship you want to win.
"It's a difficult dynamic because the team works together to win the championship but they also want to win the drivers' championship so they are conflicted because they don't want to favour either driver. They kind of want both drivers to win but it's impossible so you are always at a loss."
Bottas said: "I know what I have to do and I am a team player. As a team, it was the best result we could hope for. I would do it again. It doesn't mean I am not a racer.
"I just have to accept it because of what happened earlier in the season. I can't fight any more for the world championship and we need to play as a team if we really want to win the title. That's how it is.
"I am here to get pole and try to win the race but for sure I will be supportive. The team might not want to sacrifice my race as well. The team will always do the best for both championships."
Vettel is still hoping he can revive his title campaign.
"Within a week we cannot do too many things differently so we hope the track suits us better, and we have a better weekend than in Russia," the German said.
"We know one DNF or mistake [for Hamilton] and it could disappear quickly. You've just got to accept it and move forward. How I understand it is he has to do the best job he can and I've got to win.
"You attack every weekend. The track is different, the circumstances are different. I love this track, it is my favourite in the world, so I better enjoy it rather than count things that are possibly against me."
How to follow on BBC Sport
BBC Sport has live coverage of all the season's races on BBC Radio 5 live and BBC Radio 5 live sports extra, plus live online commentary on the BBC Sport website and mobile app - including audience interaction, expert analysis, debate, voting, features, interviews and video content.
All times BST and are subject to change at short notice.
Japanese Grand Prix coverage details
Date
Session
Time
Radio coverage
Online text commentary
Thursday, 4 October
Preview
20:30 21:00
Friday, 5 October
First practice
01:55-03:35
BBC Radio 5 live sports extra
From 01:30
Second practice
05:55-07:35
BBC Radio 5 live sports extra
From 05:30
Saturday, 6 October
Final practice
03:55-05:05
BBC Radio 5 live sports extra
From 03:30 (continuous)
Qualifying
06:55-08:05
BBC Radio 5 live sports extra
Sunday, 7 October
Race
06:00-08:00
BBC Radio 5 live
From 04:30
Monday, 8 October
Review
04:30-05:00
BBC Radio 5 live