Lewis Hamilton on team orders in Russia: 'Most conflicted I've been'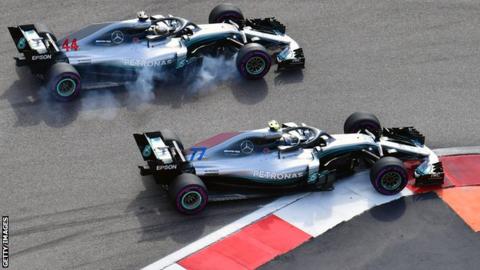 Lewis Hamilton says winning thanks to team orders left him feeling "the most conflicted I have ever been".
Mercedes ordered team-mate Valtteri Bottas to let Hamilton by in Russia after pressure from Hamilton's title rival Sebastian Vettel.
Hamilton said: "The racer inside me wants it to be the other way around.
"The ruthless killer instinct inside me says: 'This is the way it should be, stop being so soft. This is the way it needs to be.'"
Hamilton's victory gives him a 50-point advantage over Ferrari driver Vettel in the championship with a maximum of only 125 available over the remaining five races.
But he said that it was "by far not the way I would ever want to win the race" and said the contrasting emotions brought about by his victory were "weird".
Hamilton said: "The team did an amazing job this weekend and everybody deserves the one-two we have.
"Ultimately it just wasn't the result I wanted. But it was the result the team wanted.
"The heads of the team are really nervous for these last races. If something happens - engine failure, a tyre blow-out, whatever it may be - and we lose the world championship by one or three points, they will look back and say: 'We are a team and we didn't work as a team'.
"Valtteri is not fighting for the world championship. I am. And if they hadn't take that decision, (team boss Toto Wolff) said, we wouldn't have been been able to live with ourselves.
"But on the racer's side it is hard. Valtteri was an ultimate gentleman. We will move past this collectively as a team and a big thank you to Valtteri for helping."
Mercedes' decision was backed by Vettel, who said: "Controversy for whatever reasons is more attractive than happy news and smiley faces.
"I don't think it is fair now asking them tough questions.
"What they did today and the way they played together as a team makes complete sense. It is a bit dull for the race but it makes sense.
"So it is not nice to ask them those difficult questions. For the team it doesn't make a difference who wins but for the drivers' championship it does, so everybody understands what they did today."
Bottas said the decision was "confusing" and that he was not prepared for it.
"I had the pace for victory and the ability this weekend," the Finn said.
"The team decided Lewis will win today and that's how it goes. He is fighting for the championship and I am not.
"I am a racer and I just want to win races. At the moment, it is a bit painful but I do it for the team. Hopefully better times in the future once we are again on equal terms, then maybe I can do something."
Bottas added that he expected the same thing to happen again if the two drivers are in the same positions again before the championship is decided.
Wolff said that the team made the call because Hamilton had blistered his tyres passing Vettel, after losing a place to the Ferrari at the pit stops because of a team error.
With damaged tyres, they were worried Hamilton could lose second place to Vettel, and having Bottas in between them acted as a buffer to protect Hamilton.
Wolff said: "Rationally it was the right call, but our sporting heart says no."