Lewis Hamilton beaten to Russian GP pole by Valtteri Bottas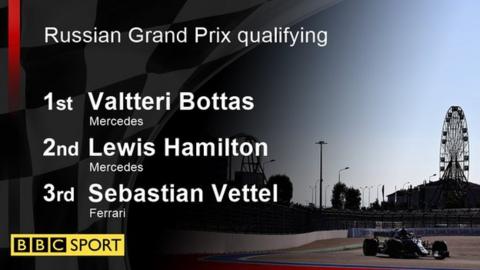 Valtteri Bottas beat Mercedes team-mate Lewis Hamilton to pole position as Mercedes dominated qualifying at the Russian Grand Prix.
Bottas edged Hamilton by 0.145 seconds after the world champion made mistakes in the middle sector on both his laps in the final top 10 shootout.
Hamilton's title rival Sebastian Vettel will start third but the Ferrari was 0.556 seconds off the pace.
Kimi Raikkonen missed beating Vettel with a mistake at the final corner.
Did Hamilton let pole slip?
Hamilton looked a certain bet for pole after dominating the first and second sessions of qualifying and setting blistering first-sector times on both his laps in the final session.
But both laps got away from him in the second sector, while Bottas held it together to sneak ahead by just 0.004secs on his first run, a margin he extended when Hamilton aborted his second run following another error.
Bottas' pole was only his second of the season, and he was thrilled about it, but he was already concerned about the start of the race.
He recalled last year, when he started third but drafted pole sitter Vettel to take the lead into the first corner before going on to win.
"For sure it feels good," he said. "It has been a long time [since Austria this year]. I knew this had been a good track for me and I managed to get some good laps together in qualifying. The car felt really good."
Hamilton said: "Big congratulations to Valtteri. He has been really quick all weekend. My laps were not special at all, but you can't always get it right. The team are doing an amazing job and I'm really happy with a one-two.
"My Q2 run two lap was really good. That was a premature pole lap basically - that would have been pole if I had used it for the end one, but it is what it is and I will still be pushing hard tomorrow."
What happened to Ferrari?
Vettel arrived in Russia knowing he needed to beat Hamilton and close the 40-point lead the Mercedes driver had opened with three wins in the previous four races.
Both teams have brought major aerodynamic upgrades to their cars this weekend, but the Mercedes one seems to be more effective and Ferrari have been lagging about 0.5secs off the pace throughout.
Vettel said: "They have been very quick. It should have been a bit closer the gap but not enough to be a threat.
"I had a small mistake in the last sector but I am quite happy. The car felt all right and that makes me quite positive for Sunday.
"I just spoke to Valtteri and reminded him of what happened last year. Maybe we can turn it around. It depends a lot on the initial jump and then we see what we can do into Turn One. But if there is a gap, we go for it."
Clever Renault?
The Red Bulls were not involved after the first session because they will start from the back as a result of grid penalties for excessive engine usage.
That gave the smaller teams an opportunity to grab an unusually high starting spot, and the winner of the battle was Haas driver Kevin Magnussen, who beat Force India's Esteban Ocon to fifth place by 0.232secs.
Sauber driver Charles Leclerc was seventh, ahead of the second Force India of Sergio Perez and the other Haas and Sauber drivers Romain Grosjean and Marcus Ericsson.
But all those teams may have missed a trick and been out-thought by Renault.
The French team decided not to take part in second qualifying, and doing so guaranteed them 11th and 12th places on the grid.
That gives them free tyre choice, whereas the Haas, Sauber and Force India drivers have to start on the fragile hyper-soft tyres they used in second qualifying.
For Renault, this could be a huge advantage as they can start on the more durable ultra-soft or soft tyres, while those ahead will find their hyper-softs quickly lose pace.
It was a tactic McLaren used to perfection to secure Fernando Alonso seventh place in Singapore last time out, and Renault are hoping they can do the same in Sochi.