Russian Grand Prix: Sebastian Vettel says he has a 'fair chance' of title win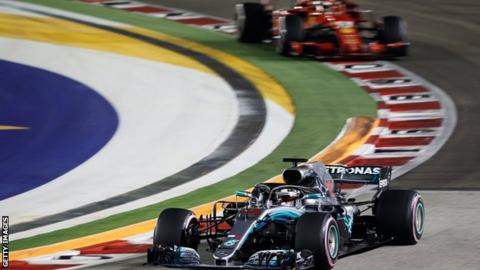 Ferrari's Sebastian Vettel says he still has "a fair chance" of catching Lewis Hamilton in their title battle.
Vettel is 40 points behind Hamilton, who has taken three wins in the past four races, sometimes against the run of form.
Vettel said: "We have had races we should have won but didn't and others we won and shouldn't have.
"Anything is possible. I'm not aiming to win all six races. I'm aiming to win here and then we go to the next one."
Vettel's fate is still in his own hands - if the German wins every race before the end of the season, he will win the title, regardless of Hamilton's results.
He said: "It is very simple from where we are. We are some points behind and we need to catch up to make sure we stay there.
"The best way to do that is to finish ahead and ideally ahead of everybody. The plan doesn't change. Obviously at this point we try to give it everything we have and I still believe we have a chance."
Ferrari have had the fastest car for much of the season but Vettel admitted the team had not met their own expectations in recent races and needed to up their game.
"We expect to be competitive," he said, "but we have to take into account the last couple of races where we struggled to have the race pace and put it together for different reasons, so we need to not get distracted by the results and focus on the job we have to do."
Hamilton denied that he already had one hand on the title.
"I don't think you ever have one hand on it," he said. "You either have both hands on it or you don't.
"There is still a long way to go, a lot of points available, six races is still a lot of races.
"We're just head down and everyone is working hard to improve the car. The job is still exactly the same and the approach is still exactly the same."
Red Bull to start at the back
The race, held on a track that circulates around the Olympic Park in the Black Sea resort of Sochi, is set to be between only Mercedes and Ferrari.
The other top team, Red Bull, will have both cars at the back of the grid as a result of new engines being fitted.
Both Max Verstappen and Daniel Ricciardo have already exceeded the permitted number of engine parts this season so taking new engines, which are required to make it to the end of the season, means an automatic drop to the back.
Verstappen said that the engines fitted for this weekend were the less powerful Renault B-spec units, rather than the C-spec they used at the last race in Singapore.
"Our C-spec cannot run in high altitude at Mexico and Brazil," the Dutchman said. "We always knew we had to take another B at one point, and this is the best place to do it, also to have some more spare parts in case something breaks.
"The C spec has a bit more power in qualifying but it is the same or maybe a bit slower in the race but it is all about qualifying and you would always go for an extra 0.1-0.15secs if you can."
The Red Bull junior team, Toro Rosso, will also be at the back as Pierre Gasly and Brendon Hartley will both have upgraded Honda engines in their cars.
Ocon's hopes resting on Williams
Force India driver Esteban Ocon says his last hope of a race seat for next season rests with Williams, the only team with a realistic vacancy.
The Frenchman is to lose his seat at Force India to Lance Stroll, who is moving from Williams because his father Lawrence heads the consortium that saved the team from administration over the summer.
Ocon admitted Mercedes, who own his contract, were in talks with Williams.
However, the most likely scenario is that Ocon takes a year out, ahead of a possible promotion to Mercedes as Hamilton's team-mate in 2020, if the team decide not to keep Valtteri Bottas.
"It could be an option to be on the bench next year," he said. "But even if that is the case, I will be back in 2020, and I will be back stronger and prepared."
Meanwhile, the Russian company Uralkali says it is taking legal action against the administrators of Force India, claiming they rejected a higher offer from the fertiliser manufacturer when they agreed to allow Stroll's consortium to take over the team.
The key figure behind Uralkali is Russian businessman Dmitry Mazepin, whose son races in the junior category GP3.
A spokesman for Uralkali told BBC Sport the company intended to pursue its interest in buying an F1 team, regardless of the outcome of its legal action.
A spokesman for administrators FRP said that, having seen the claim, they were "confident it will be dismissed at the earliest opportunity".
How to follow on BBC Sport
BBC Sport has live coverage of all the season's races on BBC Radio 5 live and BBC Radio 5 live sports extra, plus live online commentary on the BBC Sport website and mobile app - including audience interaction, expert analysis, debate, voting, features, interviews and video content.
All times BST and are subject to change at short notice.
Russian Grand Prix coverage details
Date
Session
Time
Radio coverage
Online text commentary
Thursday, 27 September
Preview
20:30-21:00
BBC Radio 5 live
Friday, 28 September
First practice
08:55-10:35
BBC Radio 5 live sports extra
From 08:30
Second practice
12:55-14:35
BBC Radio 5 live sports extra
From 12:30
Saturday, 29 September
Final practice
09:55-11:05
BBC Radio 5 live sports extra
From 09:30 (continuous)
Qualifying
12:55-14:05
BBC Sport online
Sunday, 30 September
Race
12:00-13:55
BBC Radio 5 live sports extra
From 10:30
Monday, 1 October
Review
04:30-05:00
BBC Radio 5 live