Japanese GP: Bonkers fans, high drama & an 'old-school' circuit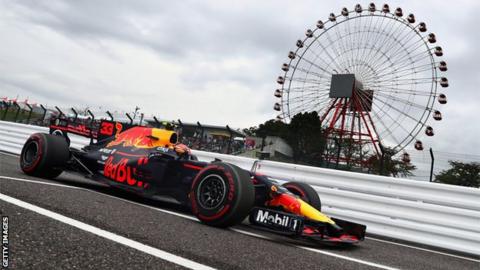 "Suzuka is a proper old-school track."
The words of Red Bull's Max Verstappen have been echoed by many. "Old-school track" is a phrase F1 drivers reserve for the most sacred of circuits.
Those venues that not only test the physical and mental side of a competitor, but also brings the joy and excitement levels of a kid on Christmas Eve waiting for the big guy to arrive.
And nowhere does adrenaline-fuelled, brightly-coloured madness quite like Suzuka.
Designed by Dutchman John Hugenholtz in the 1960s as a test track for Honda, the original drawings saw the track pass over and under itself a full three times. The first sector is considered one of the most challenging tests a driver can face. The snaking corners of the Esses demanding maximum speed and no rest in concentration.
A dynamic track will always yield dynamic results. The Ayrton Senna and Alain Prost title-decider crashes of '89 and '90 will live long in the memory as two of the most shocking moments the sport has ever seen.
Then there was the Williams of Damon Hill giving 'regenmeister' Michael Schumacher and his Benetton a wet-weather lesson to keep the title excitement pumping in 1994.
In 2012, Kamui Kobayashi delivered the first Japanese podium on home soil since Aguri Suzuki in 1990, holding off the McLaren of Jenson Button by just half a second. The crowd that day went crazy for a home-grown boy done good.
Then again, these fans will go bonkers for just about anyone...
We've already seen Max Verstappen's orange army out in force this season. The tifosi were decked out in Ferrari merch in their thousands at Monza. Union Jack flags and 'Hammertime 44' banners were draped across any spare section of Silverstone. In Japan? Even the backmarkers are made to feel like rock stars.
Little kiddies clad head-to-toe as Lance Stroll and Sergey Sirotkin? Put your money on it. Paddle boards adorned with Brendon Hartley's face and covered in love hearts? Dead cert. A paper mache hat of Charles Leclerc celebrating his sixth-place finish in Baku earlier this year? This is Suzuka, it'll probably happen.
Lewis Hamilton and Sebastian Vettel are both tied with four wins at the Japanese circuit, although all of Vettel's victories came in quick succession between 2009-2013 for Red Bull.
The German has yet to take a chequered flag in a Ferrari and last year, his bid for an historic fifth title was well and truly buried in Japan following a retirement after four laps to gift Hamilton a 59-point advantage.
Flashback quiz
The Japanese Grand Prix honours roll reads like a who's who of F1 legends.
Eleven winners at Suzuka have one or more championship trophies in their locker.
However...there are also four drivers who, although they have tasted victory at the circuit, never went on to lift a title.
To help you out, we've listed the year of their win and the team they represented.
How many can you name?
| Year of win and team | Answers |
| --- | --- |
| | |
| | |
| | |
| | |
Previously in F1: Round 16 - Russia
The track
Back pocket facts
We Brits have never been famed for our straight, pearly teeth but in Japan, young women actively seek out a crooked smile. Called "yaeba" dentistry, a ceramic protruding false tooth is placed over a patient's upper canine to create the 'snaggled-toothed' effect.
Vending machines aren't just for drinks and snacks in Japan. Among the weird and wonderful items you can buy are: grilled flying fish in a can, hamburgers and underwear.
Godzilla is officially a Tokyoite. The movie monster was granted special residency status in Tokyo's bustling Shinjuku ward in 2015. Godzilla's official duties include watching over the entertainment district of Kabukicho and drawing in visitors from around the world.
The village of Nagoro, located in the valleys of Shikoku, has more life-size dolls than human residents. Artist Tsukimi Ayano created the dolls to combat loneliness after former locals had either passed away or moved to another village.
Drivers' social
How to follow on BBC Sport
BBC Sport has live coverage of all the season's races on BBC Radio 5 live and BBC Radio 5 live sports extra, plus live online commentary on the BBC Sport website and mobile app - including audience interaction, expert analysis, debate, voting, features, interviews and video content.
All times BST and are subject to change at short notice.
Japanese Grand Prix coverage details
Date
Session
Time
Radio coverage
Online text commentary
Thursday, 4 October
Preview
20:30 21:00
Friday, 5 October
First practice
01:55-03:35
BBC Radio 5 live sports extra
From 01:30
Second practice
05:55-07:35
BBC Radio 5 live sports extra
From 05:30
Saturday, 6 October
Final practice
03:55-05:05
BBC Radio 5 live sports extra
From 03:30 (continuous)
Qualifying
06:55-08:05
BBC Radio 5 live sports extra
Sunday, 7 October
Race
06:00 08:00
BBC Radio 5 live
From 04:30
Monday, 8 October
Review
04:30-05:00
BBC Radio 5 live