Singapore Grand Prix: All you need to know about Lewis Hamilton's lap

By Andrew Benson
Chief F1 writer in Singapore
Last updated on .From the section Formula 1
Ferrari gave Lewis Hamilton the merest hint of a sight of goal in Singapore on Saturday, and he curled a beauty into the top corner.
The lap with which Hamilton took pole position for Sunday's Singapore Grand Prix was so spectacular he was moved to call it "possibly the most complete lap I have ever done".
And with that he exploded the precedent that Singapore is Mercedes' bogey circuit.
The team have worked hard at curing their car's weaknesses at Marina Bay, where it has traditionally struggled for grip and proved a little unwieldy.
But, even so, Hamilton's margin over title rival Sebastian Vettel was a surprise to both driver and team. And to Vettel, too.
Afterwards, the German's face and curt answers told their story.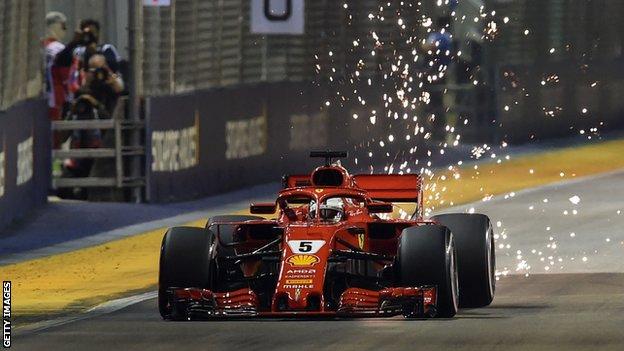 Hamilton's lap was good, yes, said Vettel, but he did not think it was unbeatable - Mercedes had done a better job.
"Again," he might have added.
It certainly did not look as if Ferrari had the best of sessions, as Vettel's radio conversations with his team betrayed.
First, Ferrari sent both drivers out in second qualifying on ultra-soft tyres - the middle of the three compounds - having just watched Mercedes scrape through the first session doing the same.
It nearly backfired on Mercedes - Toto Wolff revealed his friend Fred Vasseur, team boss of Sauber, had sent him a text saying: "Do you know what is the difference between an idiot and a genius? 0.2secs."
So why would Ferrari do it, too? Their idea was to be fast enough on the ultra-soft to make it into final qualifying, and thus have that as the race-start tyre.
Radio transmissions between Ferrari and Vettel suggest the German felt he could have made it through on the ultra-soft if he had enough clear air to run at his ideal pace on his out lap - which had not been the case because of traffic on his first lap.
But Ferrari overruled him because they felt it was too risky and made him go on the hyper-soft.
Who will win in Singapore?
Choose your top three drivers from the list below
"It was clear what we tried to do," Vettel said. "It didn't work, so…
"But overall I think qualifying wasn't as smooth as it should have been - difficult to get a rhythm, difficult to get a feel for the car and in the end the gap is quite big.
"I'm not worried about the gap because I don't think that shows how strong we are. Just disappointing, obviously, that we didn't get the maximum out of our package."
Switching between tyre compounds in a qualifying session is never ideal. It is well known that if drivers want to build confidence in pushing the limits - critical around a track such as Singapore - they need consistency of running as much as possible.
Then, in final qualifying, Hamilton produced a lap he described as "flowing, beautiful, like a dance, just awesome".
After seeing the margin, Vettel said to Ferrari: "Try next time to get me a good out lap. I notice the Mercedes are a lot slower than us."
He was behind Mercedes' Valtteri Bottas on his out lap, but had not been especially held up. In fact, his out lap was faster than Hamilton's - by a couple of seconds. Ultimately, Ferrari felt they had suffered from the tyres falling out of the ideal operating window.
Hamilton - who said he went into qualifying thinking Mercedes did not have the pace to compete for pole - ended up 0.613secs quicker than Vettel.
The Briton was 2.5 seconds quicker in qualifying than he had been in final practice, Vettel only 1.4secs. And Vettel, in a definitely faster car, really should not have been behind Red Bull's Max Verstappen.
Looking at all the evidence, it's clear why Vettel felt Ferrari had underperformed, but not quite so clear whether he was right to say Hamilton's lap was beatable.
Either way, starting from third on the grid behind Hamilton and Verstappen, Vettel is not going to find it easy to get to the front.
The likelihood is he will lose more points to Hamilton in a title campaign that is getting away from him as the Bruton, performing at perhaps the highest level of his career, goes from strength to strength.
Kvyat set for return?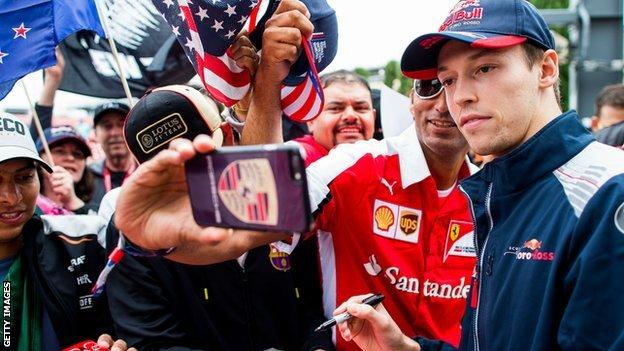 While Hamilton and Vettel compete for the championship on track, off it the Singapore weekend has been dominated by talk of the driver market.
There has been big news since the last race, with Kimi Raikkonen and Charles Leclerc swapping seats at Ferrari and Sauber for next season, and 18-year-old Briton Lando Norris winning a seat at McLaren.
The future of Force India's Esteban Ocon remains a talking point - how can such a talented young driver not have a seat for 2019? And it is beginning to look as if Russian Daniil Kvyat will be coming back to junior team Toro Rosso next season.
This would be a quite astonishing turn of events, given that over the course of 2016-17, Kvyat was first demoted from Red Bull to Toro Rosso, and then dropped from Toro Rosso, briefly reinstated, and then sacked altogether from the Red Bull driver programme at the end of last year. Since then he has been a Ferrari development driver.
Red Bull's motorsport boss Helmut Marko denied to BBC Sport that he had made any decision on Toro Rosso's driver line-up - but did not directly dismiss the idea of Kvyat coming back. Which it seems is what is happening.
Up and down the paddock, a number of people were pleased about this, feeling Kvyat has demonstrated considerable talent, was pretty shabbily treated by Red Bull and deserved another chance.
Assuming Kvyat gets one Toro Rosso seat, effectively the one vacated by Pierre Gasly's promotion to Red Bull following Daniel Ricciardo's move to Renault, it remains uncertain who his team-mate will be.
Brendon Hartley has been on shaky ground for a while, and asked whether the New Zealander could yet save himself, Marko said: "Let's see how he does in the next couple of races." Not exactly a ringing endorsement.
But they don't have a lot of other options. There are no Red Bull junior drivers ready, Marko ruled out taking McLaren reject Stoffel Vandoorne, and said he refused to take a Mercedes driver.
The latest name linked to the drive is former Manor and Sauber driver Pascal Wehrlein, who was released from his Mercedes contract last week, which frees the German up to take a Toro Rosso seat if one is offered.
Kvyat-Wehrlein as the comeback kids at Toro Rosso next year? Don't rule it out.
Three Britons in F1?
There could be three British drivers in F1 next year. Hamilton is already being joined by Norris at McLaren - and there is a chance Mercedes junior George Russell could end up at Williams.
Russell had a series of meetings with Williams over the weekend and sources say a deal is a decent possibility.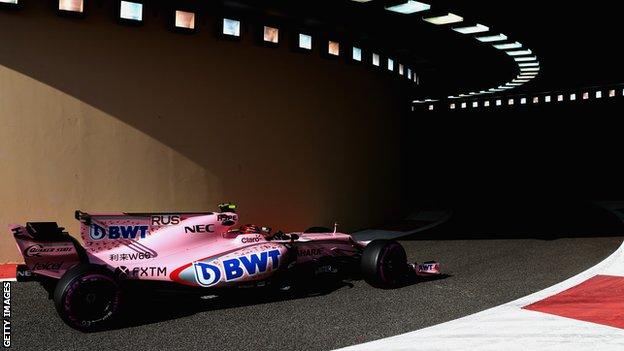 But Williams are not expected to make a decision on drivers until the end of the season, and money will come into it - they need it and Mercedes are almost certainly not prepared to pay anywhere near as much as Williams would ideally like, even if they have some spare cash from what appears to be the winding down of their junior driver programme.
Mercedes' other contract driver, Force India's Ocon, still looks set to be out of a drive at the end of the season, and is likely to spend a year as Mercedes' reserve driver.
But it now appears the chances of Lance Stroll moving from Williams and displacing Ocon before the end of this season, following his father Lawrence Stroll's takeover of the team, have diminished significantly, perhaps even evaporated altogether.
Stroll Jr wants to stay where he is until the end of the year and move to Force India for 2019, when he has plenty of time to get used to his new environment and car.
What does the Channel 4 deal mean?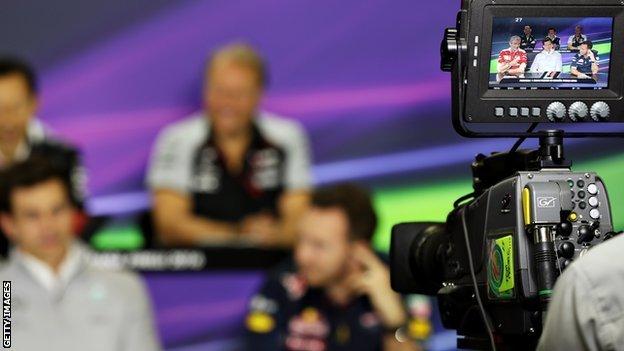 There was good news for British F1 fans before the weekend when it was announced that Channel 4 had struck a deal to show highlights of all races next year and the British Grand Prix live.
C4 had to reach an agreement with Sky, which owns the entire rights to F1 in the UK for five years from next year. Its contract dictates a free-to-air provision, and Channel 4 has secured it.
BBC Sport reported back in July that a deal was close but it has taken some time to finalise.
What does it mean? Channel 4's head of sport, Stephen Lyle, told BBC Sport the arrangement was a "partnership" with Sky.
In terms of C4's plans, Lyle said: "We have the option to make a programme very similar to what we do now, but I stress we haven't decided how we will do it yet." That will happen over the winter.
C4 will, though, have its own presenting and commentary team and its own programming.
The length of the highlights programmes will be similar to this year - about two hours. But they will be broadcast about an hour later, because of restrictions requested by Sky.