Lewis Hamilton describes Singapore pole lap as the 'best feeling ever'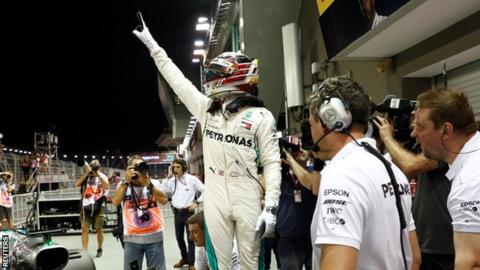 Lewis Hamilton said his Singapore Grand Prix pole lap was "awesome" and "the best feeling I've ever had".
The Mercedes driver said he "did not expect" to take his 79th career pole.
"All of a sudden this lap out of nowhere was just flowing, beautiful," Hamilton said. "It was like a dance - awesome.
"It just flowed. It's difficult to ever say if it's your best one, but it felt the most complete lap I've ever done possibly."
Ferrari came into the weekend as favourites but a combination of a messy qualifying session by the Italian team and Hamilton's pace put title rival Sebastian Vettel on the back foot.
Hamilton was 0.3 seconds ahead of Red Bull's Max Verstappen and 0.6secs clear of Vettel.
Vettel is 30 points behind Hamilton in the championship with a series of mistakes, mishaps and team errors having affected Ferrari's results in recent races.
"No-one expected that," Hamilton said. "Red Bull were really quick. Ferrari were incredibly fast as they always are.
"We came here expecting it to be a struggle this weekend, and Friday felt really good. So I came out of Friday thinking, 'wow, we might have a shot of fighting with the top three'.
"And then P3 was terrible and Q1 and Q2 weren't so good and then all of a sudden this lap out of nowhere was just flowing, beautiful.
"Honestly, just sheer blind faith and sheer belief this weekend has got us that lap. I don't know where that belief has come from.
"I get that through my faith and that, but it is so powerful - belief and hope. Believe in yourself.
"You're always searching for a lap like that. I am just so grateful that in my lifetime I had that feeling because I have not had a feeling as spectacular as that.
"I can't wait to relive it and watch it. I can't find the words to describe how incredible it is. I wish the people listening and watching could feel what these moments feel like.
"I can't relate it to anything else. We are 11 seconds faster than my first pole here, I was told.
"So it's crazy how much the technology has advanced, how much quicker the car is.
"Your heart's racing higher than ever before. The pressure on your mind's everything's so much quicker. Imagine going 11 seconds faster. It was hard enough before when we were doing it.
"You are juggling these balls at light speed, it's like Star Wars stuff. It's awesome. That's what I love about what I do and what F1 is. These are the moments I'm going to remember for the rest of my life."