Lando Norris: British McLaren driver 'realistic' about his 2019 Formula 1 targets

By Andrew Benson
Chief F1 writer
Last updated on .From the section Formula 1160
Lando Norris says he is "realistic" about what he can achieve in his debut season with McLaren next year.
The British teenager has been promoted from reserve driver and joins Spaniard Carlos Sainz in an all-new line-up.
Norris, 18, said: "Rule number one is: Beat your team-mate. Apart from that, it is going to be a tough year.
"We are not going to be winning, or competing against Ferrari and Mercedes. I would like to think we can make a step forward from where we are."
McLaren decided to give Norris his debut as a replacement for Belgian Stoffel Vandoorne, who will be dropped at the end of the season after two years in which he struggled compared to his team-mate, the double world champion Fernando Alonso.
The Spaniard is leaving F1 at the end of the season and is expected to race in the Indianapolis 500, and perhaps a whole Indycar season, next year.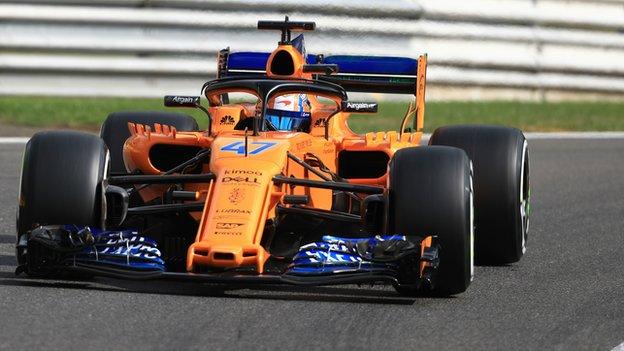 An all new line-up
Asked whether he was relieved not to have to compete against Alonso in his first season, Norris said: "As much as I would have loved to partner Fernando, as much as I admire him and loved working with him, for the longevity of McLaren and helping them improve, having Carlos we can push each other a lot together.
"Fernando would definitely help the team improve but it is good that teams have fresh starts every now and again. I don't think it's a bad or good thing I'm going against Carlos."
He said that he believed an all-new driver line-up would be a positive for McLaren.
"They need two young drivers willing to say: 'We don't need to win; we don't want to win within the first two years of joining the team.'
"That is a realistic goal. We are not going to be winning next year or probably the year after. It will probably be a few years."
As for his wider ambitions in F1, Norris said: "I want to say I am better than the other drivers but I still have to prove that.
"As long as I do a good job and put all my effort into proving I am worth it, everything should be fine.
"I am just hoping whatever I do is going to be good enough. I want to be with McLaren and I want to win with McLaren. I don't think that is going to be next year, so it is more of a longer project."
McLaren have struggled this year, their switch from Honda to Renault engines revealing that their car is a long way off the pace and a lot worse than they thought it was. Previously, they blamed the Honda engine for their lack of pace.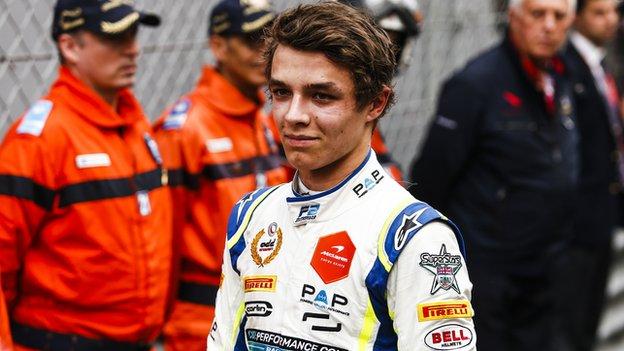 Comparisons with Hamilton
Norris has been promoted on the back of impressive performances in the Formula Two championship, in which he lies second with two rounds to go, and in tests and outings in practice sessions with McLaren.
Norris has won several championships on his way up through the junior ranks, and has been labelled "the next Lewis Hamilton". The fact that the world champion also started his F1 career with McLaren only heightens the comparisons.
Asked how it felt to be compared to a multiple world champion, Norris said: "Growing up, I've always watched Lewis and aspired to have some attributes from him, mainly his speed.
"His raw pace is probably the best of everyone on the whole grid, so there are bits you want from different drivers. And being compared to someone who could be about to win five world championships, who's won four, it's not a bad thing."
Why McLaren chose Norris
McLaren chief executive officer Zak Brown said he had promoted Norris because he was "convinced he is a star of the future".
"McLaren are in rebuilding mode, and to have two extremely quick young drivers, one with a good amount of experience, one inexperienced, is a good combination, considering the five-year horizon. We pretty quickly got to the conclusion that Lando was the right driver."
But Brown said it would be misguided to compare Norris with Hamilton.
"It is hard to get into driver comparisons. It's natural because Lewis started here.
"But he's a world champion and the way he is going may end up being most successful driver of all time. All you can do is look at Lando and what he's accomplished and say he's a future star, and with the right car should be a world champion.
"We need to manage him carefully and not get ahead of ourselves with comparisons to other drivers."
A new senior engineer
McLaren also announced that they have signed Englishman Pat Fry as engineering director as they continue the restructuring of their design department.
The 54-year-old worked for McLaren from 1993-2010, before moving to Ferrari, where he was director of chassis and then engineering director before being sacked as part of a restructure at the end of their winless 2014 season.
Brown said Fry would work with performance director Andrea Stella on setting the targets for performance on the 2019 car.
McLaren in July signed Englishman James Key as their new technical director to lead their design team, but the 46-year-old is not expected to join until next year. He is on gardening leave from his previous job as technical director of the Red Bull junior team Toro Rosso.