Italian GP: Fernando Alonso 'thinks he is a god', says Kevin Magnussen

By Andrew Benson
Chief F1 writer at Monza
Last updated on .From the section Formula 1125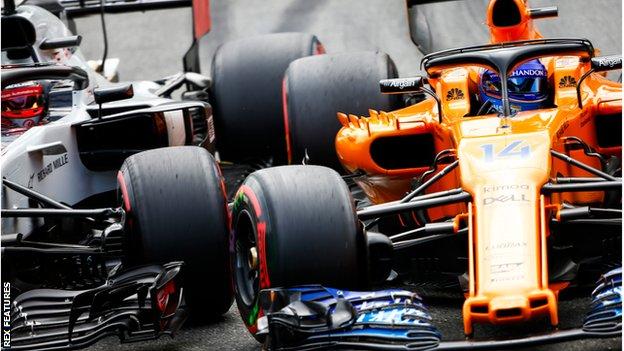 Kevin Magnussen says Fernando Alonso "thinks he is a god" and that he "can't wait for him to retire" after a clash in Italian Grand Prix qualifying.
The two drivers tangled with each other at Monza on Saturday, arriving at the first chicane side by side, ruining both their final laps.
The Danish Haas driver said Alonso's actions were "stupid and unnecessary".
Magnussen added: "He came to me after qualifying and laughed to my face. Just outright disrespectful."
Asked for his response to the comments, McLaren's two-time world champion said: "Nothing."
The incident was referred to the stewards, who decided not to take any further action.
Alonso said the incident happened because Magnussen had made a late decision to pass him into the Parabolica corner just before they started their laps.
"It was a normal out lap until the inside of Parabolica," said the Spaniard, who is leaving F1 at the end of the season. "I saw one of the Haas go on the inside. He decided to start the lap together.
"Unfortunately, we arrived into Turn One together, launching the lap out of Parabolica at the same time. It didn't change much for me because maybe I didn't have the performance to go much better than P13.
"But it was a shame that it changed the performance for him because his team-mate was sixth [Magnussen qualified 11th]."
Asked whether he thought about backing off, Alonso said: "No, because I was preparing my lap and everyone is preparing their laps in the out laps.
"Especially after Ascari [the corner before Parabolica], we try to respect that position we carry with 'x' distance from the cars in front.
"And with his decision I could not complete my lap. With my decisions, everyone could complete their laps. With his one, at least one car, mine, could not complete their qualifying attempt."
Alonso said there was no-one to blame and that it was "just an unlucky situation".
But Magnussen, who has clashed with Alonso on other occasions this season, disagreed.
"He thought he could have the perfect slipstream and overtake me. He gained, I don't know how many tenths - but you gain a lot if you do that," added the Dane.
"But I'm not going to let him pass me, and sacrifice my own lap. No way. I know he thinks he's a god, but no way.
"We were kind of six or eight cars, in a bit of a group. And at the exit of Ascari, Fernando was warming his brakes, I think, so not going fast.
"And I'm going fast, so just cruised past him. But then for some reason he decides to try and accelerate and get close to me, rather than create a gap, as everyone else is doing."