Italian GP: All you need to know as Lewis Hamilton aims to challenge Ferraris

By Andrew Benson
Chief F1 writer at Monza
Last updated on .From the section Formula 1266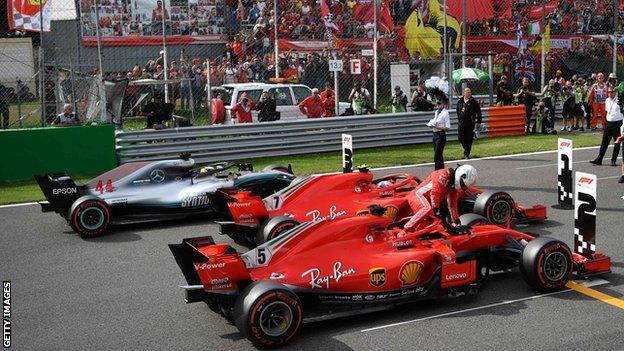 There are two big questions heading into Sunday's Italian Grand Prix.
One, can Mercedes driver Lewis Hamilton do anything about the two Ferraris in front of him on the grid? And two, will Ferrari try to engineer a win for Sebastian Vettel, who starts second behind team-mate Kimi Raikkonen, but who is locked in a title fight with Hamilton in which the Finn is not involved?
For Hamilton, it will not be easy. As was demonstrated by a thrilling battle for pole at Monza which ended with all three drivers smashing the previous record for the fastest ever Formula 1 lap, the Ferrari has a small but crucial pace advantage over the Mercedes at this stage of the season.
As in Belgium last weekend, there is no reason to think that will not transfer into the race.
Hamilton, then, needs to try to at least get in between the Ferraris at the start. But how, when the Ferraris are consistently excellent off the line?
"That is going to be a focus," the world champion said. "That is going to be an opportunity to at least split the cars.
"I will have to study hard and work out how to get through Turns One, Two, Three, Four and Five, to get ahead of one of the Ferraris. It's great Valtteri (Bottas, his team-mate) did a great job and we can put pressure on the Ferraris.
"I need to somehow bring some of the old-school moves back from karting to get in between. It is going to be hard. They have great starts. We'll see how it goes."
Vettel v Raikkonen
During qualifying, Red Bull's Daniel Ricciardo, starting from the back with an engine penalty, was asked by BBC 5 live's Jennie Gow who he thought would be on pole.
"Oooh," he said. "I'm gonna say Vettel. Actually, you know what, I am going to say Vettel has all the weight on his shoulders. He's quite a little guy. Lewis is going in with no pressure and he's gonna just get him. By 0.009secs. If it goes through, you need to buy me pizza."
After the first runs, with Hamilton ahead, Ricciardo looked like he might be right, but as it turned out, Jennie's dinner date was off.
Afterwards, Vettel was not happy. "We'll talk about it later," he said to his engineer when told of the result.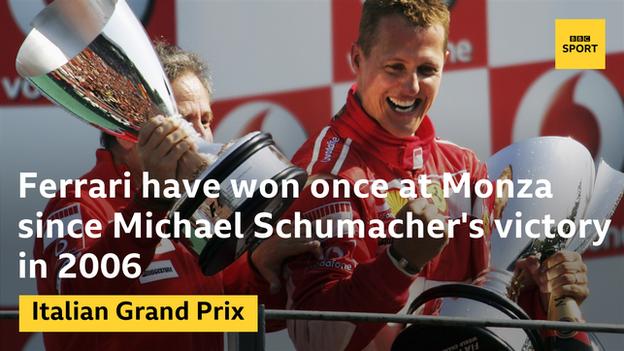 He would not say what he meant but it seems as if it might have been a reference to the fact that while Raikkonen, whose turn it was to go out second, benefited from a tow from his team-mate, Vettel was not close enough to Hamilton in front to get one from the Mercedes.
Vettel also admitted he had made mistakes on his final lap, with which he was "not entirely happy".
"To be honest it was not a tidy lap," he said. "The other laps were actually better.
"I lost a bit in the first chicane, the second chicane, the Lesmos, pretty much a bit everywhere. I think the last sector was OK but also not fantastic. It was just not a good lap and not good enough.
"Obviously lucky to get second instead of third but… yeah. Just not good enough."
Now Raikkonen is on pole, will Ferrari find a way to get Vettel ahead to boost their best chance of winning the title since 2008?
Vettel was asked directly after qualifying whether Raikkonen would be allowed to race for the win. The question was a direct consequence of the German Grand Prix, when Ferrari reversed the position of their drivers in the race after their off-set strategies had allowed Raikkonen to get in front of Vettel, who had led the early laps.
"Well," Vettel said, "if he's starting from pole, I guess he's allowed to win. It's a long race. Obviously he wants to win, I want to win. Hopefully one of us will win."
Choose your top three drivers from the list below
Ferrari were faced with the same situation in Monaco last year, Raikkonen's last pole. Raikkonen led the first stint but when he pitted, they left Vettel out - on the so-called over-cut strategy - and the German used it to leapfrog ahead over the pit-stop period. Raikkonen, although he measured his words carefully, was seriously unhappy about that at the time.
There is an interesting dynamic here, because Raikkonen does not yet have a contract for next year and on Friday, Louis Carey Camilleri, Ferrari's new chief executive officer following the death of former president Sergio Marchionne, held a news conference and said they were in no hurry to make a decision. It's between Raikkonen and the highly promising Sauber driver Charles Leclerc.
One can imagine the conversations that might take place in the Ferrari motorhome overnight.
Vettel is 17 points behind Hamilton at the moment - largely because of his error in throwing away victory in the wet in Germany, not that that was his only mistake this year.
"How much do you want this title?" Raikkonen might conceivably say. "You want me to let him past? You give me the drive in 2019."
Stroll finds his form but what happens next?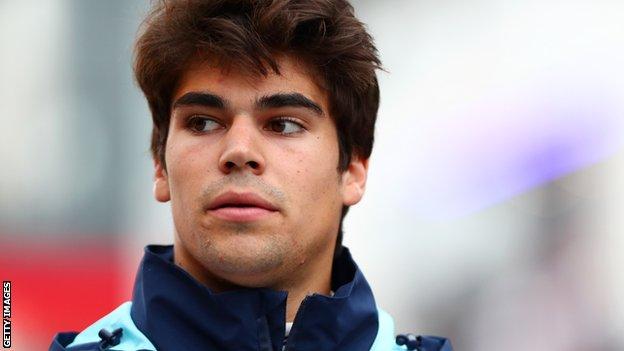 One of the stars of qualifying was Williams driver Lance Stroll, who put his car eighth in second qualifying and 10th on the grid, the struggling team's best position of the year.
There seems to be something about Monza and Stroll.
He qualified the Williams fourth here in the wet last year, and started from the front row alongside Hamilton after the Red Bulls were demoted because of engine penalties.
In his second season, the Canadian had been out-qualified by rookie team-mate Sergey Sirotkin eight-five before this weekend. But on Saturday Stroll was a chunky 0.238secs quicker.
The secret is partly to do with the track. First, there are lots of long straights for the Mercedes engine to stretch its legs, and only six corners to show up the Williams' inadequacies.
Equally, of the corners, with the exception of the final Parabolica, all of them are short-duration, and the shorter the corner, the less chance the Williams' fundamental mid-corner aerodynamic instability has to manifest itself.
When it does, Stroll tends to make mistakes. But he is relatively comfortable with an unstable car at a track where a bit of rear-end instability is quite helpful, because it helps the driver rotate the car into corners.
Williams have been glued to the back pretty much all year, but given their inexperienced driver line-up there have been questions about whether the car really is as bad as it looks. After all, Felipe Massa was about 0.7 seconds quicker than Stroll on average last season.
But Williams insiders say Stroll has definitely improved this season - most importantly in his ability to get closer to the limit of the car with his first lap in qualifying following the two-hour break after final practice.
Last year, he was often a long way off Massa on these first laps, and quite often ran out of time to get up to the right level. Over the winter, Williams worked hard at this with Stroll and the feeling is that he has improved by in the region of half a second a lap.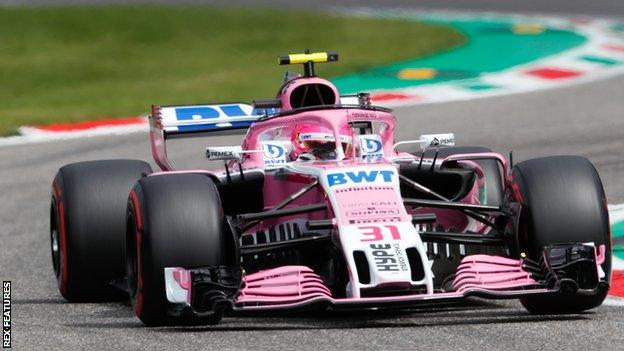 The sense of a settled future has also helped this weekend, some believe, in terms of getting him into a calm and relaxed mindset.
Stroll's father, the billionaire businessman Lawrence Stroll, heads the consortium that rescued Force India from administration over the summer, and it is no secret that dad wants junior to move from Williams next season.
The problem at the moment is how that will happen.
Williams have an option on Stroll for 2019, when sources say his contract means he would pay a reputed 10m euros - down from 20m euros in 2016 and 15m euros in 2017.
Williams are losing sponsors at the end of the year and need the money so will have to find it elsewhere. Stroll will end up moving. But that's not the end of the story because technically both Force India drivers have contracts for 2019 already.
Or do they? Force India is legally a new entity - and that is how the team was allowed back on to the grid last weekend in Belgium after the administration process.
The sense is that Sergio Perez will keep his drive - not least because he brings a chunk of Mexican money with him - but that would mean Esteban Ocon was out of work, and the Frenchman is a Mercedes junior. Does Stroll want to annoy Mercedes in that way, especially as they were the largest creditor and therefore had an involvement in the administrator settling on Stroll's consortium?
Ocon could be found a berth elsewhere, but first choice McLaren - who are interested - are playing hardball and say they don't want him if he is still tied to Mercedes.
Wolff said on Saturday that he would consider releasing Ocon if it was the only way to secure him a seat (after all, he could always sign him again later should he choose to, once his McLaren time had run its course).
But McLaren also say Perez is on their list as a potential partner for Carlos Sainz next season, following Fernando Alonso's decision to retire. While the feeling is that their first choice right now is to promote their reserve driver Lando Norris.
This is also tied in with dissatisfaction at some teams - including McLaren - as to the process by which Force India were allowed back in, and the intention to let them keep the prize money earned by the former entity. At the moment, McLaren are playing hardball on this, too.
Stroll Sr is said to want his son in a Force India as soon as possible - before the end of this season. He'll be in a Force India sooner or later, but it may take a little while to unpick this one.