Italian GP: Kimi Raikkonen on pole, Sebastian Vettel second, Hamilton third

By Andrew Benson
Chief F1 writer at Monza
Last updated on .From the section Formula 1476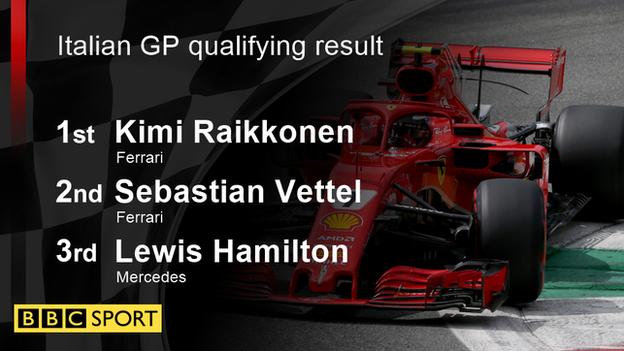 Ferrari's Kimi Raikkonen set the fastest lap in Formula 1 history as he stole pole position from the title contenders at the Italian Grand Prix.
The 38-year-old Finn triumphed in a thrilling fight at Monza with team-mate Sebastian Vettel and Mercedes' Lewis Hamilton, taking pole with the last lap of the session.
Hamilton was fastest after the first runs and improved on his second lap, but Vettel beat him before Raikkonen pipped both.
Raikkonen's lap of one minute 19.119 seconds meant he averaged 163.793mph. The previous record - 1:19.525 (162.950mph) - was set by Juan Pablo Montoya in a Williams in 2004.
Vettel was not happy, saying "we speak after" as his engineer told him the result. The German declined to elaborate when asked to say what he meant.
In one of the most exciting qualifying sessions for some time, Hamilton fought to overcome what appears to be a slight Ferrari pace advantage and appeared at one stage to have done it.
On the first runs in final qualifying, Hamilton set a 1:19.390, beating Raikkonen by just 0.069secs, with Vettel third just 0.038secs behind the Finn.
Hamilton improved to a 1:19.294 on his final run, but the Ferraris had positioned themselves behind him, Vettel in front of Raikkonen, and the slipstream the second Ferrari driver got may have proved decisive.
Raikkonen, whose pole was his first since Monaco last year, was pleased to set the quickest time on Ferrari's home track.
He said: "I couldn't think of being on pole in a better race. I am hoping tomorrow I can end up in the same position."
That remains to be seen, as Vettel is 17 points adrift in his close title fight with Hamilton.
Vettel said: "Not entirely happy with my last run but Kimi was a bit too fast in the end. It is always like this in Monza, for him it was in the sweet spot. My lap was not very good but for now we have both cars on the front row."
Hamilton said: "Ferrari did a solid job. We gave it everything we could, it is very close between us but they have had the upper hand this weekend. We will give it everything we can tomorrow.
"It was so intense and that's how F1 should be."
Hamilton's team-mate Valtteri Bottas, who has been off the pace all weekend, ended up fourth, 0.362secs behind the Briton. Red Bull's Max Verstappen, Haas' Romain Grosjean, Renault's Carlos Sainz, Force India's Esteban Ocon, Toro Rosso's Pierre Gasly and Williams' Lance Stroll completed the top 10.
It was Stroll's best qualifying result since this race last year, when he was fourth in the wet. Speculation continues to surround the Canadian's future following the purchase of the Force India team by a consortium led by his father.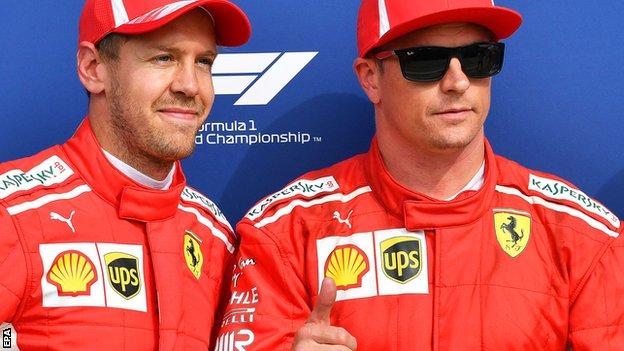 Alonso at centre of row
Fernando Alonso was a surprising 13th in his McLaren, benefiting from engine penalties for Red Bull's Daniel Ricciardo and Renault's Nico Hulkenberg, which meant they did not compete in second qualifying, and by Force India's Sergio Perez getting knocked out in Q1.
But Alonso had to report to the stewards to explain an incident when he tangled with Haas' Kevin Magnussen at the first chicane as they both disputed the same piece of track at the end of the second session.
Over the radio, Alonso had said Magnussen wanted to race, to which Magnussen replied on BBC Sport: "I don't know what he's on about. He's clearly frustrated, trying everything he can, getting his team-mate to give him a tow everywhere. Today he tried to get a tow from me and he got too close. It didn't work out."
Alonso responded that Magnussen had made a late decision to start a flying lap while in the middle of the final corner, Parabolica.
Alonso said: "We were all together at the start of the lap trying to find a gap. In the last moment in Parabolica, Kevin decided to start the lap just in front of me and fill the gap between the two cars in front. I don't know why.
"A late decision that maybe didn't make too much sense. If he decides that, maybe he thinks it is the right thing for him."
The stewards decided no further action was required.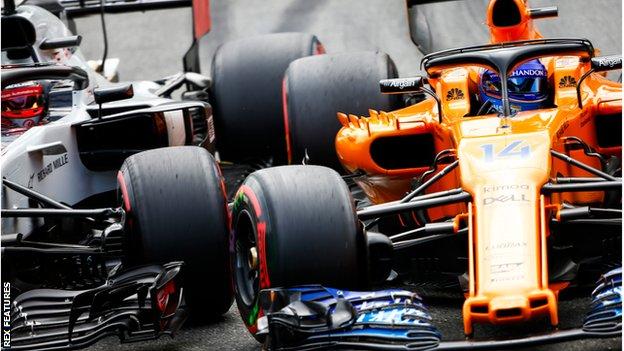 Choose your top three drivers from the list below